King George V loved Indian cuisine after his travels to India. He keep Indian chefs in the Royal kitchen to prepare curries, which he could eat every day if Queen Mary would allow it.
This is the curry Royal Chef Gabriel Tschumi prepared for him, served alongside Bombay Duck, a fish native to India.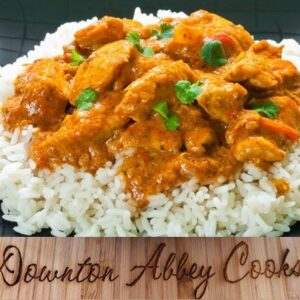 King George V's Favorite Chicken Curry
King George V loved curries and the Royal Chef often prepared this dish for him.
Ingredients
3

large

onions

2

large

apples

peeled and cored

8

large

tomatoes,

peeled and seeded

1

clove

garlic

4

cups

chicken stock

1

medium

bay leaf

1 2/3

cups

unsweetened shredded coconut flakes

3

tbsp.

curry powder

1

tbsp.

curry paste

1

large

cooking chicken

1

tbsp.

butter, unsalted

1/2

cup

whipping cream

1/2

large

lemon
Instructions
Preheat ovent to 350 degrees

Chop onions, apples and tomatoes. Melt the butter in a dutch oven and add the onions on medium heat. Next add the apples, and tomatoes, and cook until softened, but not browned. Mix in the curry paste and powder.

In a separate saucepan, bring the chicken stock and coconut to the boil for 10 minutes. Strain the coconut and add the seasoned stock to the dutch oven.

Cut your chicken into small pieces, cutting off the bone if you like. Cook quickly in butter in a large frying pan on medium heat without browning.

Add the chicken to the dutch oven. Bake for 45 minutes.

Take out the meat and clean. Remove the sauce and clean the dutch oven. Pass the sauce through a fine sieve.

Return the sauce to the dutch oven and heat on the stove till boiling. Add the lemon and cream and heat until the sauce has thickened. Return the meat and heat. Serve on white rice. Garnish witha sprig or two of cilantro if you like.

King George V was served the dish with a macédoine. This is simply vegetables which have diced into small pieces. carrots and with peas. The different vegetables are cooked separately in salted water, then thoroughly drained and combined.

The King also was quite fond of this dish served with an Indian fish, Bombay duck. the fish was sun dried, split and grilled.