This salmon course was served as the third course in 1st Class. The dish can be served hot or cold.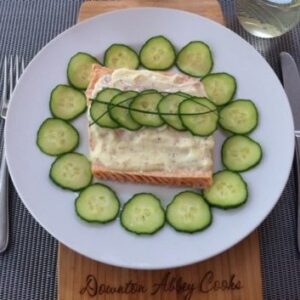 Poached Salmon with Mousseline Sauce
This salmon course was served as the third course in 1st Class. The dish can be served hot or cold.
Ingredients
Poached Salmon
6

cups

Basic Court Bouillon

directions below

6

fillets

fresh salmon

30

slices

English cucumber

very thin

6

sprigs fresh dill
Mousseline Sauce
2/3

cup

unsalted butter

melted

3

tbsp.

water

3

large

egg yolks

1/4

tsp.

each salt and pepper

1

tbsp.

lemon juice

2

tbsp.

chopped fresh dill

1/4

cup

lightly whipped cream

(or non fat yoghurt)
Basic Court Bouillon
7

cups

water

1

large

carrot

sliced

1

small

onion

6

cracked

peppercorns

1

large

bay leaf

1/4

cup

parsley

1

tsp.

salt

1 1/4

cup

dry white wine
Instructions
Basic Court Boullion
In a large pot combine all the ingredients and bring to a boil over high heat.

Reduce heat and simmer for 30 minutes. Strain. Keeps tightly covered in refrigerator, for up to a week.
Poach the Salmon
In large shallow pot, heat court bouillon until just below boiling point. Using a slotted spoon or spatula, gently place salmon into bouillon.

Add water if needed to completely cover the fish. Poach fish for 3-5 minutes or until opaque on the outside and still coral-colored in the center.
Mousseline Sauce
Using a spoon, skim froth from the surface of the melted butter and discard. Allow butter to cool slightly.

On top of a double boiler or heatproof bowl, whisk water and egg yolks together with salt and pepper for 30 seconds or until pale yellow and frothy.

Over barely simmering water, whisk mixture for 3 minutes or until it draws a ribbon for 5 seconds.

Remove pan from heat; whisk in warm butter, 1 tablespoon at a time, until sauce begins to thicken. Still whisking, pour remaining butter into sauce in a slow steady stream. Stir in lemon juice and dill. Allow the sauce to cool slightly.

Gently fold in whipped cream. Adjust the seasoning to taste. Keep warm by setting over a pot of warm water.A
Finish
Place poached salmon on warmed plates.

Spoon sauce down center of each piece of fish so that the border of the flesh remains visible. Top each fish with 5 slices of cucumber and top the cucumber with more sauce.