Jump to Recipe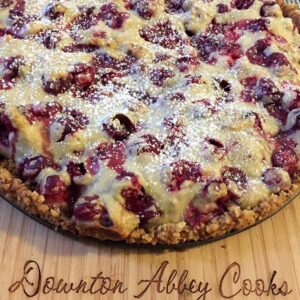 The holidays are a magical time for decadent desserts, but pumpkin pie isn't for everyone. Surprise your guests this season with a tangy cranberry torte bursting with bright holiday flavour! This easy yet elegant gluten-free dessert is sure to steal the show at any festive gathering.
Lively notes of tart cranberry shine through a tender nutty crust and luscious cheesecake-like filling. Each velvety rich bite dazzles with delicious layers of flavor and texture. Drizzle it with whipped cream or vanilla ice cream to balance the delightful tang. Those with special diets can enjoy it too – this versatile torte is easy to make keto-friendly by swapping the sugar for stevia or another sugar substitute.
This festive cranberry torte starts with a subtly sweet nutty crust made from two cups of finely chopped walnuts, almonds or pecans blended with just a touch of sugar and butter. The real star is the bright ruby-red cranberry filling featuring over two cups of fresh or frozen cranberries mixed into a rich and creamy base of sugar, flour, melted butter, almond extract and eggs. Chopped walnuts or pecans stirred into the filling add a delightful crunch and contrast to the smooth, tangy cranberry goodness. A light dusting of powdered sugar on top provides the perfect sweet finishing touch.
With simple ingredients like nuts, butter, sugar and lots of beautiful berries, this elegant yet easy cranberry torte makes a stunning centrepiece for any special occasion. It's sure to get rave reviews at holiday parties or family gatherings. The ruby-red colour looks so festive on a holiday dessert table alongside classics like sugar cookies.
While cranberries may seem uniquely North American, these cheery red berries grow around the world, including right here in the UK where they are affectionately called "fenberries." Fun fact: Cranberries were even served alongside the legendary roast turkey dinners on the fateful maiden voyage of the Titanic over 100 years ago. So while feasting on this bright and beautiful cranberry torte, you'll be enjoying a taste of history as well!
The tart sweet-tart flavour of cranberries makes them the perfect ingredient for rich holiday desserts. Balanced out by nutty crusts, chocolate, warming spices or a touch of sweetness, cranberries transition seamlessly from the Thanksgiving table to Christmas cookie platters and New Year's soirées. This ruby-hued cranberry torte is the ultimate way to highlight its vibrant flavour for the holidays.
Bite into this stunning torte to discover layers of flavour and texture in one elegant gluten-free dessert. Revel in the crunchy nut crust giving way to smooth, lush cranberry creaminess. Close your eyes with every velvety spoonful and let visions of sugarplums dance in your head! It's like enjoying your very own red-and-green holiday firework bursting with sweet-tart cranberry sparks in your mouth.
The melt-in-your-mouth tender torte cuts easily into slim wedges, perfect for serving a small indulgent sliver with coffee or tea. Or plate up a wedge with a big billowy cloud of freshly whipped cream and watch it melt irresistibly over the vibrant red cranberries, nuts and caramel notes. For ultimate decadence, add a scoop of vanilla bean ice cream and let it drizzle over the torte like snow drifting down on a cranberry bog.
With this dazzling ruby dessert that's as beautiful as it is delicious, you can give your holiday guests a welcome break from the usual fare. Surprise them with the stunning flavours, colours and textures of this crave-worthy cranberry torte! Trust me, this showstopper is about to become your new favourite holiday dessert tradition.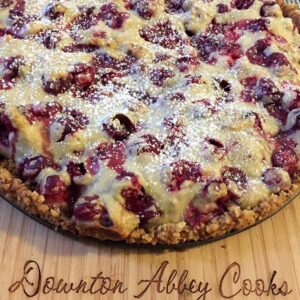 Showstopper Cranberry Torte
This is my go dessert dish to bring to a potluck holiday party.  I have been making it for over 20 years. At first I didn't have a food processor which required a lot of chopping to make the crust. But everyone loves the tart taste and thin slices stretches the dessert for a larger crowd.
Ingredients
Crust
2

cups

finely chopped walnuts,

almonds or pecans

2

tbsp.

unsalted butter

melted

2

tbsp.

white sugar
Filling
1

cup

white sugar

3/4

cup

unbleached all purpose flour

1/2

cup

unsalted butter

melted

1 1/2

tsp.

pure almond extract

2

large

eggs

2 1/2

cups

fresh or frozen whole fenberries

(cranberries)

1/2

cup

walnuts, or pecans

finely chopped

2

tbsp.

sifted icing sugar
Instructions
Prepare the Crust
Preheat oven to 350F/180C/Gas Mark 4

Combine the nuts, butter and sugar in a food processor, pulsing a few times until well combined and the mixture comes away from the sides.  Press evenly over the bottom and up the sides of a 10 inch spingform pan.
Prepare the Filling
Mix the sugar and flour in a bowl.  In another bowl, beat the butter, almond extract and eggs together then add to the sugar flour mixture. Fold in the cranberries and nuts and carefully scoop the mixture evenly into the prepared crust.

Bake for at least one hour or until all the cranberries have popped.  Cool in the pan.  Remove the sides of the pan when ready to serve and dust with icing sugar.