This is a fabulous dessert to serve during the holidays to satisfy those who aren't pumpkin pie fans.  Serve this tangy torte in small wedges and load up the whipped cream or vanilla ice cream. Make this keto by replacing granulated sugar with a Stevia or other sugar substitute.
While you may think cranberries are unique to North America, they do grow in the UK, where they are more commonly known as fenberries. They were even served on Titanic alongside the roast turkey. You can easily make this keto by replacing granulated sugar with a Stevia or other sugar substitute.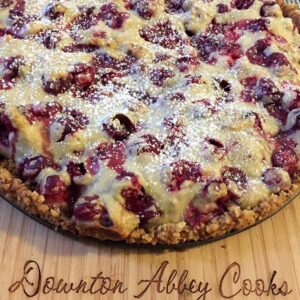 Showstopper Cranberry Torte
This is my go dessert dish to bring to a potluck holiday party.  I have been making it for over 20 years. At first I didn't have a food processor which required a lot of chopping to make the crust. But everyone loves the tart taste and thin slices stretches the dessert for a larger crowd.
Ingredients
Crust
2

cups

finely chopped walnuts,

almonds or pecans

2

tbsp.

unsalted butter

melted

2

tbsp.

white sugar
Filling
1

cup

white sugar

3/4

cup

unbleached all purpose flour

1/2

cup

unsalted butter

melted

1 1/2

tsp.

pure almond extract

2

large

eggs

2 1/2

cups

fresh or frozen whole fenberries

(cranberries)

1/2

cup

walnuts, or pecans

finely chopped

2

tbsp.

sifted icing sugar
Instructions
Prepare the Crust
Preheat oven to 350F/180C/Gas Mark 4

Combine the nuts, butter and sugar in a food processor, pulsing a few times until well combined and the mixture comes away from the sides.  Press evenly over the bottom and up the sides of a 10 inch spingform pan.
Prepare the Filling
Mix the sugar and flour in a bowl.  In another bowl, beat the butter, almond extract and eggs together then add to the sugar flour mixture. Fold in the cranberries and nuts and carefully scoop the mixture evenly into the prepared crust.

Bake for at least one hour or until all the cranberries have popped.  Cool in the pan.  Remove the sides of the pan when ready to serve and dust with icing sugar.