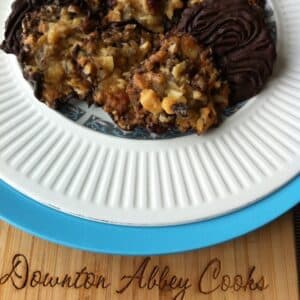 February is ticking down and when March arrives we can finally think of Spring, and eventually Summer.  My thoughts, like many others, are already drifting to imaginary travel to the UK, complete with dreams of leisurely afternoon tea at some of the famous tea houses.  Part of Downton Downtime dreaming.
I love to hold virtual tea parties with a recipe with an interesting history.  You may find my Online Guide to Afternoon Tea helpful in understanding traditions and recipes to help you host your own tea party with family and friends.
Today's treat is Florentine Biscuits, perfect for dreaming of afternoon tea at Fortnum & Mason.
The Head Cook in Your Own Abbey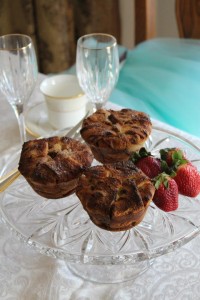 While I am passionate about Downton Abbey, I get really excited when I can inspire others to get into the kitchen to cook real and healthy food, particularly those like Lady Sybil who have no skills, but are eager to learn.  Cooking is a labour of love and sharing that love is so important in building/maintaining relationships.
The Crawleys and servants shared most of their meals together.  It is a shame our busy lives prevent many of us from sitting down together to eat on a regular basis.  Keep sharing your pictures of Downton era foods and I will post here and thank you with a free download of my book.
Florentine Biscuits
Sometimes it can be challenging to trace our favourite foods to the source. While called Florentines, food historians are not convinced that these popular biscuits came from Florence, Italy.  One story gives credit to the French and not the Italians, tracing the delicate treat to King Louis XIV of France, created in honour of a state visit by the Medicis of Florence.
In any case, it is a delicate treat and this particular recipe was inspired by Fortnum & Mason which sells– as well as serves– them in their restaurants.  The toffee crispy taste comes from the butter/sugar combination, so it is not the healthiest of treats so I would put this into the "sometimes" food, but enjoy the pure ingredients and flavours.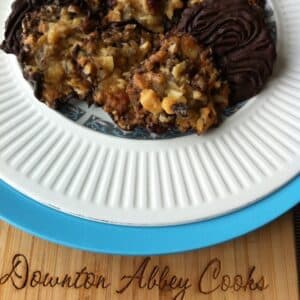 Traditional Florentine Biscuits
Ingredients
1/3

cup

sliced almonds

1/3

cup

hazelnuts

chopped

1/3

cup

sultana raisins

1/3

cup

citrus peel

chopped

1/4

cup

rice flour

1/3

cup

unbleached all purpose flour

(or use all rice flour)

1/4

cup

unsalted butter

1/4

cup

caster sugar

(granulated sugar pulsed in a blender)

1

tbsp.

molasses

2

tbsp.

golden syrup

1

cup

quality dark chocolate

to finish
Instructions
Preheat oven to 350F and line 2 baking sheets with parchment paper or silicon liner.

Mix the first 6 (dry) ingredients together in a medium-sized bowl.

Combine the butter, golden syrup, molasses, sugar on low heat until the mixture has melted.

Add the wet ingredients to the dry and mix thoroughly.

Spoon teaspoons of the mixture, well spaced apart on the baking sheets and bake for 12 minutes or until the edges are golden brown.

If the cookies have blended you can separate them while they are still hot. Cool on the sheet and then transfer to a wire rack, lined with a paper towel to absorb some of the oil from the butter.

Melt the chocolate in a metal bowl placed on top of simmering water (do not let the bowl touch the water).

Use a pastry brush to paint the bottom of each cookie with chocolate and let set chocolate side up.

Paint another and thicker chocolate layer and make some decorative squiggles or marks with a fork in the chocolate before it sets.

These are best the day you make them but will freeze will enough for your next tea party while you dream of Fortnums.
Fortnum & Mason Books
Great books from the Famous Fortnum & Mason.  My tea book was a gift from a follower.