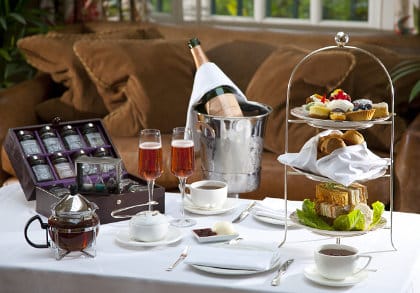 Welcome to virtual tea, my online tea party with Downton Abbey fans. Canadians celebrated Thanksgiving yesterday. Lord D and I spent some time in the Kingston area, where the War of 1812 was fought; a special shout out to Eunice Chaplin, the owner of Blanche Dubois at Elysian Fields, the lovely B&B we stayed at in Napanee. A gourmet chef, she caters from her home and hosts a dinner club in the off season. More about Eunice another time, but if you are the area, Lord D and I highly recommend this great B&B with beautifully appointed rooms topped off with a gourmet breakfast.
While Americans have likely started to plan their own Thanksgiving celebrations in November, Downton fans are also counting down the days until the January 6th PBS launch. This will give US foodie fans time to carefully plan S3 launch parties (check out my link to upstairs/downstairs theme ideas). Do consider supporting Vermont Public Television's Downton Abbey Inspired Culinary S3 Launch Weekend at the Essex Resort in Vermont (see details below).
The British may have historically failed in other culinary areas*, but excel in the tea ritual. Each Tuesday I dish on Downton Abbey, the Royal Family, UK tourism and other topical tea issues one might discuss at tea, served up with a tea treat recipe with history. Today's treat is Healthier Pumpkin Bran Loaf to continue our celebration of Fall.
My Online Guide to the Tea Ritual
Taking a traditional "afternoon tea" is definitely a bucket list experience. To do it properly, I have created a handy guide to help you enjoy the experience. I highlight a famous London tea house each week, but do check out and support the tea houses in your local community. Send in a pic and I will post it here and on my Pinterest Tea Board. My Downton Abbey Cooks Online Guide to Afternoon Tea.
Spreading the Word: Anyone can be a Downton Abbey Cook
Vermont Public Television: Check out my interview with VPT and my involvement with their big Season 3 launch weekend, outlined below.
We Women: To learn more about how you too can become a Downton Abbey Cook, read my interview in Downton Abbey Cooks: Take over Mrs. Patmore's Kitchen in WeWomen magazine.
Jungle Red Writers: Check out my interview with the ladies at Jungle Red Writers. I will be also be hanging out to chat with their fans tomorrow, on Wednesday, Oct. 10th.
Dishing Downton: There May Be Spoilers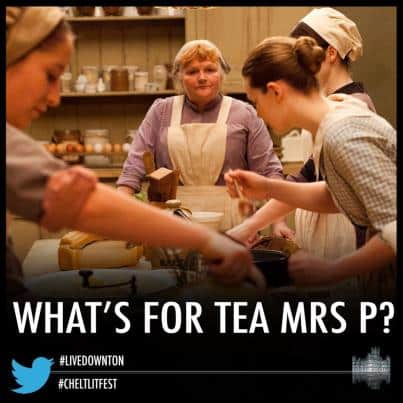 WARNING: if you wish to remain in ignorant bliss about that is going to happen in Season 3, I would suggest you scroll right down to our recipe of the

day

.
Free Bates: Join the campaign to support Bate's release with a creative submission on Pinterest
When is Downton

Day

? Keep track with Downton Abbey 2013 Wall Calendar, now available. Stay tuned for my calendar giveaways in the co

min

g weeks, or buy your calendars for yourself and fellow Downton fans through Amazon.
More Downton Etiquette: from Black Tie to which spoon is which, William Hanson reviews S3 Ep. 4 for Huffington Post UK.

Season 3 Ep. 4 Kitchen Spoilers: Mrs. Hughes brings the electric toaster to Downton, and quickly learned how to make burnt toast, while Daisy gets what she has always wanted, and lost her heart's desire all in a span of 2

minu

tes with the arrival of Ivy.
The Arrival of Jimmy: Ed Speeler's character is finally introduced to Downton as new footman, named Jimmy (or "James" as Carson prefers he should be addressed). The Dowager's review: "he looks like a footman in a musical revue."
Katy Perry's colored hair is old news. Some fashionable

Edwardian

ladies sported colored wigs.
Healthier Pumpkin Bran Loaf
Servings

Prep Time

Cook Time

1

loaf/12 muffins

20

minutes

1

hour
Servings

Prep Time

1

loaf/12 muffins

20

minutes
Servings:
loaf/12 muffins
Servings:

loaf/12 muffins
Preheat oven to 425F and prepare a large (9 inch) loaf pan with

Combine bran, sugar, flour, baking powder, spices and salt in large bowl.

In another bowl, mix pumpkin, milk, beaten egg whites and apple sauce together.

Add wet ingredients into dry, stirring only until blended.

Bake for at least 1hour. The bran will form a wonderful thick crust, but double check with a toothpick inserted in the middle comes out clean to ensure the pumpkin is fully cooked.

Remove from pan and cool on racks.
Own Your Own