If you have ever dined in higher end restaurants in Scotland you have likely seen this item on the menu. Essentially is a chicken breast, stuffed with Haggis, wrapped in bacon and then baked.  Serve with whiskey sauce and you have a great scottish meal for Robert Burns supper or any special special occasion.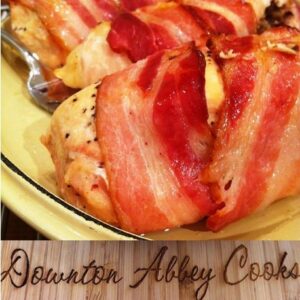 Balmoral Chicken
Balmoral chicken is a traditional Scottish dish combining chicken and haggis. It makes a great addition to an informal Robert Burns supper.
Ingredients
Balmoral Chicken
2

large

chicken breasts

3

ounces

haggis

6

rashers

back bacon

1

tbsp.

unsalted butter, melted
Whiskey Sauce
1

cup

chicken stock

2

tbsp.

whiskey

1/2

cup

double cream

1

tbsp.

Dijon mustard

1 1/2

tbsp.

unsalted butter
Instructions
Balmoral Chicken
Preheat your oven to 350F. Place the chicken breasts on a board and with a sharp knife, slice a pocket along the length of the breast.

Use your hands to form the haggis into two long sausages and tuck each inside the breasts.

Lay 3 rashers of bacon on two pieces of plastic wrap, overlapping the rashers. Place the chicken breast on each and carefully rapping each breast, covering as much as you can, tucking the ends underneath.

Generously brush the chicken with the melted butter and season with salt and pepper.

Wrap the chicken breasts in tin foil and place on a baking sheet. Bake for 20 minutes, then open up the tin foil parcel and back for another 10 minutes.

Let rest for a few minutes. When ready to serve, slice across the width to expose the stuffing, plate and then spoon on the whiskey sauce
Whiskey Sauce
Combine the stock and the whiskey in a small pan, and bring to a boil, reduce the heat and reduce until half the volume.

Stirring constantly, add the mustard and cream so that is well combined. Melt in the butter which will help thicken the sauce.
Notes
The recipe can easily be scaled up for more servings.