Lobsters were served on the Titanic, but it is a myth that they would have survived the tragic sinking on April 15, 1912.  Titanic sank to a depth of 12,500 feet yet lobsters can only live to a depth of 1500 feet. Beyond that the water pressure would cause their shells to implode.
Lobster Risssoles is a French dish traditionally wrapped up in pastry like a turnover and then deep fried, but you can also bake them.
"Rissole" comes from the Latin russeola, "reddish paste," a reference to the appearance of the filling.  A relative of croquettes, in other parts of the world they aren't wrapped in pastry. Insteasd they are coated in breadcrumbs.  A crab cake would be considered a rissole.
This recipe was made famous as a dish served on the fateful voyage of Titanic as well as part of the wedding feast of Edith's failed wedding in Season 3 on Downton Abbey.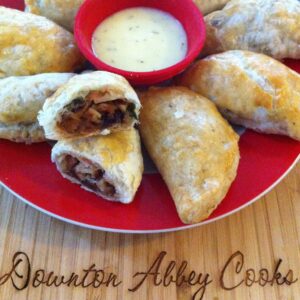 Lobster Rissoles with Mousseline sauce
Ingredients
1 1/2

cups

lobster meat,

cooked and finely chopped (you can also use crab)

1/2

cup

dates,

finely chopped

1/2

cup

dried figs,

finely chopped

1/4

cup 

green onion*,

finely chopped

1

tsp.

fresh parsley

finely chopped

1/2

tsp.

marjoram (or oregano),

ground

salt and freshly ground pepper to taste

1/2

recipe of myPie Pastry, chilled,  or 2 sheets of butter puff pastry

1

egg

slightly beaten for an egg wash

Mousseline Sauce
Instructions
Preheat oven to 375 F.

Mix together the first 7 ingredients in a medium sized bowl, adding salt and pepper to taste.

Roll out dough.  The pie pastry is a bit flaky so don't roll too thin, but since puff pastry puffs make sure you do roll out quite thin.  Decide if you want bite-sized rissoles (try a 2″ biscuit cutter, but stretch the dough a bit since it can be too tiny) but you will likely be happy using a standard 3″ biscuit cutter which will make a nice appetizer size with lots of filling. An empty tuna can works in a pinch as a cutter (Abbey Cooks improvise).

Use a teaspoon to spoon some filling in the centre of the circle.  Brush a little water along the edges to help the seal.  Fold over and pinch to seal.

Use a teaspoon to spoon some filling in the centre of the circle.  Brush a little water along the edges to help the seal.  Fold over and pinch to seal.

Use a pastry brush and give a healthy wash of egg to help brown and seal the pastry.

Place the rissoles on a parchment lined baking sheet and bake for 15- 20minutes depending on the size. Since the ingredients are already cooked you really only need to ensure the pastry has browned up, both on the top and bottom.

Serve warm or cold, with the mousseline sauce (lemon flavored cream sauce) as a dip.
Notes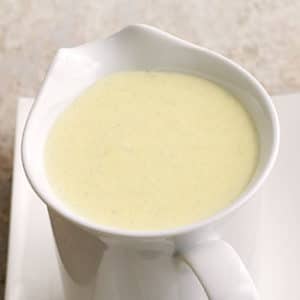 Classic French Mousseline Sauce
The classic french mousseline sauce is a moderation of Hollandaise, one of the five mother sauces.  The mousseline includes a generout helping of whipped cream to make a wonderful flavour.  Use this sauce to enhance savoury dishes, particularly fish and eggs. Mousseline translates as muslin in French, which describes the light texture of muslin cloth. 
Ingredients
2/3

cup

melted unsalted butter

3

tbsp.

water

3

large

egg yolks

as fresh as you can find

1/4

tsp.

salt and pepper

1

tbsp.

lemon juice

2

tbsp.

fresh dill

chopped

1/4

cup

heavy cream

lightly whipped or non fat plain strained yoghurt
Instructions
Using a spoon, skim froth from the surface of the melted butter and discard. Allow butter to cool slightly.

On top of a double boiler or heatproof bowl, whisk water and egg yolks together with salt and pepper for 30 seconds or until pale yellow and frothy. Over barely simmering water, whisk mixture for 3 minutes or until it draws a ribbon for 5 seconds.

Remove pan from heat; whisk in warm butter, 1 tablespoon at a time, until sauce begins to thicken. Still whisking, pour remaining butter into sauce in a slow steady stream. Stir in lemon juice and dill. Allow the sauce to cool slightly. Gently fold in whipped cream or yoghurt. Adjust the seasoning to taste. Keep warm by setting over a pot of warm water.

Serve over fish or egg dishess.