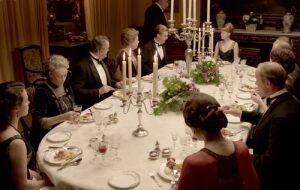 Downton Abbey fans love to share the show with their friends and family.  The fabulous food lends itself to themed parties.  In this post, I include a few specific ideas for planning a Downton party.  A great idea if you are planning to see the new movie with a group of your closest Downton fans. Whether you are serving 2 or 200 there are plenty of recipe ideas to make in your own Abbey.
I have posted hundreds of recipes for foods that would have been served upstairs and down at Downton Abbey and other great English country houses from the Edwardian era through to the early 1920s. All for the love of Downton and those who love the show.  For a full list of dishes by meal or occasion, check out the Menu dropdown.

Entertaining Was Much Simpler in the 1920s
While diners in earlier episodes endured 7 or even 8 courses at dinner, you will be relieved to know that family dinners during this period are now only 3 courses…unless of course, you are entertaining your fellow aristocrats.  And the cocktail party finally came to Downton.
Check my Press Clippings
Don't just take my word for It:  I have given a number of interviews in the national press, and my recipes have been posted in newspapers around the world.  I even prepared Afternoon Tea for national TV. Check out my Press Page.
Why not buy the Book?
Want it all and more in a pretty package?  My ebook, Abbey Cooks Entertain, is available for download here (click on the image in the right column), or you can order from Amazon. I also include a cocktail section with authentic cocktails from the era. My 2nd Edition is now available with recipes from Season 1 – 5 with both imperial and metric measurements.
I hope to provide inspiration for fans of all cooking abilities who want to take a Downton twist on casual or formal gatherings.  It is pretty rare to get rich selling books, but every penny helps offset my food costs so I can continue to share new recipes with you throughout the year.
Cocktails at Downton
The cocktail hour finally comes to Downton late in Season 5, but why not get an early start?  Here are recipes for canapes and drinks.
Downton Beverages
Non Alcoholic: fans of John Bates know that he has given up alcohol so you may make a conscious decision to serve non-alcoholic drinks in his honour. Some Edwardian standards include:
Alcoholic:  You may recall that Mary warned Sir Richard: "I could ask Carson to make one for you, but I can't guarantee the result."  But after Lady Rose spiced things up at the Abbey feel free to raise a toast to Season 5  with your favorite cocktails
If you don't trust Carson to mix drinks, consider wines, spirits and liqueurs for your guests.
Champagne or sparkling wines would be a great celebratory drink to toast each of the 16 categories.
Madeira: Edwardians loved madeira, for any fortified wine (sherry, brandy) would be fitting tribute to the Dowager countess.
Wine: a great choice.
Scotch: a favorite of the Crawley men, single malt for an upstairs crowd
Pimm's: a popular drink in the UK (derived from gin), but might more suitable for the summer. If you do live in the lower states it might be suitable as thirst quencher. Check out my Pimm's Punch recipe, my favorite.
"Signature" Downton Dishes
If you aren't prepared to do a great deal of cooking but still want to bring a little bit of Downton to your own viewing party, why not try making one memorable item from the show to share with fellow fans.
Downton Servants Hall tribute
Many of our favourite characters live downstairs, so you may wish to invite family and friends over for a dinner of simple, hearty dishes which helped fuel our favourite downstairs team for their long 12+ hour days serving the needs of the Crawley family and the sprawling estate.  Convert your Abbey dining room into a servants' hall.
Tailor your Own Upstairs Menu
With over 250 recipes on my blog, just search for your own combinations of dishes to suit the particular tastes of your own Lords and Ladies.  King Edward VII introduced fine French Cuisine to England, and aristocracy enjoyed wonderful food influences from around the British Empire, so enjoy the culinary journey.  Now that we are in Season 5,  the meals in the 1920s were now typically only 3 courses, unless of course they were hosting a large dinner party for guests.
How about:
Appetizers 
Salads
Soups
Main Course
Side Dishes
Downton Desserts
If dessert and coffee are more your cup of tea, you could serve traditional dessert and tea favourites. I have also included a few recipes fancied by the Royal Family.
Afternoon Tea
Not all parties have to take place after dark. Why not host an Afternoon Tea? It is the easiest way to entertain and impress your friends.  If you can make crustless sandwiches you are off to a good start.  Home bakers will be able to master the sweets and my easy scone recipe.  Not so skilled in the kitchen? I am sure you are well known for finding the best bakeries in town.
My online book Relaxing with Afternoon Tea provides you with hosting tips, and some of my favourite recipes.
My Downton Entertaining Cookbooks
Signed copies are available  for download on this site:
OR from Amazon