I was recently introduced to British Celebrity Chef Gary Rhodes's brilliant cookbook New British Classics. Published in 1999, it still is as relevant as it was 20 years ago. I was assured that you can never go wrong with any of the recipes in this book.  Sadly, Gary unexpectedly died in 2019 due to brain bleed.
My freezer is always full of overripe bananas so I welcomed his take, using golden syrup as the sweetener. You just toss the ingredients together and pour into your loaf pan and bake.  Golden syrup provides a rich flavour and a wonderful soft texture to your loaf.  Slice into fingers or squares and add to your tea tray.
Bananas were carefully cultivated in grand greenhouses of the English aristocracy so was a scarce commodity. It was not until the 1880s when Mr. Fyffe managed to efficiently ship bananas from the Canary Islands in refrigerated steamships did bananas became available to all.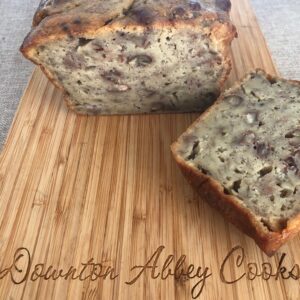 Banana and Golden Syrup Loaf
This amazing new take on the classic banana bread comes from Gary Rhodes New British Classics. Golden Syrup adds a glorious mild sweet flavour that is unforgetable.
Ingredients
2

cups

all purpose white flour

1/2

cup

unsalted butter

softened

4

large

bananas

ripened

1/4

cup

brown sugar

4

tbsp.

golden syrup

4

large

eggs

1

tsp.

baking powder

1

cup

pecans or walnuts

chopped (optional)
Instructions
Prepare a small loaf pan (8" x 3.5"), lined with parchment paper or generously greased. Preheat your oven to 350 degrees F.

Mix all the ingredients together in one bowl. Scoop into the prepared loaf pan and bake in the preheated oven for 50-55 minutes. Use a cake tester to check. The loaf is done when the tester comes out clean.

Let cool in the pan for 10 minutes before removing from the pan to completely cool.
Notes
Purchase Gary Rhodes New British Classics on Amazon.
Golden Syrup.  Buy it on Amazon.
History of Golden Syrup
If you have spent any time around the

English

 or Harry Potter films, you may have heard of the term Treacle.  It simply refers to molasses. The most famous manufacturer of treacle is Lyle's Golden Syrup, a light treacle.  
It was recently declared Britain's oldest brand, registering its trademark in 1904 and granted a Royal Warrant in 1911.  The company was founded by Abram Lyle, a Scottish businessman in the sugar business.  The sugar cane refining process produced a treacle-like syrup that usually went to waste, but Lyle found that it could be refined to make a preserve and sweetener in cooking.  "Waste not want not".
Brand junkies take note.  The artwork on the tin is not what you would normally associate with food.  The tin displays the rotting carcass of a lion with a swarm of bees, bearing the slogan "Out of the strong came forth sweetness".  A deeply religious man, the image refers to the story in the Book of Judges in the Bible.  Samson kills a lion on his journey to find a wife.  When he passed the same spot on his return he noticed that a swarm of bees which had formed a comb of honey in the carcass. Samson later turned this into a riddle at a wedding: "Out of the eater came forth meat and out of the strong came forth, sweetness".