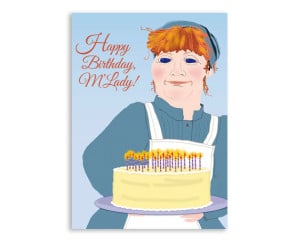 While the cold weather is not helping to boost our collective spirits after the end of Downton's Season 4, at least I have my birthday month celebrations to look forward to.  My birthday was yesterday but it has become a tradition for me to reach out to friends and colleagues I haven't socialized with for some time to gather to collectively grumble about how long winter has lasted.  This year we really mean it.
In Season 3 The Dowager famously scolded Martha about the need to "understand the importance of tradition".  Birthdays are a great time to enjoy traditions, like our favorite foods. Sadly, we never learned this season Robert's favorite food which was served birthday, but mine is fish and seafood.  We have made a number of fish dishes here (many from fish I caught myself), but this week we travel to the Continent for Italian.  This week's dish is Angel Hair Pasta with Lobster, a dish Lord D introduced to me.  The Granthams might have travelled to Italy for such birthday delights, but we can quickly and easily make this own dish in our kitchens for special occasions.
Downton Dish
Downton Costumes

We will have to get used to Downton Downtime.  We do know that Season 5 is coming eventually (Sept on ITV,  Jan on PBS), so we will see press about new casting, and perhaps a plot spoiler or two in the next 8 months.  However, the popularity of the show does provide us with ways to connect with the show in other ways:
Pie Birds:  The Evolution of The Pie Funnel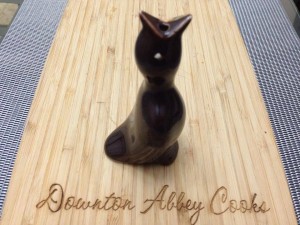 The first present I received for my birthday this year was from my Aunt, Lady M, who you may remember was in the running for best Dowager costume prize at last year's VPT Downton Abbey Launch weekend.  It was this little, guy, a sweet little pie bird she had been taking care of for a number of years.  Now he is all mine.  Maybe I will name him Thomas since he is always getting hot under the collar.
Since it is my birthday I will pass along the history lesson culled from Pie Birds Unlimited, a site dedicated to the collection of pie bird enthusiasts.
Pie birds have been called pie vents, pie funnels, pie chimneys and pie whistles–they don't whistle though, or make any noise at all. And although they are generally called pie birds, they aren't always shaped like birds. They are basically a hollow ceramic device that lets the steam escape from a baking pie, so all the bubbly juices stay inside the piecrust.
These clever little devices originated in Europe and have been around since Victorian times. They were first called pie funnels (still called that by the British) and were actually shaped like little ceramic funnels. By the late 1800s, potteries started designing vents just for pies, but then they were called crust supports or crust holders. In addition to preventing the pie juices from boiling over, the funnels helped support the pastry crust so it did not sag in the middle.  To use your pie funnel: lay the bottom crust in your pie plate, center the pie funnel on the crust, and place the filling about it.  Cut a hole in the center of the top crust so the pie funnel/bird can pop out.
It is hard to trace the actual first bird-shaped pie vent, but the first one registered in England was a design by Clarice Cliff in 1936.
Abbey Cooks Entertain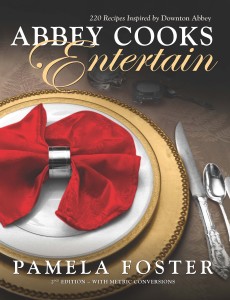 Just because S4 is over, that doesn't mean you can't continue to share the love of this period of history in food with family and friends.  With 220 traditional Downton era recipes with a modern twist, this is a great book to create some simple or complex dishes for your Mary or Anna.  Book sales help offset my costs in food, equipment and time to keep bringing you new dishes each week. While the book is available on Amazon, you can only get a signed copy here on my site.
If you don't have an eReader I would suggest the PDF version which allows you to print recipes as you go, if you wish. Buy one for yourself, gift to another.  All you have to do is email the download link to your loved ones.
Your Downton Down time Survival Guide