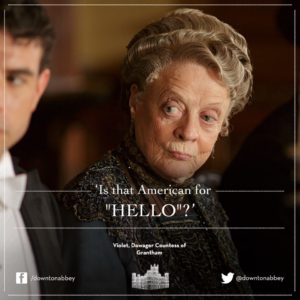 Alas another season of Downton Abbey has come to an end. The timing of the finale was the perfect ending of a great weekend for Canadians who beamed with national pride as we beat the Swedes for Gold in men's hockey.  Like the Dowager we took some pleasure poking fun at the Americans.  Luckily, there always seems to be a Martha Levinson around to defend the American honor.
I don't particularly mind that the season is over, because now I am free to go back prepare other dishes from Season 4 and explore other culinary delights that Downton inspires.  Let Downton Downtime begin!
In celebration of the finale, I chose Crown Roast of Lamb as this week's dish.  We see Mrs. Patmore preparing this simple, but elegant dish.  It is fitting since the Crawley family finds themselves at Buckingham Palace.  It is simple and elegant, the perfect dish to have in your repertoire to serve on special occasions.
Downton Dish
Welcome to another season of Downton downtime.  With fil

min

g about to commence for Season 5, we can count on some clever journalists to help us a sense of what to expect next year.
New York Times interviews Julian Fellowes: He addresses criticism and the future of Downton
If you can't have Downton you can still see your favorite actors this year on the big screen:

Hugh Bonneville in The Monuments Men
Michelle Dockery in Non-Stop
Jessica Findlay Brown in Winter's Tale
Dan Stevens in The Guest
Abbey Cooks Entertain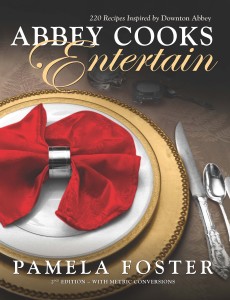 Just because S4 is over, that doesn't mean you can't continue to share the love of this period of history in food with family and friends.  With 220 traditional Downton era recipes with a modern twist, this is a great book to create some simple or complex dishes for your Mary or Anna.   Book sales for this 400 page tome help offset my costs in food, equipment and time to keep bringing you new dishes each week. While the book is available on Amazon, you can only get a signed on my site. 
Crown Rack of Lamb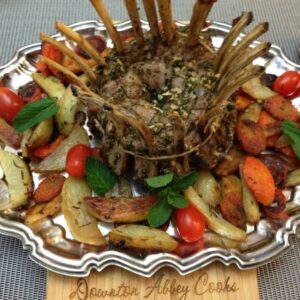 Impress with Easy Crown Roast of Lamb
Lamb is an easy dish to cook and a dish to impress the Lords and Ladies in your social circle.  The Royals have always been fond of lamb. Edward VII loved to nosh on cold leftover cutlets late at night. Look for frenched racks of lamb and if you ask your grocer or butcher nicely s/he will tie it into a crown for you.  You can also make a crown roast from veal or pork, if you like with lots of room to include a stuffing.
Ingredients
2

7 rib

racks of lamb,

frenched

1/4

cup

fresh rosemary,

chopped

6

cloves,

garlic

minced

2

tbsp.

fresh oregano,

chopped

1

tbsp.

kosher salt

2

tsp.

black pepper,

freshly cracked

4

medium

potatoes

peeled and cut into thin wedges

3

large

carrots

peeled and sliced (1/4 inch)

extra virgin olive oil
Instructions
Preheat oven to 450°F.

Mix the chopped herbs, shallots and spices together to make a rub.

Brush lamb with olive oil and then rub the spice mixture well  into the lamb.

Drizzle olive oil in a roasting pan and place the crown roast in the center.

Place a sheet of tin foil over the exposed bones to prevent burning.

Place the vegetables in a single layer around the roast, turning over to coat with the oil.  Sprinkle with salt and freshly cracked pepper.

Roast lamb until instant-read thermometer inserted into thickest part of lamb 125°F to 130°F for rare, about 20 minutes 130°F to 135°F for medium-rare, about 30 minutes 135°F to 140°F for medium, about 35 minutes). T

Transfer lamb to platter and vegetables to a serving dish; cover with tin foil.

Let the lamb rest for 5 to 10 minutes while you prepare mint sauce (recipe follows)

Remove foil and string before serving. Cut lamb between ribs into chops and serve.
Notes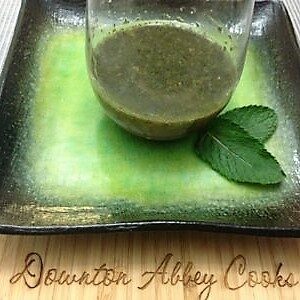 Easy Mint Sauce
You can't have lamb without mint sauce, it is some kind of culinary law! Easy to make and really is a lovely accompaniment to your lamb dishes.
Ingredients
2

medium

shallots,

minced

¼

cup

white wine

1

cup

chicken stock

2

tsp.

cider vinegar

1

tsp.

Granulated sugar

¼

cup

chopped fresh mint or 1 tbsp. dried mint flakes
Instructions
You will get the best results using the drippings from your roast lamb. If not, simply start with a good olive oil to heat a sauce pan.

After you have cooked and removed your lamb to rest, place the roasting pan over medium heat. Stir in shallots and cook, stirring until softened. Stir in wine and bring to a boil and cook, stirring for 1 minute or until reduced to a glaze. Add the stock, vinegar and sugar.

Continue to boil rapidly for 2 minutes or until sauce is slightly thickened; pour through fine-meshed sieve. Stir in mint. 4. Serve Mint Sauce alongside your lovely roast.
Downton Must Haves