"Remember, remember the 5th of November, Gunpowder, Treason & Plot. I see no reason why gunpowder, treason should ever be forgot." Traditional British Rhyme A lesser known holiday to Americans, tonight is Guy Fawkes Day, aka Bonfire Night, celebrated across the United Kingdom marking the failed attempt of Guy Fawkes to blow up English Parliament on November 5, 1605.  Bonfires were set alight on that night when the plot was revealed, celebrating the safety of the King James I and the tradition has continued.  For four hundred years, the anniversary is commemorated fireworks and burning effigies of Guy Fawkes on huge bonfires, and of course lots of warming foods and drinks. Today's traditional bonfire treat are flapjacks. Flapjacks in the UK are not the same as pancakes.  They are a delicious granola bar which are as addictive as they are nutritious. You can imagine tucking into this treats around the bonfire, sharing insights on this season of Downton with friends, family and neighbors.
The Gunpowder Plot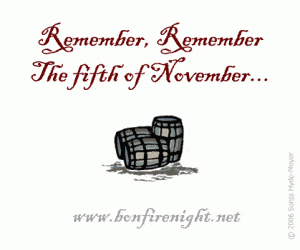 Guy Fawkes was part of a group of 13 Catholic conspirators who plotted against James I, who was less tolerant towards the Catholic religion than this Mother Elizabeth I who had died a few years earlier. The plan was to blow up the House of Lords, killing the King.  Barrels filled with gunpowder were stored in a cellar just under the House of Lords.  When it became apparent that innocent people might be killed, an anonymous letter sent to Lord Monteagle warning him to stay away from Parliament on November 5th reached the King. Guy Fawkes, who was in the cellar of the parliament with 36 barrels of gunpowder when the authorities stormed it in the early hours of November 5th, was caught, tortured and executed. The Gunpowder Plot had a profound effect.  Since then reigning monarchs only enter Parliament once a year for the State Opening of Parliament. According to custom, the Yeomen of the Guard search the cellars of the Palace of Westminster prior to the opening.
Food and Drink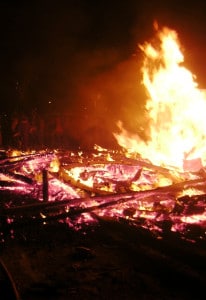 Autumn in the UK can be cold, rainy and just generally damp.  While there are larger celebrations, neighbors typically gather to smaller communal bonfires.  "Guy",in effigy, is thrown on top to celebrate the failed plot.  As you would expect where there is fire, there are fireworks, but hand held sparklers do in a pinch. This sets the stage for the types of food and drinks which have become traditions.  They need to be warming, and hearty comfort foods. Popular foods for this outdoor event include toffee apples, bonfire toffee and potatoes baked in the ashes of the fire.   Some of our favorites which we have made in our Abbey Kitchen are Parkin, Shepherd's Pie, Cottage Pie, and Colcannon. There are often warm soups on hand as well as hot chocolate for the kids, hot toddy for the adults.  My book contains a lovely boozy recipe for Guy Fawkes Punch with wine, apricots and brandy.
Downton Dish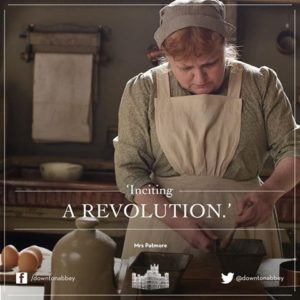 ITV is currently broadcasting the latest Season 4 in the UK.   In the US and Canada, PBS launches in January (see the countdown clock above).  Each week I share Downton news, but if you haven't seen all seasons (1-4) beware of spoilers below.
What I will Say about Season 4 Since Downton fans span the globe I am watching along with the UK fans, but promise not to divulge major spoilers before January.  I did keep quiet last year (although it was really hard) so I think I can be trusted, mostly. There are a few things I will say about Season 4E7:
Lady Mary actually cooks…scrambled eggs. I am still in shock.
Daisy and Ivy are still feuding over Alfred.
Anna has been harboring a secret, but as Mrs. Hughes says "Its not my secret to tell"
Lord Grantham travels to America.
PBS S4 Launch Party Evening Inspired by Downton: Jan. 4/5
Vermont Public Television is hosting their second Downton inspired culinary weekend January 4th/5th. This event will launch Season 4 at the renowned culinary mecca, the Essex Resort, in Burlington Vermont. I am honored to be asked once again to play a part in the proceedings.  Lord D and I look forward to this wonderful event of fabulous Downton food and festivity. Be among the first in the US to see Episode 1 in a theatre setting. Last year everyone had so much fun dressing up for Day 1, that they chose to wear their finery on Day two. Tickets are now on sale for this great event in support of public television, the network which brings Downton to the US and Canada.
Your chance to win a copy of the 2014 Calendar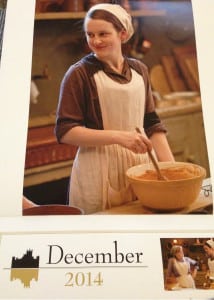 I just received my copy of [easyazon-link asin="0789326361″ locale="us"]Downton Abbey 2014 Wall Calendar[/easyazon-link]. Stay tuned for a chance to win a free calendar here at the end of November.  Like last year, there will be a skill testing question.
Abbey Cooks Entertain: Only $7.95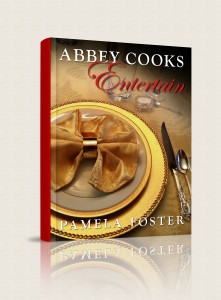 With 220 traditional Downton era recipes with a modern twist, this is a great book to have on hand when planning a Downton cocktail party, a romantic dinner, or hearty downstairs meal with family and friends. This 432 page ebook sells for only $7.95. Book sales help offset my costs in food, equipment and time to keep bringing you new dishes each week. While the book is available on Amazon, you can only get a signed copy here on my site. If you don't have an eReader I would suggest the PDF version which allows you to print recipes as you go, if you wish.
Traditional Flapjacks
The British Flapjack is different from the thick pancakes we know in North America. It is amazing comfort food dating back to the 1700s. Lots of flapjack recipes have been handed down from mother to daughter and ongoing debate about whether they should be crunchy or chewy. Some cooks add a pinch of flour to help bind, others reduce the syrup but use chopped dates to bind and provide the sweetness.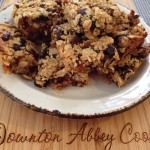 It always comes down to how your mom made them at home.    You can add nuts and dried fruits to make it more nutritious.   For me the key ingredient is the golden syrup which is a UK staple with a wonderful lovely mild taste which corn syrup just can't deliver.  Sometimes the best recipes can be the most simple and the one I love has only three ingredients, one pot and a square baking sheet…sort of like our beloved Rice Krispie Treats first developed in 1939 as fundraiser.
Ingredients
1/3 cup Golden Syrup*
1/2 cup unsalted butter
2 cups porridge (quick) oats
pinch of salt
Method
Prepare a 9″ square pan by liberally greasing. You can take the extra step of lining with parchment paper to ensure your flapjack comes out cleanly.
Preheat oven to 350F.
Heat the butter and syrup in large saucepan until the butter is thoroughly melted.
Take off the heat and add most of the oats, coating well, and adding the remainder (reserving some if the mixture looks too dry) so you have a oats that are equally coated with the melted mixture.
Pour the mixture into the prepared tin and spread evenly to fill the tin, pressing with a spatula to ensure the top is level.
Bake for 25 minutes or until golden brown.
Cut the flapjacks into squares while still warm, and then let cool before removing from the pan.
Golden Syrup/Treacle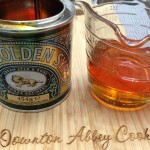 If you have spent any time around the English or Harry Potter films, you may have heard of the term Treacle.  It simply refers to molasses. The most famous manufacturer of treacle is Lyle's Golden Syrup, a light treacle.  It was recently declared Britain's oldest brand, registering its trademark in 1904 and granted a Royal Warrant in 1911.  The company was founded by Abram Lyle, a Scottish businessman in the sugar business.  The sugar cane refining process produced a treacle-like syrup that usually went to waste, but Lyle found that it could be refined to make a preserve and sweetener in cooking.   Waste not want not.Brand junkies take note.  The artwork on the tin is not what you would normally associate with food.  The tin displays the rotting carcass of a lion with a swarm of bees, bearing slogan "Out of the strong came forth sweetness".  A deeply religious man, the image refers to the story in the Book of Judges in the Bible.  Samson kills a lion on his journey to find a wife.  When he passed the same spot on his return he noticed that a swarm of bees which had formed a comb of honey in the carcass. Samson later turned this into a riddle at a wedding: "Out of the eater came forth meat and out of the strong came forth sweetness". *Substitutions:  Golden syrup is widely available around the world, made either from sugar cane or sugar beets.  If you can't find golden syrup you can substitute in a few ways: Combine two parts light corn syrup plus one part molasses OR equal parts honey and corn syrup OR maple syrup (This is thinner, and not as sweet).
Start your holiday gift lists
Gift ideas for your Downton fan. Click on the icons to take you to Amazon to order in time for the holidays.