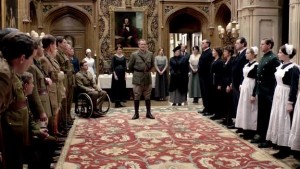 Monday was Remembrance Day, commemorated across the British Commonwealth.  As you may recall from Season 2 of Downton Abbey, the family and servants gathered on 11th hour on the 11th day of the 11th month which signified the end of World War I. In the United States it is observed as Veteran's Day, a day aside to pay tribute to celebrate living veterans who served in the military. In May, Americans remember those soldiers who passed in the service of their country on Memorial Day.  Today I thought the lovely splash of poppy red  in Bonnie Cranachan, a traditional Scottish dessert, was a fitting comfort food.
Remembrance Day is a day to remember and give thanks to all those men and women who were killed during the two World Wars and other conflicts. This also gives us the opportunity to give thanks to those veterans for their service to our country.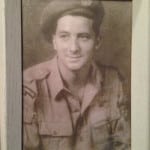 In our family, we take time to remember our uncle who perished in World War II.  Lord D was named after his uncle, a handsome young man who often wrote home to his mother, whom he called "his best girlfriend".  He was stationed in the Renfrew Scottish Regiment" and gave his life for God & Country on the Battlefield December 15, 1944.
Downton Dish
behind the scenes on Instagram

Alas, Season 4 has now finished in the UK so they are back to Downton Downtime. But wait, a Christmas Special awaits, and hopefully with no shock ending this year.  The Clock is ticking down to the PBS launch in January (see the countdown clock above).  Each week I share Downton news, but if you haven't seen all seasons (1-4) beware of spoilers below:
What I will Say about Season 4 Since Downton fans span the globe I am watching along with the UK fans, but promise not to divulge major spoilers before January.  I did keep quiet last year (although it was really hard) so I think I can be trusted, mostly. There are a few things I will say about Season 4E8:
Daisy takes another step towards maturity…we are so proud
Pigs settle into Downton nicely
Lord Grantham returns from America and it appears Martha will be coming back to Downton sometime in the future.
Abbey Cooks Entertain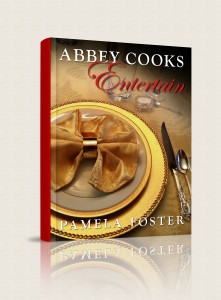 With 220 traditional Downton era recipes with a modern twist, this is a great book to have on hand when planning a Downton cocktail party, a romantic dinner, or hearty downstairs meal with family and friends. The sales help offset my costs in food, equipment and time to keep bringing you new dishes each week. While the book is available on Amazon, you can only get a signed copy here on my site. If you don't have an eReader I would suggest the PDF version which allows you to print recipes as you go, if you wish.
Bonnie Cranachan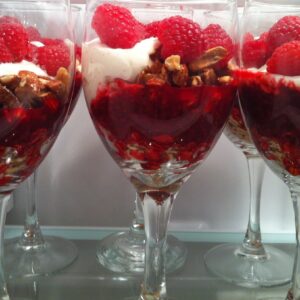 Simple Scottish Bonnie Cranachan
This is a simple boozy Scottish dessert traditionally made of oats, whisky, cream and berries.  A colourful dessert for your romantic meal or to end off your Robert Burns Supper.
Ingredients
1

pound

red berries

mixed, ie raspberries and strawberries)

1

sprig

rosemary

fresh

3

tbsp.

honey

1

medium

orange

juiced and zested

1

cup

large flake oats

3.5

ounces

almonds

sliced

1

tsp.

pure vanilla

1 1/3

cup

whipped crean

substitution plain nonfat greek yoghurt

3

tbsp.

honey

3

tbsp.

whiskey

a generous splash

5

ounces

raspberries

fresh
Instructions
In a small saucepan heat the berries, rosemary, 1 tbsp. honey, the orange juice and zest. Bring to a boil, then simmer for roughly 10 minutes, or until thick. Remove the rosemary, and cool in a small bowl.

While the syrup is cooking, place the oats in a clean frying pan and toast until golden brown, three or four minutes. Place in a small bowl.

Add the remaining 2 tbsp honey and the sliced almonds to the frying pan on medium heat. Toss until the almonds are light golden and sticky.

Fold in honey, vanilla and whisky into the greek yoghurt.

To assemble, layer the stewed berries, toasted oats, sticky almonds and flavoured cream, topping with fresh berries and another splash of whiskey. Use sturdy wine glasses so you can see the mix of color.
Notes
Purists soak toasted oats in whiskey, mix with whipping cream and throw in a few berries for good measure. Traditionally diners would make their own from the ingredients laid out on a table.
Nutrition
Serving:
100
g
Calories:
458
kcal
Carbohydrates:
65
g
Protein:
7
g
Fat:
12
g
Saturated Fat:
1
g
Polyunsaturated Fat:
2
g
Monounsaturated Fat:
5
g
Trans Fat:
1
g
Sodium:
2
mg
Potassium:
250
mg
Fiber:
5
g
Sugar:
16
g
Vitamin A:
58
IU
Vitamin C:
18
mg
Calcium:
67
mg
Iron:
1
mg
Your Downton Survival Guide