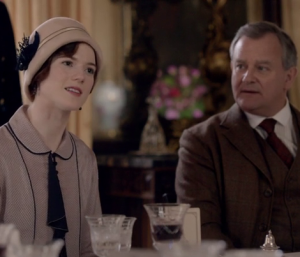 Fellow Downton fans across America and Canada have now settled in nicely with Season 6 to keep them warm these cold winter Sunday nights. There are still 6 more episodes to go before the end of this glorious series, and I for one am savoring every last bite of this sumptuous feast.
A wee dram of scotch will help keep Scots warm round the world today as they pipe in the haggis to celebrate Robert Burns Day. A history and less intimidating food choices are listed below.
In keeping with tradition, I will continue to share one recipe mentioned on each episode as my love letter to the Downton kitchen staff and to those fans who love the food on the show.  This week we see Daisy taking out her frustrations out on the mashed potatoes, and pudding served as dessert, but it is the chicken liver pâté she was making for Gwen's luncheon that we will be making today.
Downton Dish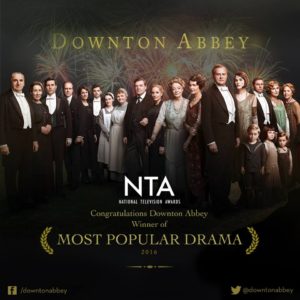 While this is the last season there are still juicy tidbits to share:
What Happened in Season 6, Episode 4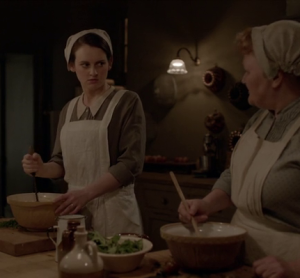 A quick recap of what went on down and upstairs this past week:
The highlight was Gwen's return to Downton as an upstairs guest.
Barrow, now Butler while Carson is on honeymoon, couldn't resist outing Gwen to the Crawleys, which of course backfires on him.
Gwen's story about how Sybil helped her get her first job touches the family. The ripple effect resulted in Mr. Mason getting Yewtree Farm, just before Daisy was going to have it out with Cora. Daisy used to be my favorite character. Now, not so much.
The future of the hospital continues to be the focus of disagreement between Isobel and Violet.  The Dowager recruits Lady Shackleton to speak on her side, who coincidentally turns up for dinner with her nephew, the handsome Henry Talbot.
Sparks fly between Mary and Henry as we gleefully wait to see if this will be Mary's next true love, despite losing Matthew in a car wreck.
Anna is whisked off to London by Mary to get the stitch in time to save her pregnancy, which allowed the family to push through YewTree Farm decision without argument from Mary.
Tom is back but is still itching for something to do to call his own.
Willis comes knocking, this time looking for Miss Baxter to testify against Peter Coyle, that handsome jewel thief.
The Carsons arrive back from honeymoon and to the delight of the Crawleys, Mrs. Hughes keeps her maiden name.
Rabbie Burns Day is January 25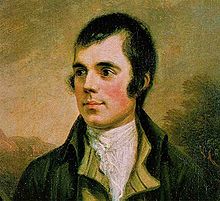 On January 25, Scots around the world celebrate the birth of famous Scottish poet, Robert Burns. You know at least one poem, "Auld Lang Syne' which we sing on New Year's Eve, written in 1788. Traditional Burns Suppers are often held the weekend before or after his actual birthday- there is scotch involved. I have been lucky enough to have been invited to a few annual celebrations.
The Burns Supper is a very serious event with a set program complete with bag pipes, and speeches in an language which barely resembles English. The main event is the piping in and then address of the haggis (sheep's stomach stuffed with oatmeal mixed with offals). Toasts with scotch does help some summon the courage to actually eat the haggis.
You can still try Scottish this week with comfort foods like:
Fundraising Idea: Relaxing Over Afternoon Tea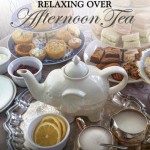 Afternoon Tea: what a lovely way to host fellow Downton fans as you discuss the latest episode, and ponder what Downton will deliver next. The book contains 60+ recipes for tea treats, the three S's: scones, sandwiches/savouries and sweets.
The book provides a brief history of afternoon tea, tea etiquette and tips on how to host your own tea for fun or fundraising.  Amazon sells the print version and Kindle versions, or a you can download PDF version here.
Abbey Cooks Entertain: 2nd Edition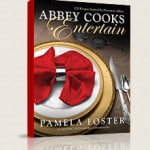 Whether you are hosting 2 or 200, this book has lots of ideas. Containing 220+ traditional Downton era recipes with a modern twist, this is a great book to create some simple or complex dishes for your Mary or Anna.
This 448 page ebook has been updated to include both metric and imperial measurements and now includes famous Downton dishes throughout the series.  Book sales help offset my costs in food, equipment and time to provide you new recipes on a regular basis.
This ebook is now available for download on my site and on Amazon:  Abbey Cooks Entertain: 220 recipes inspired by Downton Abbey, Seasons 1 – 5
Print Version is here.  The good news is that the 2nd Edition is available on Amazon. The full book is 450 pages and will contain famous Downton recipes from Seasons 1-5.
Chicken Liver Pâté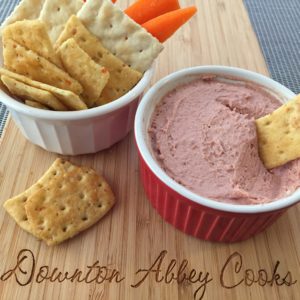 from JK: The Jamie Kennedy Cookbook
I love this  dish which Jamie's mom adapted from a French chef who worked at the White House. A little more time involved but the efforts are worth it.
Yield:  4 half pint (250 ml) jars
Ingredients
1 2/3 (440 g) + 6 tablespoons of butter
3 onions, thinly sliced
3 apples, peeled, cored and roughly diced
1 tsp. (5 ml) ground fenugreek
1 tsp. (5 ml) turmeric
1 3/4 lbs (625 g) fresh chicken livers
2 tbsp. (30 ml) brandy
2 tbsp. (30 ml) dry sherry
1 tbsp. (15 ml) chopped fresh parsley
1 tsp. (5 ml) chopped fresh thyme
salt and freshly ground pepper
Directions
In a large pot over medium-low heat, melt 1 2/3rds cups of butter. Add the onions, garlic, apples, fenugreek and turmeric. Gently cook, stirring from time to time for approximately two hours.  It is important to thoroughly cook the onions but without browning them at all.
Meanwhile, melt 6 tbsp. butter in a large frying pan over high heat.  Quickly saute the chicken livers, being careful not to overcook them. They should remain soft to the touch.  Add the brandy and set it alight.  When the flames have died down, stir in the sherry, parsley and time. Remove from the heat.
Transfer the liver mixture to a blender.  Add the apple mixture. Blend at high

Stuffed tomatoes for luncheon (ITV)

speed until smooth. Season with salt and pepper.

Transfer into jars and refrigerate. It will keep for up to a week. Great hostess gift item.
Serve with crackers at your  Downton viewing party or stuff into scooped out tomatoes and serve as a first course at luncheon like Mrs. Patmore did.