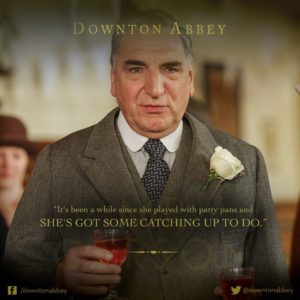 January has come and gone in a flash and now Valentine's Day is looming on the horizon. I am a lucky lady. Every day in our household is filled with love to the point that my girlfriends beg Lord D to give lessons to their husbands on how to give flowers for no reason. To pay it forward I have listed a few dishes below which will thrill your Downton fan.
Now that Charlie Carson wed Elise Hughes (S6E3), we are granted a view of how the new couple adjusts to married life. Mrs. Hughes ran the household not the kitchen, so how does a man with exacting standards adjust to a wife who does not cook? And how will Mrs. Hughes gently adjust his expectations? This will be fun to watch.
In keeping with tradition, I will continue to share one recipe mentioned on each episode as my love letter to the Downton kitchen staff and to those fans who love the food on the show. As the newlyweds adjust to married life this week's recipe is  Bubble and Squeak, an easy dish which any new cook can master, even if Mr. Carson finds it odd that Mrs. Hughes likes to pair it with lamb.
Downton Dish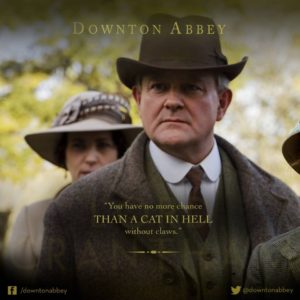 While this is the last season there are still juicy tidbits to share:
What Happened in Season 6, Episode 5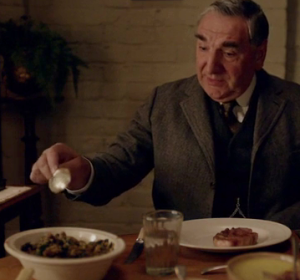 A quick recap of what went on down and upstairs this past week:
Charlie and Elsie have set up house, and like most newlyweds learn more about each other.  Bubble and Squeak with lamb?  Horrors!
Violet blackmails Neville Chamberlain, then the Minister of Health, to dine at Downton in order to get his support her scheme with the hospital.
Robert's lingering health issues literally erupt at dinner, to the horror of the other diners, but thankfully there is always a doctor in the dining room.
Denker gets herself in some real hot water this time when gives Dr. Clarkson a piece of her mind about the hospital. She is quick to blackmail Spratt to save her job.
Mary overhears Cora and Violet talking about Marigold, so it is only a matter of time when she will use that as some sort of weapon.
Edith has a non date with Bertie Pelham.
City boy Andy takes to pigs and offers to help Mr. Mason with the pigs. Unfortunately he cannot read the books he was given. Enter in Thomas to lend a helping hand.
Little sparks are flying between Mr. Mason and Mrs. Patmore, which Daisy either doesn't acknowledge or does not approve of.
Valentine's Day, Downton Style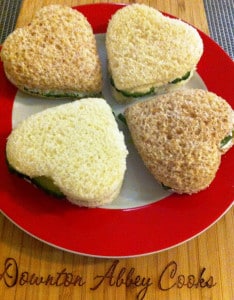 Valentine's Day can put a lot of pressure on novice cooks to create the perfect meal.  But creating a special romantic moment can be as simple as making everything heart shaped, including sandwiches. Here is a selection of dishes to peruse for you create a memorable experience for the Downton fan in you life.
Appetizers  
Main Courses:  keep it light
Sweets for the Sweet
Valentine's Day Idea: Relaxing Over Afternoon Tea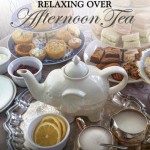 Afternoon Tea: what a lovely way to host fellow Downton fans as you discuss the latest episode, and ponder what Downton will deliver next. The book contains 60+ recipes for tea treats, the three S's: scones, sandwiches/savouries and sweets.
The book provides a brief history of afternoon tea, tea etiquette and tips on how to host your own tea for Valentine's Day fun or fundraising.  Amazon sells the print version and Kindle versions, or a you can download PDF version here.
Abbey Cooks Entertain: 2nd Edition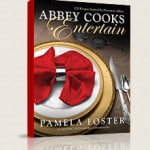 Whether you are hosting 2 or 20, this book has lots of ideas for a romantic meal. Containing 220+ traditional Downton era recipes with a modern twist, this is a great book to create some simple or complex dishes for your Mary or Anna.
This 448 page ebook has been updated to include both metric and imperial measurements and now includes famous Downton dishes throughout the series.  Book sales help offset my costs in food, equipment and time to provide you new recipes on a regular basis.
This ebook is now available for download on my site and on Amazon:  Abbey Cooks Entertain: 220 recipes inspired by Downton Abbey, Seasons 1 – 5
Print Version is here.  The good news is that the 2nd Edition is available on Amazon. The full book is 450 pages and will contain famous Downton recipes from Seasons 1-5.
History of Bubble and Squeak
Bubble and Squeak is so called because of the noises it makes whilst frying in the pan. It is a traditional English dish made from the leftovers of Sunday dinner or Christmas dinner, with the main ingredient being the leftover potatoes and cabbage, though most vegetables can be added such as Broccoli and carrots. It is all mashed together, shallow fried in hot lard, and then traditionally served along with cold meats (also leftover from the Sunday/Christmas roast) and pickles, or sometimes served as part of a cooked breakfast with an fried egg on top.
The History of Bubble and Squeak
The earliest known recipe of Bubble and Squeak was by Maria Eliza Ketelby Rundell in 1806: 
"Boil, chop, and fry, with a little butter, pepper, and salt, some cabbage, and lay on it slices of rare done beef, lightly fried" – Maria Eliza Ketelby Rundell.
Bubble and Squeak is a thrifty meal which becomes more popular during hard economic times.  In World War II when food was short due to rationing, history suggests that Bubble and Squeak went from a beef-based recipe (such as in the recipe by Maria Rundell) to the modern potato based recipe that we all know and love today.
Bubble and Squeak
In our household we have"madeovers" not "leftovers", giving a previous meal new life. There is no precise recipe for traditional Bubble and Squeak as it was always made from leftovers, so whatever vegetables you have in your fridge are fine.
The only thing people often say to make sure of is that you use equal quantities of potatoes to vegetables, but there is no golden rule, however the potato is what binds it all together and so having more potato than vegetables is fine. You can use leftover boiled potatoes or even roast potatos if you wish.
Serves 4
 Ingredients
1 tbsp. butter or animal fat
4 rashers (slices) of bacon, chopped (optional)
1 onion, finely sliced
1 garlic clove, chopped
15-20 cooked brussels sprouts,sliced, or leftover boiled cabbage, shredded
1/2 cup cooked carrots (for a splash of color)
2 cups cold mashed potato or cold crushed boiled potatoes
4 eggs, fried (optional)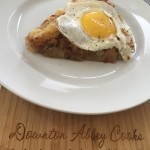 Method
Mash your leftover potatoes in a bowl. Finely chop or shred your leftover vegetables and add them to the bowl, mixing them in with the potatoes.
Melt the fat in a non-stick pan, allow it to get nice and hot, then add the bacon if you are using. As it begins to brown, add the onion and garlic.
Add the vegetables to the pan.
Press the mixture down with a spatula and smooth it out slightly. Leave it undisturbed to cook on a moderate heat for five minutes or more until a nice thick brown crust forms, then turn it over and repeat before serving it up.
If you are serving for breakfast you can place an fried egg on top for a complete meal.
Note
*Using animal fat will allow you to  reach higher temperatures which is when it starts to 'Bubble and Squeak' plus you'll get a better crust.
For Your Downton Abbey Collection
Marvelous additions to your Downton Collection.