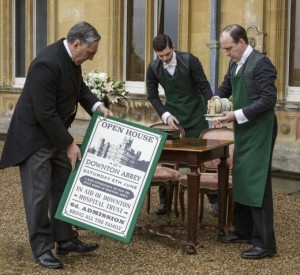 We have reached another milestone in the final season of Downton Abbey. Last night was our final standoff against the Super Bowl. Regardless of the ratings, it is sad to think that we won't have the same battle for the best screen in the house next year. How are your Valentine's Day plans coming? Perhaps you and your loved one will be cuddled up watching Downton together. I know Lord D and I will be.
In keeping with tradition, I will continue to share one recipe mentioned on each episode as my love letter to the Downton kitchen staff and to those fans who love the food on the show. We continue to see how food plays a role in adjusting to married life. We have recently prepared a lovely duck dish which Elsie prepares for dinner, so we will focus on her first course of smoked salmon, one of my favorites.
What Happened in S6 E6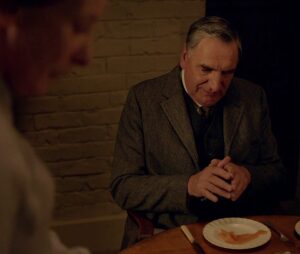 My favorite highlights of what went on down and upstairs this past week:
Mr. Carson continues to be critical of his wife's cooking, pointing out lemon or horseradish thinned with sour cream would heavenly. I see payback in Elsie's future.
Mr. Mason brings a lovely basket of vegetables for Mrs. Patmore…who needs flowers to show affection?
Mrs. Patmore is ready to open her bed and breakfast, with advertisements and a phone to take bookings.
The Crawleys open their home to raise money for the hospital, foreshadowing the plight of many grand home owners who now open their grand castle as a matter of survival.
The battle has been settled, Violet loses the battle and the war; Cora has been appointed President of the hospital.
The budding romance between Mary and Henry is being chaperoned by Tom, playing by the rules.
Romance is also in the air for Edith. Will she finally find love with Bertie.  #TeamEdith
Valentine's Day, Downton Style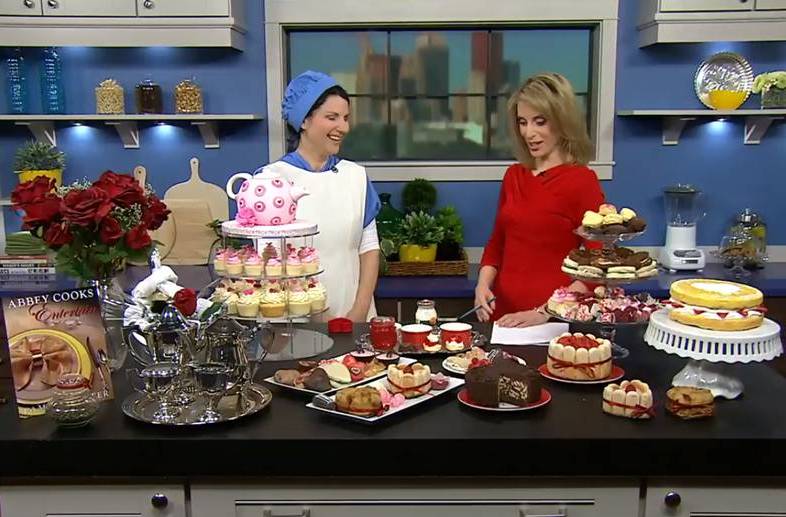 Valentine's Day can put a lot of pressure on novice cooks to create the perfect meal.  But creating a special romantic moment can be as simple as making everything heart shaped, including sandwiches.
Valentine's day Idea: Relaxing Over Afternoon Tea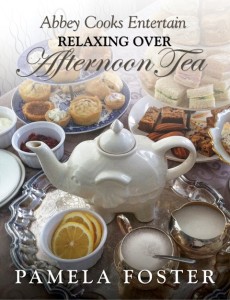 Afternoon Tea: what a lovely way to host fellow Downton fans as you discuss the latest episode, and ponder what Downton will deliver next. The book contains 60+ recipes for tea treats, the three S's: scones, sandwiches/savouries and sweets. The book provides a brief history of afternoon tea, tea etiquette and tips on how to host your own tea for Valentine's Day fun or fundraising.  Amazon sells the print version and Kindle versions, or a you can download PDF version here.
Abbey Cooks Entertain: 2nd Edition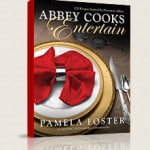 Whether you are hosting 2 or 20, this book has lots of ideas. Containing 220+ traditional Downton era recipes with a modern twist, this is a great book to create some simple or complex dishes for your Mary or Anna. This 448 page ebook has been updated to include both metric and imperial measurements and now includes famous Downton dishes throughout the series.  Book sales help offset my costs in food, equipment and time to provide you new recipes on a regular basis. This ebook is now available for download on my site and on Amazon:  Abbey Cooks Entertain: 220 recipes inspired by Downton Abbey, Seasons 1 – 5 Print Version is here.  The good news is that the 2nd Edition is available on Amazon. The full book is 450 pages and will contain famous Downton recipes from Seasons 1-5.
History of Smoked Salmon in the UK
Smoked salmon was first brought to the UK in the late 1800s by East European immigrants to London's East End. They smoked to preserve fish, because refrigeration was basic.  In the early days, the East London smokers imported salmon for smoking from the Baltic, not realising wild salmon was available from Scotland each summer. Having discovered the Scottish fish at Billingsgate market, they realised it would be easier to use the native fish and that the quality of the finished product tasted far superior. It was then introduced into fine dining and delicatessens and smoked salmon as a gourmet food was born.
Part of the art was the ability to smoke the salmon to preserve it, but not leave a heavily smoked flavour. The Scots tradition at the time was in more heavily smoked fish like kippers or Arbroath smokies but the Scots did not generally smoke salmon at all. (from Forman and Field)
How to Make Cold Smoked Salmon at Home
You don't need a smoker at home to enjoy your own homemade  smoked salmon.
The Crawleys would fish for salmon on their own estate and had space for a smoke house. My family annually fishes off the Alaskan coast. I come home with hundreds of pounds of salmon which is perfect for smoking. I save money by preparing the salmon at home, using smoked salt instead of smoking.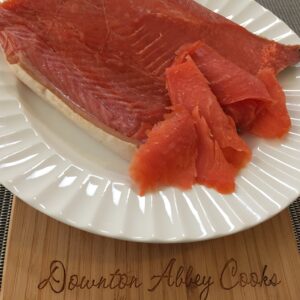 Simply Made Cold Smoked Salmon
Preserving fresh caught salmon was once a necessity before refigeration was available, and became the starring ingredient in a number of dishes from breakfast to cocktails. It is easy to make your own without a smoker, all you need is smoked salt and a few days.
Ingredients
Fresh salmon

(at least 1 pound, perferably wild, cut into two equal pieces)

1/4

cup

brown sugar

(per pound of fish)

2

tbsp.

kosher salt

(per pound of fish)

1

tbsp.

smoked salt

(per pound of fish)

1

tbsp.

fresh cracked black pepper

(per pound of fish)
Instructions
Combine salt cure ingredientsand make sure that the sugar is evenly distributed amongst the salt granules.

Lay out two lengths of plastic wrap side by side and slightly overlapping on your countertop, at least 3 feet in length, then place the fish on the wrap side by side (skin side down) and then completely cover the fish will cure on top.

Fold the two halves of fish on top of each other, flesh sides together. Wrap the plastic wrap around the fish to keep all the salt and sugar mixture in, but let the juices flow out.

Take a large glass bowl and turn a small glass bowl upside down in the center of it. Next place your fish on top of the smaller bowl. This will allow the juices to flow out of the wrap and into the larger bowl. To help drain the juices, place a plate over the top of the fish, and then wrap with more plastic to help reduce fish smells in your fridge.

Leave the fish for 5days in your fridge. You may wish to flip the fish eachdaybut not necessary.  After 5days, carefully rinse off all the salt and sugar, pat dry and it is ready to serve. Use a long, thin blade to slice for the best results.
Notes
The thicker the fish the better. Take the time to find the best quality fish in your area.
The flesh of the fish will turn more vibrant and slightly darker in color as the water leeches out and the 

day

s go by. It will also get thick and the texture will change drastically. Don't freak out, that's a good (and tasty) thing!
How to Serve:  Mr. Carson is correct, it is lovely served on its own with horseradish thinned with sour cream but here are a few of my favorite ways to use in my tea sandwiches: