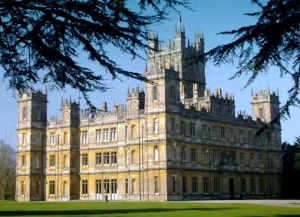 Thanksgiving in the US has past, and many are still savoring "leftovers" from huge family dinners.  I never really liked the term "leftover" as it carries a negative connotation, as if the food has lost some value somehow.  I like to use the term "makeover", implying that yesterday's fabulous meal will taste even better today with a few touches, and more love added in.  I often find that many dishes take on new lives when enjoyed the second time around. Today's dish is a prime example.  Colcannon (a mashed mixture of potatoes and cabbage) is sinfully delightful when made into Colcannon cakes.  This is definitely a Lord D favorite.
Lovely Left Overs:  Downton Abbey Revisited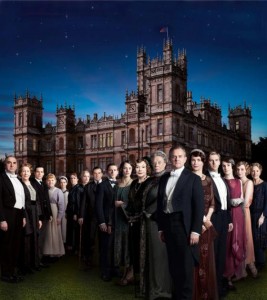 American Downton Abbey fans know that Downton returns for its third season on PBS in less than seven weeks.  In the spirit of the Thanksgiving  "makeover" weekend, PBS offered "Downton Abbey Revisited", a recap of the first two seasons and a few hints at Season 3.  It has been awhile since Downton has been on air so it is a great treat to see the characters again, recap some of our favorite Dowager moments, touching scenes of love found and lost and found again.  Not exactly sure why Angela Lansbury was asked to host, but any fan of Downton is a friend of mine.
The show was broadcast through the national PBS feed and your local affiliate might not have broadcast it last night, but perhaps will do so in the coming weeks.  I imagine that PBS will also post it for viewing at PBS.com.
Colcannon Cakes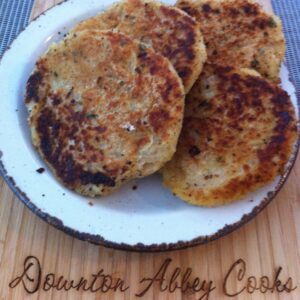 Second Time Around Colcannon Cakes
Colcannon is a lovely mashed mixture of potatoes and cabbage.  A great use to "makeover" colcannon is to make them into colcannon cakes.  A great addition to your brunch menu.
Ingredients
3

cups

colcannon

1

cup

Flour

1

large

egg

2-3

teaspoons

salt

1

cup

dried breadcrumbs

2

tbsp.

flat leaf parsley,

chppped

4

tbsp.

butter or vegetable oil

Lemon for garnish
Instructions
Mix the egg, flour and salt into the colcannon. You may want to chill the mixture for 15minutes or longer to make it easier to shape the patties. Form into cakes of whatever size you want, but make them flat so they will cook through without burning. If the mixture is too wet, add more flour until the mixture is easier to shape.

Mix the parsley and breadcrumbs together and place in a flat container.  Lightly bread the patties.  They will be easier to work with.

Heat the butter or vegetable oil in a large pan over medium-high heat. Working in batches, place the formed patties in the pan so they are not touching. Lower the heat to medium and gently fry until golden, about 3-4minutes. Flip and cook the other side.

Serve with slices of lemon.
Notes
My recipe for Comforting Cabbage Colcannon