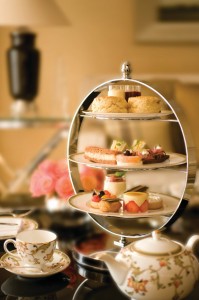 Welcome Downton Abbey fans.  The leisurely pace of summer has long left us.  All eyes in the US are set on this Thanksgiving Weekend, but Downton Fans will surely make time for the Downton Abbey Revisited special this Sunday (see below).
When life does get hectic, taking time for tea and conversation is ever more important to help pace yourself.  Each Tuesday I dish on Downton Abbey and other topical issues one might discuss at tea, served up with a recipe with history. You may find my Online Guide to Afternoon Tea helpful in understanding traditions and recipes to serve at your own tea party.
Since the countdown to Christmas is upon us, today we are prepping for Christmas treats by preparing a large batch of Mincemeat.  
Anyone can be a Downton Abbey Cook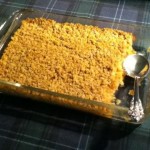 A heart felt thank you for sharing my passion for Downton Abbey, history and food. Connect with me on Twitter, Facebook, Pinterest and YouTube through the links.  Keep sending me pics and I will post them here.
VPT's Experience Inspired by Downton Abbey: Jan. 5/6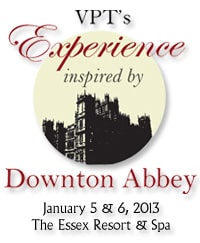 Vermont Public Television is hosting a Downton inspired culinary weekend January 5th/6th to launch Season 3 at the renowned Essex Resort. Lord D and I look forward to this wonderful event of fabulous Downton food and festivity, with a Saturday night screening of S3E1 on a large screen. Tickets are now on sale.
NEW: Check out VPT on  Facebook and Blog to keep up to date on this event.  Fabulous food will be eaten, and fashion prizes eaten.  Invited guests were treated to a sampling of the 6 course dinner last week.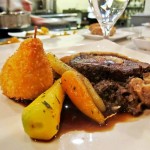 Check out the  British Tea Reception menu.  I am truly honored that chefs have chosen to serve my own smoked salmon pinwheels.
Corporate Sponsers:  If your corporation would like to help support this event through sponsorship contact Michael D Ellenbogen at michael@eonscreative.com, 802-768-8498.
Coming in December:  Abbey Cooks Entertain
I have been working part time on an ecookbook, a collection of recipes to share with fans of Downton Abbey and other period dramas.  It is a labour of love which I hope will inspire you  to become the head cook in your own Abbey Cook.  Your comments have inspired me to share the best foods of that era which we still eat today, making adjustments to make them healthier, but still just as tasty.
The book will have lots of pictures of Downton era foods organized by specific types of Downton entertaining:  brunch, afternoon tea, garden parties, dinner parties, cocktails, holidays, and weddings.  Plans are to launch the book in December on Amazon and other online retailers.
Dishing Downton
Season Three has now ended, and we look forward to the Christmas episode and what might be in store for Season 4.   I have been trying to behave by not give away too many spoilers, or passing along gossip, as Hugh Bonneville keeps reminding me you can't believe everything you read.
Don't Miss Downton Abbey Revisted on Nov. 25:  PBS will be showing a special Season 1 and 2 recap on Thanksgiving weekend in the US.
Michelle loves Downton:  Apparently, Michelle Obama asked her people to ask for copies of the new Season 3 DVDs which haven't been released in the US.  It is nice to know the First Lady has such good taste in shows.  I wonder she would enjoy a link to my cookbook?!

I have my copy. Ordered yours yet?

Interview with Jessica Fellowes:  My good friend at Edwardian Promenade was fortunate to interview the lovely Jessica just as her book The Chronicles of Downton Abbey: A New Era has  been released in the US. Once I catch my breath I may have a chance to review her book for us foodies.
Not Quite Traditional Mincemeat
Nothing says British Christmas like mincemeat.  Originally mincemeat was made with ground meat, offals, eggs and whatever else was on hand. The first mince pies were prepared by the Crusaders in the 11th century.  Spices (cinnamon, nutmeg) brought back from the Holy Land were added to the mince and baked into oblong cradled shaped pies, representing the gifts of the Magi and the birth of Christ.
By the Victorian era, savvy cooks like Mrs. Beeton were starting to make mince without meat, but the tradition of suet remains. You can substitute shortening to get a similar result. My local butcher gives it to me free so you may wish to give it a try.
Mince is best prepared in late November so it will be well-fortified for your holiday baking.
Makes 10 – 12 cups, plenty for your holiday mince pies, tarts, squares, and cakes.
Ingredients
3 lemons
5 apples, peeled, cored and finely chopped
4 cups raisins
4 cups currants
1 ½ cups of shredded suet or (1/2 cup softened butter or shortening)
2 cups brown sugar (or sugar substitute)
1 cup of mixed candied peel
2 tsp. allspice
2 tsp. ground cloves
2 tsp. nutmeg
1/2 cup rum or brandy
1 tbsp. orange marmalade
Method
Zest and juice the lemons, remove the pulp and then finely dice the rind. Place all the ingredients in a dutch oven.
Add in the remaining ingredients except the rum. Bring the mixture to a boil and then reduce the heat to simmer until it has thickened and is syrupy, about 45 minutes.
Stir in rum, cool and refrigerate or keep in a cool place in an airtight container for a few weeks before using.
Own your Own
Check out Downton on Amazon Prime:  you can instantly download and view all Downton Abbey episodes:
Tools of the Trade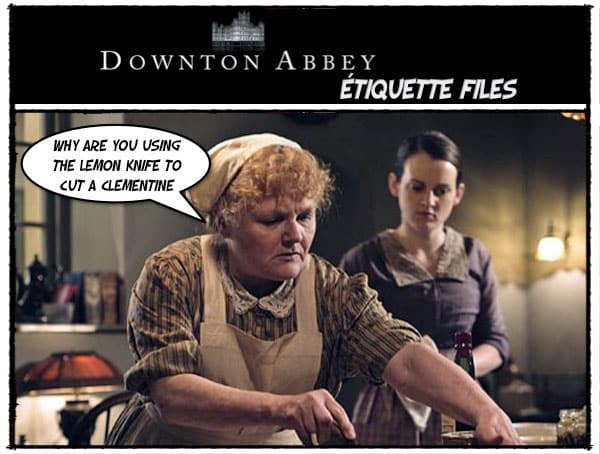 Cooks, like other professionals, have their tools and as Mrs. Patmore says "it is a poor workman who blames his tools".  You can  make do with the basics, but as you gain confidence and love for cooking, you should start to recognize items to help you cook.  Mrs. Patmore didn't electronic gadgets to cook with so be assured you can make do without the expensive gizmos.  This section helps you identify some equipment that I use.  If you wish you can order directly from Cooking.com or Amazon, both reputable stores I have used in the past.
Many "Downton" cakes come in various sizes more common in the UK than in the US so investing in a variety of pans is a good idea.