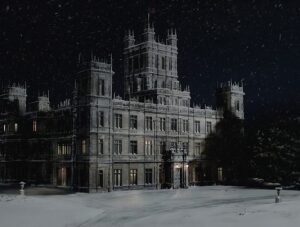 Well, the final episode aired last night and what a way to end the series. Yes, there are no more episodes of Downton Abbey. The Carnavrons have reclaimed Highclere Castle from film crews, and the production sets used for the downstairs scenes have been packed away. We must be resolved to gracefully let these beloved characters live out their lives without us watching.
This will be my final recipe to share as a love letter to the Downton kitchen staff and to those fans who love the food on the show. We first met the Crawley family over breakfast as they learn about the sinking of the Titanic; Mrs. Patmore's dish that morning was kedgeree, so I thought it fitting to return to the beginning to feature another breakfast fish dish. The recipe is Omelette Arnold Bennett, invented at the famous Savoy which uses finnan haddie, smoked haddock. It is a fabulous morning after dish to soothe the broken heart of any Downton Abbey fan.
Don't despair, I have share 100s of recipes so you can easily find them through the Recipe Index.  And I will still be active on Twitter, Facebook and Instagram.
How Downton Changed my Life.  My Journey Has Always Been About the Food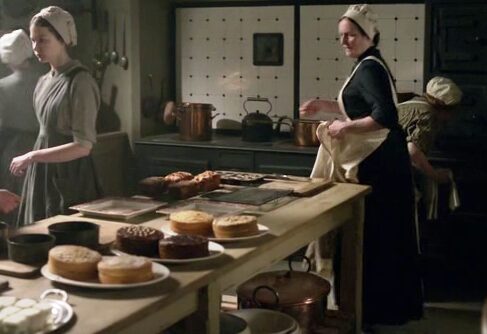 The end has come, we have shed our tears, and while we hope there is a movie in our future, we can't help but reflect on the past six years. We have all been impacted by the series in our own way. As for me, well this show changed my life in the most unexpected ways. Thank you for your support along the way.
My journey started innocently enough. Lord D raved about a historical drama he had found where everyone followed the same code of honour, respect, and etiquette. He loved the life upstairs, imagining his own relatives living in the grand house. As a cook, I yearned to learn more about what was going on downstairs, what was prepared, and how.
So I started a blog for fellow food fans, "proposing to share traditional receipts (recipes), taking cues from the episodes." There were only 51 episodes in the series so there was much Downton Downtime to share regional recipes that would have been enjoyed in the era, often served with a short history lesson, and made healthier where possible. My most ambitious undertaking cooking dishes from each class of service of Titanic in honour of the 100th anniversary. And there were many Afternoon Tea recipes on Tea Tuesdays.
I was astonished and humbled at the amount of attention my writing received; as American audiences discovered the show, the press wrote more about various aspects of the show including food and looked to me for content. My press page reflects the print, radio and TV interviews around the world. I also found myself doing personal appearances talking about Downton food.
Fans began to ask me about what to serve at Downton-themed parties, so I created online guides with menu suggestions listed in my Recipe Index, when I was approached by a couple of publishers, including Penguin, I stubbornly decided to self-publish. No one was more surprised than about my two cookbooks: Abbey Cooks Entertain and Relaxing Over Afternoon Tea were written for fans who love to entertain.
I feel so blessed to have been a part of your journey through Downton Abbey. I can honestly say that I have never been impacted by a TV show in this way before. Don't dispair, I may not be actively blogging, but I will still be active on Facebook and Twitter.
How Did Downton Impact your Life?
I would love to hear your stories about how Downton impacted you. Use the comments section below to tell your story.
They were all happy enough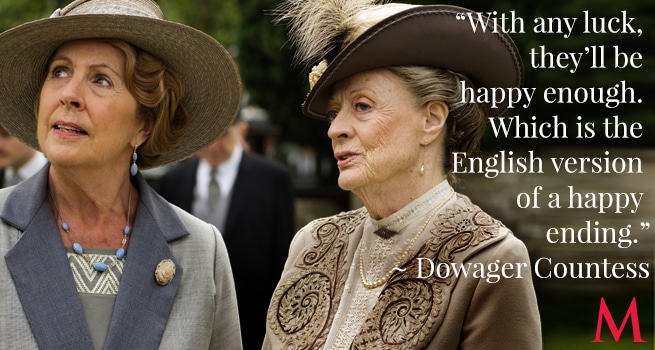 I loved the Dowager's observation at Edith's wedding about the English and happy endings..something to do with the weather. We do leave most of favourite characters on a positive note:
Third time is a charm as Edith finally gets her happy ending, outranking Mary a wonderful bonus.
Mary and Henry are expecting a child.
Henry and Tom have opened a car dealership together, giving them both something to do.
Anna and John welcomed a new child into the world, delivered in Mary's bed, no less.
Daisy is finally in step with a fella, Andy the lucky lad.
Daisy decides to move to the farm with Mr. Mason.
It might be a little crowded at the farm as Mrs. Patmore and Mr. Mason also have sparked a romance.
Molesley is on his way to becoming a well respected teacher.
Isobel finds her own happiness with Lord Merton.
Mr. Carson is able to retire with grace.
Thomas realizes his dream of becoming the butler, encouraging him to be a nicer person.
Ms. Edmunds catches Edith's wedding bouquet which is a hint that she and Tom might spark a romance.
Robert finally embraces Cora's need to have a career to call her own.
Spratt has a budding sideline career as a journalist.
Relaxing Over Afternoon Tea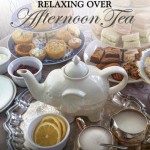 Afternoon Tea: what a lovely way to host fellow Downton fans as you share your favourite storylines, and if there will be a movie in the future. The book contains 60+ recipes for tea treats, the three S's: scones, sandwiches/savouries and sweets.
The book provides a brief history of afternoon tea, tea etiquette and tips on how to host your own tea for fun or fundraising.  Amazon sells the print version and Kindle versions, or a you can download PDF version here.
Abbey Cooks Entertain: 2nd Edition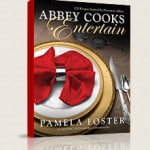 Whether you are hosting 2 or 20, this book has lots of ideas. Containing 220+ traditional Downton era recipes with a modern twist, this is a great book to create some simple or complex dishes for your Mary or Anna.
This 448-page ebook has been updated to include both metric and imperial measurements and now includes famous Downton dishes throughout the series.
This ebook is now available for download on my site and on Amazon:  Abbey Cooks Entertain: 220 recipes inspired by Downton Abbey
Print Version is here.  The good news is that the 2nd Edition is available on Amazon. The full book is 450 pages.
For Your Downton Abbey Collection
Marvellous additions to your Downton Collection.
What is a Wedding Breakfast?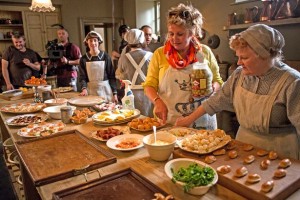 Just as Granny famously asked Matthew to explain"weekend", Americans really don't understand the English Wedding Breakfast. Mrs. Patmore is always complaining about having to rush back to the house to prepare the wedding breakfast, that would mean weddings would happen at the crack of dawn, right? Not likely.
Traditional wedding breakfasts have little to do with the normal concept of breakfast – in fact, at most weddings, the wedding "breakfast" is actually a dinner that's held either just before or after the reception.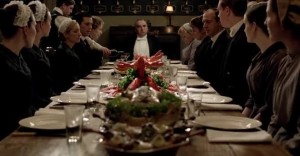 The semantics may seem a bit dodgy, but the original history behind the concept is easy enough to trace. Before the Reformation in the 16th century, the ceremony was held after mass. Everyone fasted before mass, so part of the intent of the "breakfast" was that it would be the first meal the bride and groom shared together.
In English lore, part of the tradition of the wedding breakfast also dates back to the 18th century, when the law dictated that all masses had to be held before noon, thus partially dictating the timing of the wedding breakfast. In Scotland, however, weddings generally take place in the afternoon.
Today, the wedding breakfast may still follow the ceremony, but this "short" meal is often extended until late afternoon or early evening when caterers will begin to serve hors de ouvres prior to the reception, after which an optional wedding dinner will sometimes occur. Regardless of the timing, though, it's a safe bet that no one will go hungry.
Finnan Haddie: Sinfully Smoked Haddock
There are references to smoked fish in Scotland going back to the 16th century. James Boswell wrote about them in the 18th century, mentioning that Scottish smoked fish could be obtained in London. But these were heavily smoked (as a preservative) and a bit tough.
In the late 19th century, as fast transportation by train became available, the Aberdeen fishing village of Findon (pronounced locally as "Finnan") began producing lightly smoked and delicately flavoured haddock (haddies) which were of a much finer texture. They were an immediate success and variations on these tasty fish have become very popular. They can be simply grilled with butter but here is a recipe with milk and onions which turns them into a delicately flavoured fish stew.