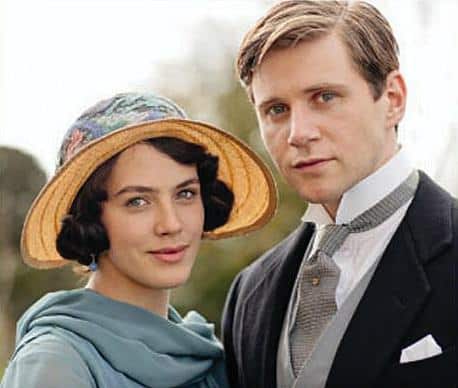 UK viewers have only a few weeks left to wait before the Season 3 launch of Downton Abbey on ITV in September.  Sadly, PBS in the US, will not be releasing the new episodes until January 6th, but the internet does allow us a glimpse of what to expect.
We have followed the Crawley family from 1912, through WWI and have now, in Season 3 we see life in the 1920s.  We will see hair styles and hems getting shorter.  The food will also get a makeover.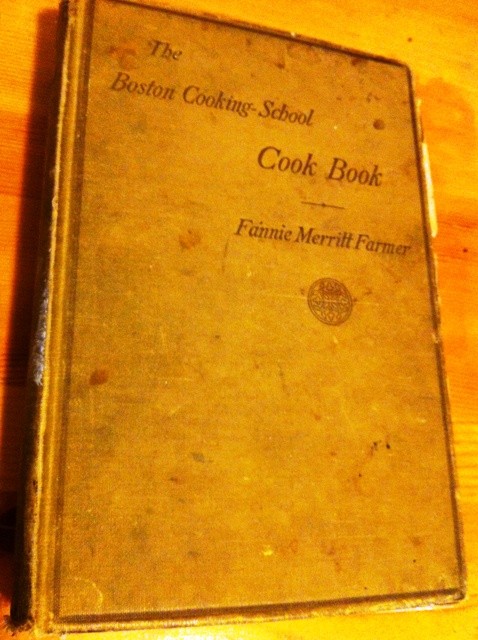 I shared a mini-break with fellow foodies up in the Muskokas– cottage country in Northern Ontario, most recently famous for hosting the 2010 G8 Summit.  As you might expect many of my friends share a passion for food.  As I came down for breakfast I found my friend Eva, who blogs at KitchenInspirations, flipping through through a weathered cookbook, the 1924 edition of The Boston Cooking School Cook Book by Fannie Merrit Farmer.  Looking for inspiration for her own cooking, she scanned the book recipes and techniques.  Classic cookbooks often hold forgotten gems, but she was horrified to see a recipe for orange omelette.
Her comment prompted a short discussion about passing fads and enduring fashion of food, much in the same way that some of clothes and hairstyles we wore in the past are so dated.  I later flipped through the pages myself and was intrigued by the types of foods we still see today, and those fads which are thankfully forgotten. I am so glad I was allowed to grow up with fun Jell-o and not aspic jelly salads.  My mom broke the cycle in our household, but she still insists on using iceberg lettuce (with no nutritional value) when she as a huge crop of spinach growing in her garden.  You can't win then all.
If you are familiar with history, you don't need to peak at spoilers to get a sense of what is to come in Season 3 of Downton Abbey.  The 1920s were not kind to the British aristocracy. For centuries their wealth had been based on the high value of their land.  The peak was the Edwardian era, and began to slip away with increased taxation during WWI, which caught many by surprise since they were likely too busy attending lavish social events.  This period also signalled the rise of the United States and decline of Britain as a world power. What better symbolism of the struggle for world domination than the introduction of Cora's American mother into the picture to spar with the Dowager. "Without our family money, Downton would have been ruined" Pow! "Oh good, let's talk about money". Bam!
While cooks like Mrs. Patmore struggled to help their employers keep up appearances during war rationing, belt tightening lead way to more manageable 3 or 4 course dinners.  The quality of food was still far superior to what most people ate, but the marathon dinner parties were falling out of fashion.  I am sure dinner scenes will still play a part in plot development, but the big spreads will likely be limited to special occasions like wedding banquets and garden parties.
The Rise of Nutrition
When I was covering the food for the 100th anniversary of Titanic I wrote about the Edwardian approach to cooking vegetables.  Large Country estates like Downton had the land to produce a bounty of vegetables, but sadly the approach to cooking was similar to child rearing: vegetables were meant to be seen and not heard.  They tended to cooked beyond recognition.  In hindsight it should be no surprise to us that in 1917 almost 40% of men were found to be unfit for military service – mainly due to malnourishment. This led the government to invest time and money into dietary research and, over time, awareness of healthy eating has spread.  Vegetables were finally given a real chance to shine. I don't think we will see Lady Mary chewing raw carrots in Season 3, but it was a start in the right direction.
History of the Cassserole
The term casserole in cooking dates back to medieval times.  In french it means "stew pan," a large, deep dish used either to cook something in an oven or to serve the food cooked in it. The French word  "casserole"  had been derived from the old Provencal word, "cassa" and the Medieval Latin word, "cattia", both of these words meaning "ladle". This seemed to imply that these words were describing a common pot from which everyone shared. French cassoulet, Spanish paella, British pot pies and Italian lasagna, to name only a few, seemed to be derived from this idea. In fact, a recipe, written in Latin, for the precursor of a  famous casserole – macaroni and cheese – is found in the "
In the late 19th century, the New World embraced casseroles, inspired by these kinds of dishes brought by immigrants from many different cultures. They provided economical, communal sustenance during the depressions of the 1890's and 1930's and the scarcity of food items during both World Wars.
Great moment in casserole history
1913: Pyrex breaks into cookware. Bessie Littleton needed to bake a cake, but her casserole dish was broken. She asked her Corning Glass Works scientist husband to bring home some glass to use instead. He brought her the sawed-off bottoms of some battery jars. And thus, Pyrex, the glass cookware company, was born.
Colorful  Summer Vegetable Casserole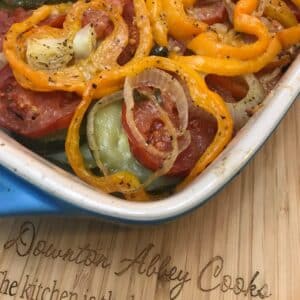 Colorful Summer Vegetable Casserole
Fresh produce is fabulous and when it doesn't get any better than when it comes from your own garden. And until scientists can find a way to curtail the number of zucchini that comes off a single plant, gardeners will always be struggling to find ways to sneak this bounty into their family meals. Here is a traditional summer vegetable casserole, which is a colorful side dish to help use up zucchini, and other summer vegetables you have on hand.
Ingredients
1

splash

extra virgin olive oil

for drizzling

1

pinch

salt and freshly ground pepper

1

large

bell pepper (any color)

thinly sliced

1

small

mild onion

thinly sliced

1

large

garlic clove

minced

1

tsp.

fresh thyme leaves

finely chopped

1/2

lb.

plum tomatoes

(3 or 4) sliced 1/4 inch thick

3

cups

zucchini

cut 1/4 inch thick, on the diagonal

1/4

cup

Parmigiano-Reggiano cheese

freshly grated
Instructions
Preheat the oven to 350° F.

Coat a 9-inch x 12" baking dish with olive oil. Spread the zucchini in the dish in an even layer; drizzle with oil and season with salt and pepper.

In a bowl, combine the bell pepper, onion, garlic and thyme and season with salt and pepper.

Arrange two-thirds of the bell pepper mixture over the zucchini and drizzle with oil. Top with the tomatoes; drizzle with oil and season with salt and pepper. Cover with the remaining bell pepper mixture and sprinkle with the cheese.

Put the lid on your casserole or cover the dishwith foil and bake for 40 minutes.

Increase the oven temperature to 425°. Uncover the casserole and bake for about 20 minutes longer, until the vegetables are tender and glazed on top. Let stand for 10 minutes. Serve warm.
Books for Cooks