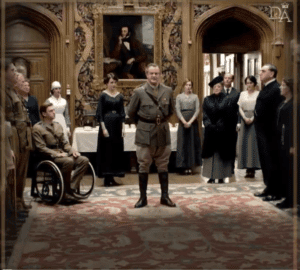 The 11th hour on the 11th day of the 11th month signifies the end of World War I.  Across the British Commonwealth, November 11th is known as Remembrance Day, a time to remember and give thanks to all those men and women who were killed during the two World Wars and other conflicts. This also gives us the opportunity to give thanks to those veterans for their service to our country.
Downton Abbey's 2nd Season was dedicated to the Great War and the sacrifices made by both upper and lower classes. How can we forget the famous scene pictured here which commemorated the end of the war, and Lord Grantham's touching speech of remembrance for lives lost.
The Poppy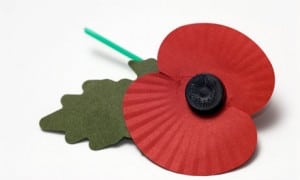 2021 marked the 100-year anniversary that the poppy has long been associated with Remembrance Day. Poppy seeds can lie dormant in the soil for years and grow once the ground has been disturbed, like those fields ravaged by war. Canadian doctor Lieutenant Colonel John McRae was so struck by the sight of the bright poppies growing on a desolate field in northern France during WWI that he penned the famous poem "In Flanders Fields". In response, American Moina Michale wrote "We Shall Keep the Faith", pledging to wear a poppy to remember the dead; the tradition for the poppy began.
Boeuf Bourguignon
World War I battlefields are located along the Belgian coast, through the southern Belgian province of West Flanders and regions of northern and eastern France. Some areas are frequently visited by pilgrims and tourists, such as the Somme and Verdun battlefields in France, many by those visiting the graves of those relatives who are buried there.
While many foods hold honour in days of rationing, thoughts of France led to popular French comfort foods to commemorate the day, in particular, Boeuf/Beef Bourguignon. This dish is essentially an upstairs version of a simple beef stew, named for Burgundy after the type of wine which was used in the dish. While battles did not take place in Burgundy during the war, the harvest was put in jeopardy as all the able-bodied men left the vineyards to fight for their country.
Frugal cooks have always looked for ways to tenderize cheaper cuts of meat; using alcohol and low heat is a great technique. It was Auguste Escoffier, the influential french chef of the Edwardian era, who brought the humble beef stew to fine dining rooms. Escoffier's approach to the dish was to marinate the beef in red wine prior to cooking in more red wine.
In America, it was Julia Child taught us how to make his famous dish, further popularized in the movie Julie and Julia.  I love this clip where aspiring blogger Julie talks about her connection to this recipe. I keep saying food is about love and being inspired to share that love and comfort with others through food… so cook and remember.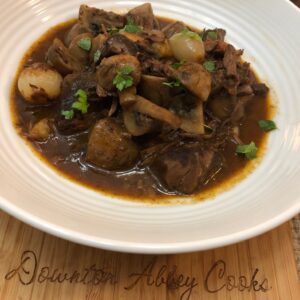 The Best Boeuf Bourguignon
French chef Auguste Escoffier first published the recipe in the early 20th century.  Much later, Julia Child used beef cubes rather than a whole piece of beef, bringing boeuf Bourguignon to the notice of a whole new generation of cooks. This is a great dish which teaches a number of classic french cooking techniques.
Ingredients
6

ounces

bacon chunk

3 1/2

tbsp.

extra virgin olive oil

3

pounds

stewing beef

I prefer smaller 1" pieces

1

large

carrot

sliced

1

medium

onion

sliced

1

pound

white mushrooms

fresh and quartered

1

pinch

salt and freshly ground pepper

to taste

2

tbsp.

unbleached white flour

3

cups

red wine young and full bodied

(i.e. Beaujolais, Côtes du Rhone or Burgundy)

2 1/2 - 3 1/2

cups

brown beef stock

1

tbsp.

tomato paste

2

cloves

garlic

mashed

1/2

tsp.

thyme

dried

1

small

bay leaf

crumbled

18-24

small

white onions

but not pearl

3 1/2

tbsp.

unsalted butter

1

satchel

herb bouquet

4 parsley sprigs, 1/2 bay leaf, 1/4 tsp. thyme, tieda cheesecloth

3

tbsp.

parsley

chopped, for garnish
Instructions
Prepare the Bacon
Remove bacon rind and cut into lardons (sticks 1/4-inch thick and 1 1/2 inches long). Simmer rind and lardons for 10 minutes in 1 1/2 quarts water. Drain and dry.

Sauté lardons in 1 tablespoon of the olive oil in a dutch oven for 2 to 3 minutes to brown lightly. Remove to a side dish with a slotted spoon.
Prepare the Beef
Preheat oven to 450 F degrees

Dry beef in paper towels; it will not brown if it is damp. Heat fat in your dutch oven until almost smoking. Add beef, a few pieces at a time, and sauté until nicely browned on all sides. Add it to the lardons on the side dish.

In the same fat, brown the sliced vegetables. Pour out the excess fat.

Return the beef and bacon to the dutch oven and toss with 1/2 teaspoon salt and 1/4 teaspoon pepper. Then sprinkle on the flour and toss to coat. Place the uncovered dutch oven in your prepared oven for 4 minutes,

Toss the meat again and return to oven for 4 minutes (this browns the flour and coves the meat with a light crust). Remove your dutch oven, place on the stove, and turn the oven temperature to 325 degrees.

Sprinkle on the flour and toss again to coat the beef lightly. Set the dutch oven uncovered in middle position of preheated oven for 4 minutes and remove from the oven.

Stir in wine and 2 to 3 cups stock, just enough so that the meat is barely covered.

Add the tomato paste, garlic, herbs and bacon rind. Bring to a simmer on top of the stove.

Cover casserole and set in lower third of oven. Regulate heat so that liquid simmers very slowly for 3 to 4 hours. The meat is done when a fork pierces it easily.
Prepare the Onions and Mushrooms
Heat 1 1/2 tablespoons butter with one and one-half tablespoons of the oil until bubbling in a skillet. Add onions and sauté over moderate heat for about 10 minutes, rolling them so they will brown as evenly as possible. Be careful not to break their skins. You cannot expect them to brown uniformly.

Add 1/2 cup of the stock, salt and pepper to taste and the herb bouquet. Cover and simmer slowly for 40 to 50 minutes or until the onions are perfectly tender but hold their shape, and the liquid has evaporated. Remove herb bouquet and set onions aside.

Wipe out skillet and heat remaining oil and butter over high heat. As soon as you see butter has begun to subside, indicating it is hot enough, add mushrooms. Toss and shake pan for 4 to 5 minutes. As soon as they have begun to brown lightly, remove from heat.
Finishing
When the meat is tender, pour the contents of the dutch oven into a sieve set over a saucepan. Wash out the casserole and return the beef and lardons to it. Distribute the cooked onions and mushrooms on top.

Skim fat off sauce in saucepan. Simmer sauce for a minute or 2, skimming off additional fat as it rises. You should have about 2 1/2 cups of sauce thick enough to coat a spoon lightly. If too thin, boil it down rapidly. If too thick, mix in a few tablespoons stock. Taste carefully for seasoning. Pour sauce over meat and vegetables.

Cover and simmer 2 to 3 minutes, basting the meat and vegetables with the sauce several times. Serve in your dutch oven, or arrange stew on a platter surrounded with potatoes, noodles or rice, and decorated with parsley.

You can serve right away, but I always find it always tastes better the next day so hopefully you will have some leftovers!
Notes
Dry red wine has 4 grams of carbs so is ok on a keto/low carb diets as long as you are tracking your carb count for the day.  I like to serve on cauliflower rice.