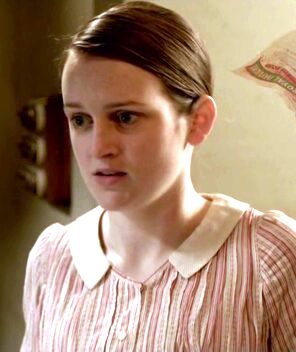 Downton Abbey offers viewers a whole cast of characters to cheer and sneer.  Drawn to the food, and a fan of the underdog, I quickly found myself rooting for Daisy, the scullery maid.
Duties of the Scullery Maid
Your history lesson for the day. The scullery was a small kitchen or room at the back of a house used for washing dishes and other dirty household work. To find out more about the duties of a scullery maid, I consulted the playbook for Downton Abbey's food and dining scenes:  Mrs. Beeton's The Book of Household Management which I have covered in previous posts.
The duties of the scullery-maid are to assist the cook; to keep the scullery clean, and all the metallic as well as earthenware kitchen utensils.
The position of scullery-maid is not, of course, one of high rank, nor is the payment for her services large. But if she is fortunate enough to have over her a good kitchen-maid and clever cook, she may very soon learn to perform various little duties connected with cooking operations, which may be of considerable service in fitting her for a more responsible place.
—Mrs. Beeton, The Book of Household Management, published 1861
Coming up Daisy
I have seen all of Season 2 (and the Christmas special) so can identify with UK fans impatiently waiting for Season 3.  Don't fret, PBS fans who are still early in Season 2 (you can always buy the whole series online if you are really antsy–see below). What I will say is that I am happy to see more time dedicated to developing Daisy's character, both professionally and personally.  In Season 2 we see her relationship with William run its course. Taking a cue from Mrs. Beeton's assessment above, we should eventually see her advancing in the kitchen.
On the whole, writers are adding more layers to Daisy's character, likely to the delight of Sophie, her family and her agent.  The character is leaving the innocence of youth and crushes behind, and growing into the maturity of adulthood.  May she stay the course of a simple life lived with integrity and humility.
Back to the Food
While I do enjoy simply taking in the experience of each episode, my eyes and ears are always at attention, keen to find out what was cooking in the kitchen.  In one scene Daisy interrupts Mrs. Patmore in the servant's hall unsure if the crumble was ready.  Hmmm… crumble and a dish which reminds me of Daisy, sweet and unpretentious.
The Humble Crumble
Crumbles have origins in the UK and grew roots in America during colonization, where it is also known as a crisp.  The crumble is a wartime creation, an inventive way to make do in a period of strict rationing.  A mix of flour, butter and sugar replaced pastry and "crumbled" on top of the fruit. Crumbles use a variety of fruit ingredients (apples, blackberry, rhubarb–often in combination), depending on what was available.  The topping may also include rolled oats, groundnuts, and brown sugar which produces a nice caramelized effect.
I love making crumbles because they are simple to prepare, and are a healthier alternative to pie. I will often use the crumble topping on a pie if I want a more formal dessert but still want to keep the fat content down, fibre count up (I use oatmeal).
LowFat Apple Crumble
There is no lack of recipes on crumbles.  You likely have a family favourite.   but there are also rolled oats.  Much better than all the fat in a double-crusted pie. I replaced egg white for butter in the topping which works to give the crisp without less guilt.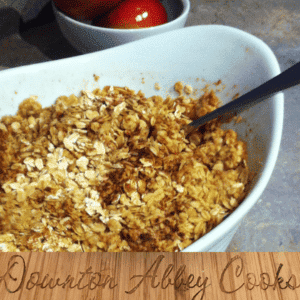 Low Fat Apple Crumble
This crumble reduces the fat but savours the crunch
Ingredients
For the crumble
2 1/2

cups

large flake oats

1/2

cup

brown sugar

or sugar substitute

1/2

cup

whole wheat flour

4

tbsp.

egg whites

(whites of 2 eggs)*

3

tbsp.

canola oil

1

tsp.

cinnamon
For the filling
6

medium

apples, peeled, cored and cut into 1.5" pieces

2

tbsp.

brown sugar

1

tbsp

all purpose flour

1

pinch

ground cinnamon
Instructions
Preheat the oven to 180C/350F/Gas 4.

Place the flour, oats and sugar in a large bowl and mix well. Add the egg white and oil and mix until crumbly.

Place the fruit in a large bowl and sprinkle over the sugar, flour and cinnamon. Stir well being careful not to break up the fruit.

Butter a 24cm/9in ovenproof dish. Spoon the fruit mixture into the bottom, then sprinkle the crumble mixture on top.

Bake in the oven for 40-45 minutes until the crumble is browned and the fruit mixture bubbling.

Serve with vanilla frozen yogurt, or indulge with good quality ice cream, thick cream or custard.
Notes
*typically a crumble topping calls for 1/2 cup of melted butter, cooled.  The egg white and oil takes the fat out and still leaves the crunch.  I have also make the topping without the oil to keep it really low fat.
Nutrition
Serving:
40
g
Calories:
491
kcal
Carbohydrates:
82
g
Protein:
11
g
Fat:
15
g
Saturated Fat:
1
g
Polyunsaturated Fat:
4
g
Monounsaturated Fat:
8
g
Trans Fat:
1
g
Sodium:
38
mg
Potassium:
316
mg
Fiber:
7
g
Sugar:
35
g
Vitamin A:
5
IU
Vitamin C:
1
mg
Calcium:
75
mg
Iron:
3
mg