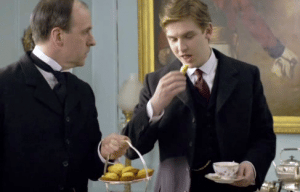 These seashell-shaped French tea cakes were a customary addition to the afternoon tea tray at Downton and were kept in biscuit jars by the beds of Ladies Mary, Edith and Sybil for late-night snacking.
They were also a favourite of Matthew, whose middle-class upbringing showed when on his first visit to The Dowager's House, he loaded up his plate with the small delicate cake-like cookies.
This recipe comes from The Official Downton Abbey Afternoon Tea Cookbook
Own your Own Copy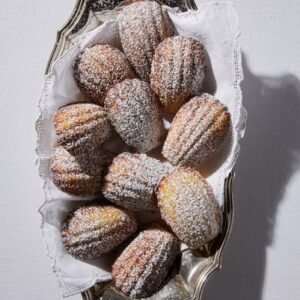 Downton's Madeleines
This recipe comes from The Official Downton Abbey Afternoon Tea Cookbook.
Ingredients
4

tbsp.

unsalted butter, melted, cooled

plus room temperature butter for the pan

1/2

cup

Flour

plus more for the pan

2

large

eggs

1/2

cup

sugar

1/4

tsp.

salt

1

tsp.

pure vanilla extract
Instructions
Preheat the oven to 375F. Using a pastry brush, coat the 12 moulds of a madeleine pan, carefully coating each and every ridge. Dust the mould with flour, tilting the pan to coat evenly and then tapping out the excess.

In a bowl, using an electric mixer, beat together the eggs, sugar, and salt, on medium-high speed until light and fluffy, about 5 minutes. Beat in the vanilla. Turn off the mixer again and using a rubber spatula, gently fold I half of themelted butter just until incorporate. Then fold in the remain nelted butter just until blended.

Scoop a heaping tablespoonful of the batter into each prepared mould. Bake the madeleines, rating the pan back to front hallways through baking, until the tops spring back when lightly pressed with a fingertip, 10-12 minutes. Remove the pan from the oven, immediately invert it onto a wire rack, and tap the rack to release the madeleines. If any of them stick, turn the pan upright, loosen their edges with a butter knife, and then invert and tap again. Let cool completely before serving.
Notes
Tools of the Trade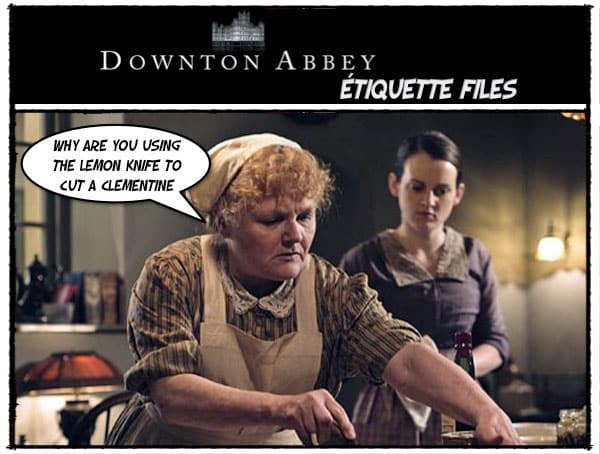 As Mrs. Patmore says, "a poor workman blames his tools". If you want to invest the time in learning to cook you should fortify yourself with proper cooking tools.
I do love the hunt in my local cooking stores, but you can order items directly through Amazon, so you have more time to watch Downton.
Madeleine Pan
Own your Own Copy