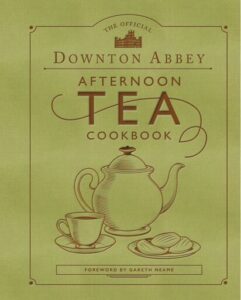 Sip Tea Like Aristocracy with The Official Downton Abbey Afternoon Tea Cookbook
This gorgeous hardcover cookbook has come just at the right time to help bring cheer to Downton Abbey fans in quarantine.
Experience tea time at Downton Abbey like never before with classic recipes for sweets and savouries, etiquette notes, tea service knowhow, and more in The Official Downton Abbey Afternoon Tea Cookbook (Weldon Owen, May 15, 2020, $25.00).  With a foreword by Gareth Neame, Downton Abbey Executive Producer, this exquisite cookbook will give readers the opportunity to bring Edwardian excess and 1920s elegance into their own homes.
Afternoon tea is a revered and treasured English tradition—and no one knows better how to prepare and enjoy a proper tea than the residents of Downton Abbey. With this alluring and vibrant cookbook, fans of the television series––and anglophiles everywhere––can stage every stylish element of this cultural staple of British society at home. Spanning sweet and savoury classics—such as Battenberg Cake, Bakewell Tart, toffee puddings, cream scones, and tea sandwiches—the recipes capture the quintessential delicacies of the time, and the proper way to serve them.
From attire and tearoom etiquette to proper serving practices, this charming cookbook features a detailed narrative history and extols the proper decorum for afternoon tea. Featuring gorgeous food photographs, character quotes, and stills from the television series and recent movie, this book will bring the characters of Downton Abbey—and this rich tradition—to life.
Recipes
The book is filled with all the recipes you could ever imagine serving for afternoon tea: from bacon mini pork pies to Yorkshire tarts. Here are just a few recipes to tempt you, perchance to host your own virtual tea party with friends or while binging Downton Abbey at home.
Preorder your Own Copy
There are a couple of ways you can order you copy
Our Contest Winner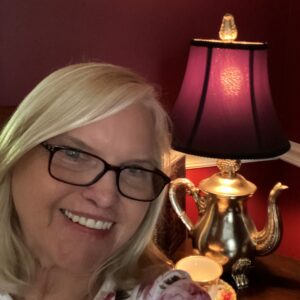 Weldon Owen graciously provided a copy for one lucky Downton fan to have for their own.
Congratulations to Gail Amatangelo from Tennessee who entered our draw and won a copy of the book.
As you can see from her picture of herself and her beautiful lamp she is certainly a deserving fan.
"I absolutely love Downton Abbey, the formality in dining, the lovely afternoon teas, and the beautiful glasses for sipping cocktails. I have every book but the tea book. I was fortunate to see the exhibit at The Biltmore in Asheville, NC right before it had to be closed down."