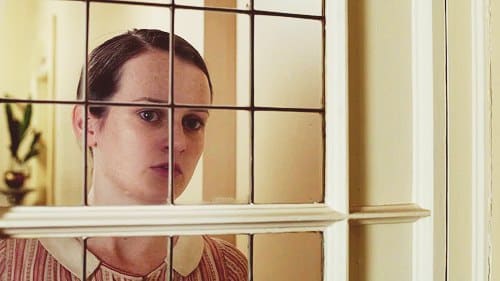 It's the last week of August and time when many of us begin to mentally prepare for the end of the lazy days of Summer and the return to busy schedules of the Fall and Winter season, when the kids are in school and superiors/co-workers are back from holiday with lots of great ideas to implement.  For Downton Abbey fans in the UK, the end of Summer brings a new Season of their favorite period drama.
The 90 days of summer seem to fly by so quickly, but when you stop and think about it, you will likely find you actually were quite busy.  This summer we enjoyed cottage country, I travelled out West to visit my family to fish, farm and cook, and had a foodie weekend with the girls.  Lord D and I also entertained two sets of house guests.  Our dear friends from Louisville came to visit in July, and my youngest brother and his family in August. I think of them as our Upstairs and Downstairs guests respectively.  Let's face it, when it comes to entertaining your kid brother, your entertaining style is a bit more relaxed.
Lord D comes about his flair for entertaining and hospitality honestly. His family was in the restaurant business, and in the 1980s he was a key player in Epicure, one of the first food and style magazines in Canada.  As for me, I suppose I paid attention to my parent's own flair for entertaining and western hospitality, as Dad always seem to be inviting clients and friends over for dinner and parties.
With thoughts of Downton Abbey going through my head, and the joy of having fresh tasters in the house, I set about thinking about what dishes I could prepare which may end up on the show in Season 3.   While we have seen a plum pudding featured in the Christmas episode, there is a such rich history and variety of English puddings that there likely should be one or two which show up on the show in Season 3.  There is a great book called Pudding, a Global History which not only traces puddings back for hundreds of years in the UK (i.e. Haggis), there are recipes sweet and savoury puddings for every meal of the day from a number of countries.  There is even a Pudding Club dedicated to the preservation of puddings in England. Check out the link below to their forthcoming book which is coming out in October on Amazon.
Lord D and I once toyed with the idea of owning a Bed and Breakfast in a quaint little lakeside community.  He and I both make amazing breakfasts, and as a team, we took turns hosting breakfast for our Upstairs and Downstairs guests this Summer.  We fed both sets of guests a good hearty breakfast.  My husband makes his own healthier version of the full English breakfast with amazing poached eggs and Canadian peameal (made from the meaty loin of the pig).  As for me, I love to serve low fat, but very filling pancakes, the recipe which works for pancakes or waffles.  It is a family tradition I picked up from my Dad, always served to guests on the morning of departure to give them a great hearty send off.
The one breakfast dish I particularly wanted to serve my brother was a breakfast pudding.  It is a healthier version of my Mom's breakfast pudding which she serves every Christmas morning.  She calls it Wife Saver–we call it a less flattering name since it is full of processed ingredients and topped with corn flakes. My secret plan is to slowly introduce this version into the Christmas ritual, by serving it to other members of the family.
This is a Downton Abbey dish which would be served on a special occasion in the Servant's Hall.  Daisy and Mrs. Patmore would be able to use up leftovers from the Upstairs dinner, mixed in with day old bread.  In our case we had baked a ham a few days before, had a old loaf of bread and some salad greens left over, ready to toss together.
Buy the Book- Some Great Books on English Puddings
Simply click on the image to order.
Kitchen Tools for your Downton Kitchen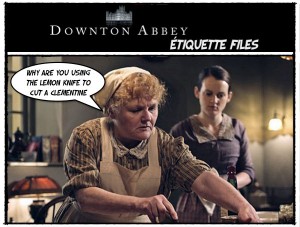 As Mrs. Patmore would say, "a poor workman blames his tools".  The Victorians were the first to really get into kitchen gadgets. Today's advanced manufacturing and materials now provide us with better built and longer lasting tools, than what Mrs. Patmore would have had access to.
I love Microplane graters.  They are super sharp, and last a lifetime. Easy to take care of and guaranteed never to rust, unlike those evil graters in my mom's kitchen! This is cool glove is handy as it protects your hands while grating.  I have not so fond memories of slicing my finger tips more than once while grating apples as a young kitchen helper.
Breakfast Pudding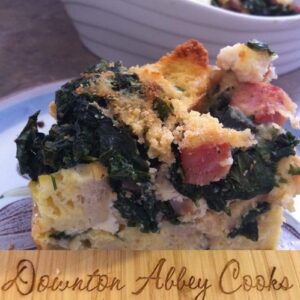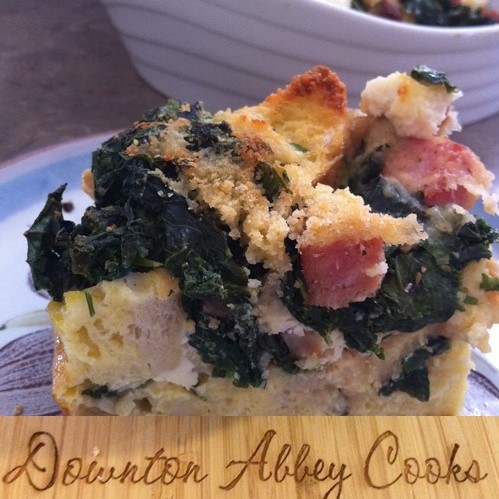 Make Ahead Breakfast Pudding
This is a great dish to make when you have company staying over on the holidays and you want to spend time with them and not so much in the kitchen. Kitchen parties are great but it can be hard to concentrate on both cooking and conversation so early in the morning. Just throw it in the oven. I typically serve with a spicy tomato sauce.
Ingredients
6

large

eggs

1

loaf

whole wheat bread

cut into cubes

2

cups

skim milk

2

tbsp

your favorite fresh herbs, minced

1

pound

left over ham, cut into cubes

1

bunch

green leafy vegetable: kale, spinach, torn into pieces

spinach, torn into large pieces

2

tbsp

olive oil

8

ounces

fresh mushrooms, chopped

1 3/4

cups

melting cheese, grated

grated (cheddar, swiss)
Instructions
Night Before
Mix together eggs, milk and spices. Set aside.

Heat olive oil over medium-high heat, then throw in your green leafy vegetable Cook for 2 minutes, or until slightly wilted. Remove from heat and set aside.

Fry the mushrooms

Grease a large casserole dish (9" x 12") and layer half the bread, half the spinach, half the mushrooms, and half the cheese.

Repeat with the other half of all the ingredients, ending with the cheese. Slowly pour egg mixture all over the top.

Cover with plastic wrap and refrigerate overnight, minimum. This allows the egg and milk to be fully absorbed into the bread.
Next Morning
To bake, remove from fridge 20-30 minutes before baking. Remove the plastic wrap and cover the dish with foil.

Preheat the oven to 350 degrees F.

Bake for 30 to 40 minutes. Remove foil and continue baking until top is golden brown and slightly crisp.