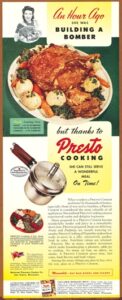 Home cooks have been using pressure cookers to speed the cooking process since the 1920s. The first units were functional, but hard to handle and often dangerous. In 1925 the National Pressure Cooker Company emerged on the market with a product with a deep round pot and a clamp-on lid, used on the stove.  In 1939 at the New York World's Fair, the company premiered its "Presto" saucepan-style pressure cooker with a rotating cover and simple gasket seal.  Soon Presto® became the name commonly used for the product.
Pressure cookers saved time, vitamins, flavours and fuel. American women, who were working in factories during World War II, relied on them to prepare hearty meals for their families.
Since then electric pressure cookers have taken most of the danger out of cookers. As long as you keep liquid in the cookers, they will not explode.
This is a great rib recipe that is quick and easy to prepare.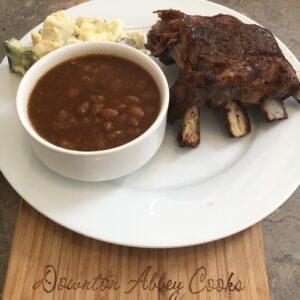 Easy Pressure Cooker Fall Off the Bone Ribs
This is a great rib recipe that is quick and easy to prepare. You can easily make this keto by using a low sugar sauce.
Ingredients
3-5

pounds

rack spare ribs

membranes removed

3

tbsp.

spice

see below

1

cup

beef stock

1/2

cup

BBQ sauce
Instructions
Sprinkle the spice rub on both sides of your rack and rub in. Insert the steam rack in your pressure cooker. If you don't have one, crumple tin foil or use canner lids to keep the meat from sitting on the bottom. Pour the beef stock into the pot.

Depending on the size of your pressure cooker you will need to cut your rack into pieces to fit. Stand the ribs in the pot on their edge, curling them around the pot, trying not to let the pieces touch each other.

Lock your cooker and set for high pressure (15 psi) for 26 minutes to get the fall off the bone goodness. When the timer goes off, turn off or unplug your pressure cooker. Wait until the cooker cools off enough so you can unlock the pot. This is called the "natural method" of release.

While the ribs are cooking, prepare a baking sheet by lining with tin foil. You can place a cooling rack on top, but not necessary.

Preheat the broiler in your oven to its highest setting, and move your oven rack to the uppermost position. Using tongs, transfer the ribs to the prepared pan and baste with your sauce.

Broil the ribs for 5 minutes or until the sauce is bubbling and you see dark edges. Remove the pan from the oven, turn the ribs over, and baste meaty side. Return to the broiler for another 6 minutes or until you see bubbling and beginning to brown.

Serve with your favourite summer side dishes, like coleslaw, potato salad, baked beans.
Notes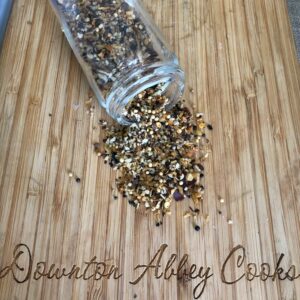 Make your Own Spice Rub
If you have run out of your grilling spice, it is super easy to make your own from pantry ingredients
Ingredients
2

tbsp.

kosher salt

2

tbsp.

black pepper corns

2

tbsp.

garlic powder

1

tbsp.

smoked paprika

1

tbsp.

onion powder

2

tsp.

dill seed

dried

2

tsp.

other spices

make your own secret recipe
Instructions
Combine all ingredients for steak seasoning in a mortar and pestle and mash together so the peppercorns are roughly cracked but you can make it to your liking. You can also blitz in a coffee grinder.

Use on beef steaks, and any roasts before grilling, searing, or roasting.

Store in an airtight bottle or jar.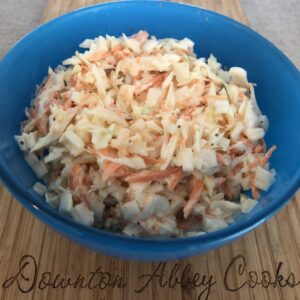 Easy Creamy Coleslaw