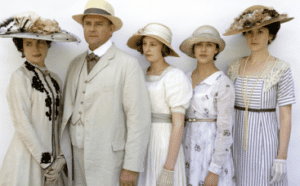 Labor Day weekend marks the unofficial end of summer and the last day of freedom for many children who are back to school. As adults we feel the loss of carefree days by the lake basked in sunshine. The days will be soon be getting shorter and cooler for us in the Northern Hemisphere.
Labor Day dates back to late 1800s, and became a US federal holiday in 1894. Canada celebrates at the same time, but in the UK and other countries it is observed on May 1st.
The "no whites after Labor Day" rule is signal that the seasons are changing. Traditionally white clothing (linens) was worn in warmer temperatures and when the wealthy packed up their summer homes at the end of August, they also put away the summer whites until next May.
As the cooler weather arrives, so does our desire for warming comfort foods, like soups, stews. My link to Fall recipes.
What's on the Menu in the Downton Abbey Movie
We only have a few short weeks left before the launch of the new Downton Abbey movie. Have you bought your tickets yet and planned your outfit?
King George V and Queen Mary are coming to Downton. Will Mrs. Patmore lose control of her kitchen to the Royal chefs? She is not the type of woman to give up without a fight.
Summer is over so we might as well console ourselves with cake. Royal Chef Gabriel Tschumi created a wonderful sponge cake for Queen Victoria which continues to be a royal favorite. Follow this  link to the recipe of the version served to Queen Mary on her birthday. Queen Elizabeth II loves chocolate so she is served this chocolate version.
Find more "Royal Dishes" by following this link