Warmer weather evokes renewed taste for ice cream.  Try my Edwardian inspired version with peaches and lavender.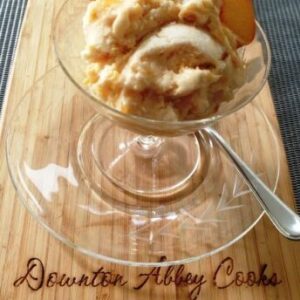 Light Peaches and Lavender Ice Cream
Ingredients
6

medium

peaches

ripe

1

tbsp.

honey

1

tsp.

dried lavender buds

2

cups

milk

1

cup

fat free evaporated milk

¼

cup

honey
Instructions
Preheat the oven to 400°F.

Cut the peaches in half and remove the pits. Place in large roasting pan, cut side up. Drizzle with the honey and lavender. Roast until golden brown and soft, about 30 minutes. Let cool completely and peel the skins off the peaches and roughly mash.

Meanwhile, in a large saucepan set over medium heat, combine the milk, evaporated milk and honey, stirring until the mixture just comes to a boil. Remove from the heat and let cool completely. Refrigerate until cold.

When both fruit and ice cream base have chilled, mix together and freeze for 20 minutes or according to your ice cream maker manufacturer's instructions.

Best enjoyed right out your ice cream maker, but you can freeze and let thaw slightly to regain the great creamy consistency.
Notes
Tips on Making Lower Fat Frozen Desserts
Most of the recipes I provide on this site have been lightened to some extent, and in the case of ice creams, use milk or yoghurt in place of cream and eggs.
If you have a family recipe you want to make healthier here are a few tricks which help keep the same creamy consistency:
Add 1–2 tbsp. cornstarch for every quart of mixture; it serves as a thickening agent;
Add 1–2 puréed frozen bananas; it will help provide a creamy texture;
Replace the cream with fat free evaporated or coconut milk; it will help provide a creamy consistency;
Drop in 2–3 tbsp. of vodka or other alcohol into your mixture; it has a lower freezing point will helps prevents ice crystals from forming.