Z is for Zucchini! This is a light, luscious keto gluten free cake which non keto eaters will love, and will even appeal to those who aren't fond of chocolate cake. No one will ever know the secret ingredient which gives the cake a moisture boost.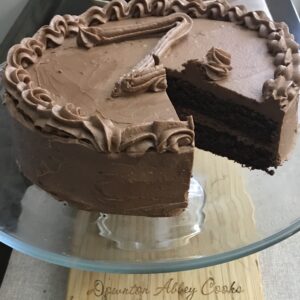 Lovely Light Chocolate Zucchini Keto Cake
Z is for Zucchini! Tired of making Zucchini bread to use up your garden's bounty? This is a light, luscious and keto friendly cake which even non keto eaters will love. No one will ever know the secret ingredient which gives the cake a boost of moisture. I like to pipe "z" on the top and let my guests guess what it stands for
Ingredients
2 3/4

cups

super fine almond flour

1 1/4

cups

Swerve icing sugar

1/2

cup

cocoa powder

unsweetened

2

tsp.

baking powder

1/2

tsp

salt

6

large

eggs

1/2

cup

butter, melted

melted

10

ounces

zucchini, pureed

see notes below

2

tsp.

vanilla extract

sugar free
Instructions
Bake the Cake
Preheat the oven to 325 °F and prepare 2 cake pans* by cutting a circle of parchment paper to fit on each bottom and grease the sides. *This cake does not rise much so for a taller cake use 8" as opposed to 9"pans if you have them.

In one bowl mix the dry ingredients and then sift. In a second bowl , mix the wet ingredients and then add to the dry ingrediente and mix well until combined.

Pour the batter into the prepared pans. To remove excess air bubbles, slap the pans on your counter a couple of times...it feels good regardless!

Bake for 30 minutes or until a toothpick inserted into the middle comes out clean.

Transfer the pans to a wire rack to cool.
Frost the Cake
Once the cake is completely cool you can begin to frost. Select your cake platter or large dinner plate which you will be using

Cut three wide strips of parchment paper and make make a triangle on the outer edges of your cake plate to catch your icing drippings.

Place one cake on top of the triangle and adjust to make sure your parchment paper doesn't leave any exposed areas of your plate.

Generousy spread the frosting on top of the cake. You will want about 1/2" thick of filling in your cake. Place the other cake upside down on top of the frosting. This gives you a flat surface on top of your cake.

Your best tools for icing are offset spatulas: a large one to evenly spread the top lawyer, a smaller one to smooth the sides. I like to just pile a whole lot of frosting on the top and I spread it falls over the side. Professional bakers use a turntable to be able to move the cake which allows you to get even coverage, but you can make do with just turning the plate on your counter.

A great way to finish is to cover the top and sides with shaved chocolate, which covers all evils. Otherwise you can pipe whatever you wish with the remaining icing.

Serve to your family, refrigerating the unused cake between servings.
Notes
To puree zucchini, simply cut a zucchini into slices, and steam for 10-15 minutes. When soft, process in your food processor or hand blender. Let cool before using in the cake.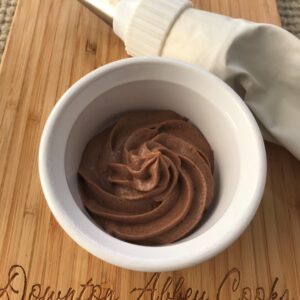 The Best Keto Chocolate Buttercream
This keto chocolate buttercream incorporates cream cheese which serves as a stabilizer, allowing you to use less icing sugar. This will make enough to ice a two tier cake or 48 cupcakes.
Ingredients
2/3

cups

unsweetened chocolate chips

or chopped unsweetened chocolate

2

tbsp.

coconut oil

1

cup

unsalted butter, softened

6

ounces

cream cheese,

softened

1 1/3

cups

Swerve icing sugar

4

tbsp.

cocoa powder

unsweetened

1

tsp.

vanilla extract

unsweetened

1/4

cup

heavy cream to thin

if required
Instructions
Combine the chocolate and coconut oil and melt, either in the micowave (30 seconds) or on low on the stove (5 minutes). Let sit to cool.

Sift the icing sugar and cocoa powder together.

Beat the butter and cream cheese in a large bowl. Slowly add the dry ingredients and beat until well combined.

If the icing is too thick to spread our pipe, add a little cream until you get the consistency you like.
Nutrition
Serving:
5
g
Calories:
919
kcal
Carbohydrates:
100
g
Protein:
12
g
Fat:
90
g
Saturated Fat:
59
g
Polyunsaturated Fat:
2
g
Monounsaturated Fat:
13
g
Cholesterol:
175
mg
Sodium:
182
mg
Potassium:
239
mg
Fiber:
10
g
Sugar:
2
g
Special Ingredients
Nutrition
Serving:
100
g
Calories:
120
kcal
Carbohydrates:
7
g
Protein:
3
g
Fat:
12
g
Saturated Fat:
7
g
Polyunsaturated Fat:
0.5
g
Monounsaturated Fat:
3
g
Cholesterol:
47
mg
Sodium:
182
mg
Potassium:
190
mg
Fiber:
4
g
Sugar:
0.3
g