The challenge with some recipes from the Victorian era is that we don't have the same tastes, so often need modernize them to make them more enjoyable.  Gerard Baker, a talented cook, food historian and BBC personality has written a wonderful book,  Mrs Beeton How to Cook: 220 Classic Recipes for the Modern Kitchen updating some of Mrs. Beeton's best recipes.   Most "plum" recipes in the Victorian and Edwardian era don't even have plums in them.  Rather they often call for currants and raisins. Gerard includes this plum crumble recipe, replacing Mrs. Beeton's original breadcrumb topping for a more modern English topping of flour and ground almonds.   I have adapted this recipe from his book when Lord D came home with more fresh Ontario plums than we could eat before spoiling.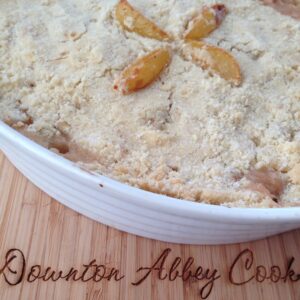 Mrs. Beeton's Plum Crumble
Mrs. Beeton, the Original Domestic Goddess, created this great recipe for plum crumble.
Ingredients
1 1/2

lbs

ripe plums

pitted and quartered

1

cup

caster sugar

or sugar substitute

1

cup

unbleached all purpose flour

1 1/4

tsp.

baking powder

1/2

cup

unsalted butter

1/4

cup

caster sugar
Instructions
Preheat the oven to 350F and grease a shallow baking dish.

Place the quartered plums into the baking dish and add the sugar to coat.  I happen to love sour desserts, but adjust for the sweetness level you prefer.

To make the topping, place the dry ingredients into a bowl, and grate in the butter into the mixture and rub into the mixture until evenly distributed.

Spread the crumble evenly over the plums, then lightly smooth.

Bake for 45 minutes until bubbly and the top is golden.

Serve with frozen yoghurt or custard.