Centuries ago when baking was done in hearth ovens, it would take a long time to bake a cake, and the final product would often be burned. Muffin tins, also called gem pans, named after The Gem Company which made them popular around the turn of the 20th century, so people started created cakes in tins and a whole new breakfast food was created.
Lord D loves these heart healthy muffins as a natural and enjoyable way to get fiber in his diet.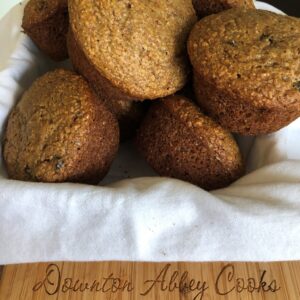 Amazingly Moist Heart Healthy Bran Muffins
Lord D loves these heart-healthy muffins which are also low fat. It is a natural and enjoyable way to get fiber in your diet.
Ingredients
1 1/2

cups

wheat bran

1 1/3

cups

whole wheat flour

1 1/2

tsp.

baking soda

1

pinch

salt

1 1/4

cups

buttermilk

1/2

cup

raw sugar crystals

reg sugar substitute

1/4

cup

unsweetened applesauce

2

large

eggs

1 1/2

cups

raisins
Instructions
Preheat your oven to 350°F and ensure oven rack is in center.

Prepare a non-stick muffin pan by oiling each cup.

Whisk the bran, flours, baking soda, and salt until well combined in a medium bowl.

In another bowl beat the buttermilk, sugar, applesauce, eggs, oil and vanilla until frothy, about two minutes. Make a well in the center of the dry ingredients, and pour in the wet mixture. Stir until you see no more traces of dry ingredients in the mixture. Be sure not to over mix.

Using an ice cream scoop, dip into the batter and collect 3/4's full and fill each cup.

Bake for 20 minutes until the tops spring back which lightly touched. Plan the pan on a wire rack for 10 -15 minutes or until not too hot to the touch. First try to gently twist the muffin to loosen and remove. Otherwise, run a knife around the edge and the muffins should release their grip.

Serve hot or cold. They freeze well so you can enjoy a fresh muffin any time you want.
Notes
*If you don't have buttermilk or just take regular milk and add a tablespoon of lemon juice or vinegar and let sit a few minutes to curdle.
**Make your own apple sauce
Tools to Use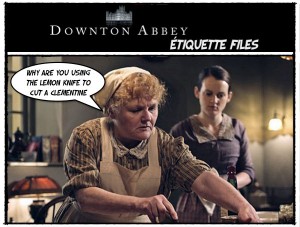 While cooks in Downton's era may not have had exactly the same type of kitchen gadgets, Victorian cooks did start the craze for creating a tool for each job in the kitchen, so I blame our ancestors for my obsession with collecting these time savers.  You can even order this stuff directly from Amazon so you have more time to watch Downton.

Nutrition
Serving:
80
g
Calories:
185
kcal
Carbohydrates:
35
g
Protein:
8
g
Fat:
1
g
Saturated Fat:
0.4
g
Polyunsaturated Fat:
0.1
g
Monounsaturated Fat:
0.3
g
Cholesterol:
36
mg
Sodium:
193
mg
Potassium:
453
mg
Fiber:
10
g
Sugar:
14
g