It took some time before cocktails were served at grand country houses.  You may recall that Mary once warned Sir Richard: "I could ask Carson to make one for you, but I can't guarantee the result." It wasn't until Season 5 when Rose brought the cocktail party to Downton.
Cheer on your favourite characters with a delicious cocktail.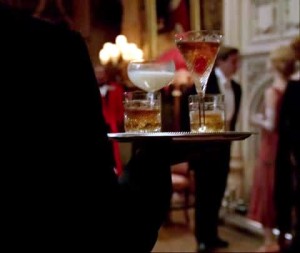 My book, Abbey Cooks Entertain contains historically accurate drinks, but try these fun drinks provided by my friends at the thebar.com
Lady Mary– The crisp bite of Tanqueray London Dry Gin makes Sassy Lady a great match for Mary's occasionally acerbic personality. The lemon juice, sugar syrup and champagne make it a cocktail that's simultaneously tart, complex, and refreshing, but most of all classy and sassy, just like Lady Mary.
Lady Edith – Divine Unconvention is a mix of delicious bittersweet marmalade with pure, clear Smirnoff No. 21 Vodka and a lively dash of citrus. Serve in a marmalade jar much like Edith the rebel, fighting convention and pomposity.
Lord Grantham – With its combination of subtle botanics and spitzy tonic, Front a Frontis, a classic mixed drink has Lord Grantham written all over it. Simple, yet elegant, this cocktail makes a great serve for gentlemen's poker and cigar party.
The Dowager Countess– Nothing is as memorable as her quips and sharp irony pointed at all those who disregard etiquette. The epitome of tradition and guardian of all aristocratic values, the Countess is all about keeping the status quo at Downton, so let's toast an Ettican'tin in her honour! With a tasty sour edge and subtle sweetness, this is an upscale cocktail for the discerning drinker.
Tom Branson – proud of his origins even when he becomes part of the aristocrat family, Tom Branson would enjoy the Good Craic, this Irish whiskey blended with ginger ale, that has a fruity though spicy aftertaste.
The busy life at Downton is even busier downstairs, where all the glamorous dinners and parties are prepared. But what drink would have suited an outing at the fair or a beach picnic for the lovely bunch downstairs?
The Servants– When it comes to their own entertainment, the servants enjoy easy-to-make and easy-to-share refreshments. Make Do and Blendis  a Smirnoff Punch with simple yet tasty ingredients that is best shared!
If you don't trust Carson to mix drinks, consider wines, spirits and liqueurs for your guests.
Champagne or sparkling wines would be a great celebratory drink to toast each of the 16 categories.
Madeira:

Edwardian

s loved madeira, for any fortified wine (sherry, brandy) would be fitting tribute to the Dowager countess.
Wine: a great choice.
Scotch: a favorite of the Crawley men, single malt for an upstairs crowd.
Pimm's: a popular drink in the UK (derived from gin), but might more suitable for the summer. If you do live in the lower states it might be suitable as thirst quencher. Check out my Pimm's Punch recipe, my favorite.
For Downton Abbey Fans