These do take a little more skill than dusted truffles, but once you get the hang of it they are amazing. They are one of the truffles I make annually to give away at Christmas to friends, colleagues and family.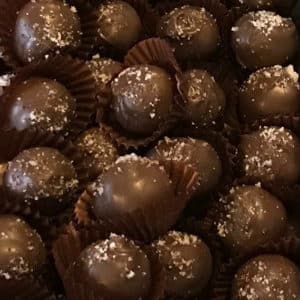 Sparkly Salted Caramel Dark Truffles
hese truffles are a wonderful combination of dark chocolate, caramel and the unexpected taste of salt. These truffles sparkle like little gems, perhaps a like a wedding ring?
Equipment
marble slab to work the chocolate

special chocolate dipping tools

truffle cups

white gloves
Ingredients
For the Truffles
10

ounces

bittersweet or semi-sweet chocolate

best quality, finely chopped

2/3

cup

heavy cream (35%)

3

tbsp.

caramel sauce

prepared

4

tbsp.

fleur de sel
For the Coating
12

ounces

Merckens dark chocolate

melting chocolate found in craft stores

1/4

cup

icing sugar

for working the chocolate
Instructions
Make the Ganache
Place the chopped bittersweet chocolate in a metal bowl and set aside.

Heat the cream until boiling and then pour over the chocolate and mix until melted. Add the caramel sauce and ensure well combined. Pour into a ziploc bag and lie flat in your fridge until set, 1 - 2 hours.
Roll the Truffles
You can change the texture of your chocolate to suit your taste. I like to whip my chocolate in a heavy duty mixer to incorporate air into the mixture; you can also use a metal scraper and scale it on a marble slab and let set up again, or go straight to the next step.

Dust your clean smooth work surface with icing sugar (ideally a marble slab which keeps the chocolate cool) and knead the chocolate so it is workable and then roll the chocolate into a log, one inch thick.

Prepare a baking sheet with parchment paper. Cut into one inch sections and roll between your hands (icing sugar keeps the chocolate from sticking to your hands) to make balls and place each ball on the baking sheet.
Coat the Truffle
Place the dark brown Merckens chocolate in a medium metal bowl over a saucepan of barely simmering water (do not allow bottom of bowl to touch water);

Heat until melted, but don't let the chocolate get too hot or it will melt your truffles. Take off the heat. Keep the bowl in the saucepan to help keep the temperature warm. Tilting the bowl helps give you a deep pool of chocolate to dip.

Prepare a baking sheet with parchment paper. Submerge 1 truffle in melted chocolate. Using fork or special chocolate tool, lift out truffle and tap fork against side of bowl to allow excess coating to drip off.

Transfer truffle to your prepared sheet. Sprinkle a little of the fleur de sel on your wet truffle to make the sparkle. Repeat with remaining truffles. Let stand 15 - 20 minutes to set.

Put on your footman gloves so your don't get your fingerprints on the truffles. Use a sharp knife to cut away the excess on the bottom of the truffles.

Place in truffle cups and serve to your Downton guests.