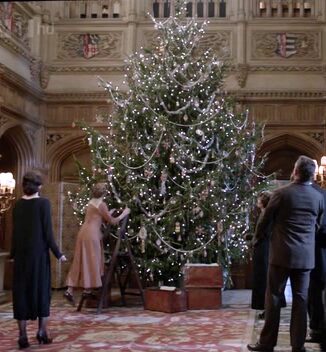 The moment that so many PBS viewers have been waiting for is coming this Sunday: the Christmas Episode.  If you still haven't taken down your Christmas decorations, this is your one last chance (seriously, take them down) to be in fashion.I was in my kitchen yesterday working on some cakes for my own celebratory party coming up in a couple of weeks when I received a cryptic tweet (@downtoncooks).  "Cryptic" because my iPhone had chocolate batter smudged on it.  It was from a public radio station in LA looking for some advice on what to serve at a Downton Abbey finale party. Like so many others I have already seen the final episode…the DVD's are already out, but I suppose one would want to gather friends around to see the Season finale if they hadn't seen it.  Bully for them.  After I finished my cake, the batch of chicken noodle soup and put dinner in the oven, I contacted Meghan, the lovely producer of the Madeleine Brand show for 89.KPCC.  Producers have the best jobs, they have to come up with great content to fill the show and generate viewership, and quickly source "experts" on an infinite number of topics.  Indeed, there is a segment each Friday which covers which is coming up this weekend, and well, what to do about it.  This week includes a few minutes on what to serve at a Downton viewing party. A viewer supporter radio station supporting a viewer supported TV network, how lovely.
Southern California Public Radio (SCPR) is a member-supported public radio network, SCPR is the most listened to public radio news service of any kind in Southern California and serves the diverse communities of Southern California with award winning local news coverage as well as the most NPR (National Public Radio) content available anywhere in the region.   Please support public radio.  Thank you.
What to Serve for your Season Finale dinner Party
Here is the posted interview as part of the fun Weekend Alibi segment of what to do this weekend in California, if you know what a weekend is, that is.
[soundcloud url="http://api.soundcloud.com/tracks/37080998″ iframe="true" /]
You could hold a dinner party, or just serve gruel in support of Mr. Bates present situation. Oeros are period appropriate so you can just sit on the couch and munch on those.
If you plan to hold a dinner party, don't fret about having to spend hours in the kitchen.  Unless of course you already have kitchen staff or caterers and that thought never crossed your mind in the first place.  Keep the food simple and give your place a good dusting and bring out the nice table clothes and clean silverware and the unchipped plates!  Ask everyone to dress up in their best Downton Abbey attire if you like.  If you have an obliging male friend to serve as footman that would be just enough panache to make the night right.  My husband once served as wine steward for our elderly neighbor and her sorority sisters, and they loved it.
While not as sombre as Episode 5 when Matthew comes home wounded and William dies, this is not the most uplifting of episodes.  Even though we are in the holiday season with Christmas and New Years and a few other parties thrown in for good measure, all is not good at Downton.  Mr. Bates has just been arrested, Matthew is in mourning, Mary is still engaged to Sir Richard, and Sybil left home with Tom Branson.
Below are some initial suggestions for dinner.  For more ideas check out my Online Guide to Hosting Downton Abbey Themed Parties.
A Very Crawley Dinner Party
A good course of action is to stick with what the Crawley's know best, and that is a structured dinner party.  Simple dishes, served by well groomed footmen…and don't forget the sauces!  In this episode Daisy is fussed about keeping the roast chicken warm so that might be a good choice and pretty easy to prepare (or get a rotisserie chicken).  I have a few recipes on the blog you can search out which would be quite suitable for your occasion.  I have also posted the menus for the 1st, 2nd and 3rd class passengers on the Titanic and all the dishes in one location in honor of the 100th anniversary on April 14th.
Appetizers
Soup Course
Main Course
Side Dishes
Dessert Course:  Puddings/custards were a favorite
After Dinner
For some extra panache you could serve Wine jelly between courses or instead of the dinner party all together.  This is not the jello shots from college days.  Served in nice glass dishes it is quite lovely.
Drinks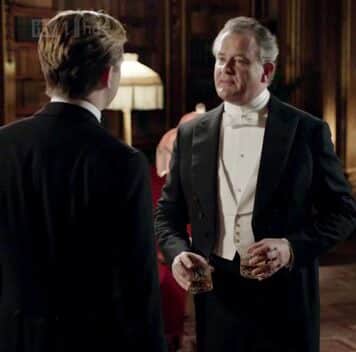 The answer to this question is yes.  This lot always seems to have some sort of beverage in their hand-tea cup, punch, scotch or wine glass. Edwardians loved Madeira at any time of day and even created Madeira cake, a sponge cake to compliment the drink at tea.
As I mentioned earlier, this isn't the most upbeat episode so if you are going to serve champagne, save it for the last five minutes.  We hear the term "claret", which is an all inclusive term to mean a dry red wine, so that would be your safest bet if you were going to pick just one wine.  You may recall this clip from this past week's episode (S2 E8) where Anna provides instruction to Mr. Moseley on proper wine service at Downton.
[youtube http://www.youtube.com/watch?v=yk-lwfv46Eo&w=560&h=315]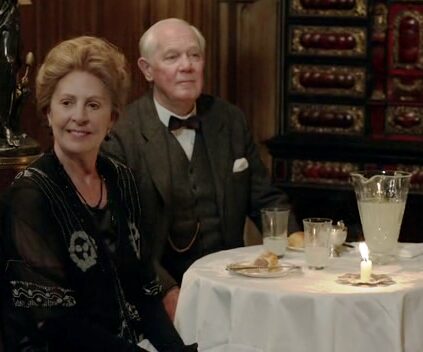 You can never go wrong with a pitcher of Pimm's Cup. Here we see Cousin Isobel enjoy a glass at one of the many gatherings in this episode. Pimm's Cup is a simple mixture of 1 part Pimm's No. 1 to 2 parts quality lemonade. Garnish with lemons, mint or whatever your fancy. You can also skip the Pimm's all together and serve a refreshing pitcher of lemonade.
Dessert?  How about a Mess? Eton Mess has a Fun History
After the radio interview I gave more thought about what special dessert might represent this episode.  Mess sound about right with all that is going on.  Eton Mess is traditionally a summer dessert, but we are watching a Christmas episode in February, so I think we can throw convention to the wind. Perhaps you can invent a Downtonn Abbey mess by adding a wee bit of sherry..or some tears.
Eton mess is a traditional English dessert consisting of a mixture of strawberries, pieces of meringue and cream, affiliated with Eton College's annual cricket game against the students of Winchester College in June.
The generally-accepted story is that the strawberry, meringue and cream pudding was dropped at an Eton v Harrow cricket match in the late 19th century. Rather than waste the food, it was simply scooped up off the floor and served, smashed to bits, in individual bowls.
Unlike the trifle which is made with cake and you need to let the flavors settle, this is whipped up in a jiffy.  It was likely called "mess" since it does look a bit frightful.
Low Fat Eton Mess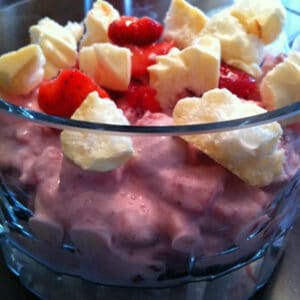 Low Fat Eton Mess
If you are pressed for time, this is a great easy dessert to make. Traditionally made with whipped cream, you can reduce the fat by substituting with greek yogurt.
Ingredients
4

cups

strawberries

1 1/2

cups

non fat plain greek yogurt, flavoured with honey

4

large

meringue cookies or nests
Instructions
Hull and chop half the strawberries, and place into a bowl. Roughly mash and add the sugar and leave to macerate (marinate) for 10 minutes.

Roughly crumble in three meringue nests — you will need chunks for texture, as well as a little fine dust. Leave one cookie to garnish.

Fold into the marinated strawberries into meringued cream.

Place the remaining strawberries, meringue yogurt mixture and into a lglass bowl or individual serving dishes. Top with remaining strawberries and meringue.
Notes
History Lesson
The generally-accepted story is that the strawberry, meringue and cream pudding was dropped at an Eton v Harrow cricket match in the late 19th century. Rather than waste the food, it was simply scooped up off the floor and served, smashed to bits, in individual bowls.
Make your Own Meringue Cookies
Yes you can make your own meringue cookies.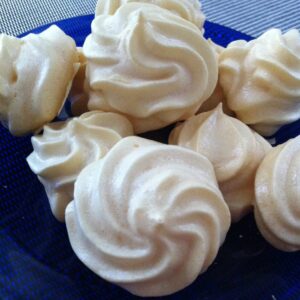 Easy Meringue Cookies
Meringue is easy to make; take it to the next level by piping into cookie or nest shapes for your summer desserts.
Ingredients
4

large

egg whites, room temperature

or measure liquid egg whites

1/4

tsp.

cream of tartar

1

cup (200 grams)

superfine or caster sugar

Keto version: use Swerve superfine

1/2

tsp.

pure vanilla extract
Instructions
Preheat oven to 300 F (105 C) and place the rack in the center of your oven. Line a baking sheet with parchment paper.

Beat the egg whites on medium speed with an electric whisk until foamy.

Add the cream of tartar and continue to beat the whites until they hold soft peaks.

Add the sugar, a little at a time, and continue to beat until the meringue holds very stiff peaks.

Beat in the vanilla extract.

Test to make sure the meringue is ready by rubbing a little between your thumb and finger. When it is no longer gritty you are ready to go.

Place 10 equal sized mounds of meringue onto the prepared baking sheet. You can use a tablespoon and make a swirl, or put into a piping bag with a star for a more decorative cookie.

Reduce the heat to 275 degrees and bake the meringues for 60 minutes. You may wish to rotate the pan halfway through to ensure even heating.

The meringues are done when they are pale in color and fairly crisp.

Turn off the oven, open the door a crack, and leave the meringues in the oven for at least another 60 minutes to dry out.

Meringue Cookies can be stored in an airtight container for several days.
Notes
*you can make your own caster sugar by simply processing granulated white sugar for about 30 seconds in a food processor.