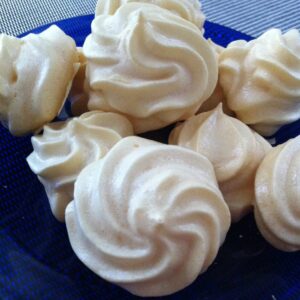 Meringue is really easy to make and quite versatile. You can drop on cookie sheets like Hersey Kisses or pipe into nests or other shapes. Bonus is that this is a low fat dessert.
To make Keto (sugar free), simply replace the caster sugar with your favorite sugar substitute, like Swerve.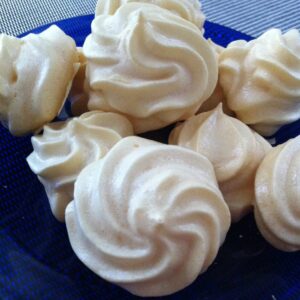 Easy Meringue Cookies
Meringue is easy to make; take it to the next level by piping into cookie or nest shapes for your summer desserts.
Ingredients
4

large

egg whites, room temperature

or measure liquid egg whites

1/4

tsp.

cream of tartar

1

cup (200 grams)

superfine or caster sugar

Keto version: use Swerve superfine

1/2

tsp.

pure vanilla extract
Instructions
Preheat oven to 300 F (105 C) and place the rack in the center of your oven. Line a baking sheet with parchment paper.

Beat the egg whites on medium speed with an electric whisk until foamy.

Add the cream of tartar and continue to beat the whites until they hold soft peaks.

Add the sugar, a little at a time, and continue to beat until the meringue holds very stiff peaks.

Beat in the vanilla extract.

Test to make sure the meringue is ready by rubbing a little between your thumb and finger. When it is no longer gritty you are ready to go.

Place 10 equal sized mounds of meringue onto the prepared baking sheet. You can use a tablespoon and make a swirl, or put into a piping bag with a star for a more decorative cookie.

Reduce the heat to 275 degrees and bake the meringues for 60 minutes. You may wish to rotate the pan halfway through to ensure even heating.

The meringues are done when they are pale in color and fairly crisp.

Turn off the oven, open the door a crack, and leave the meringues in the oven for at least another 60 minutes to dry out.

Meringue Cookies can be stored in an airtight container for several days.
Notes
*you can make your own caster sugar by simply processing granulated white sugar for about 30 seconds in a food processor.