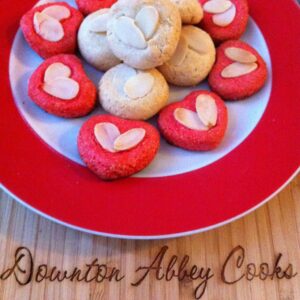 Now that January has come and gone, many sights are set on Valentine's Day, just over a week away.  Have you ever thought of sharing an Afternoon Tea with your loved one?  It easier to pull together than a lavish dinner and can be more relaxed.  If you are single you can always hold one with your friends…or for yourself.
Today's treat are Macaroons, the type that the British traditionally had with their tea.  The bonus is that these are heart-healthy biscuits, gluten free and keto-friendly.
Abbey Cooks Entertain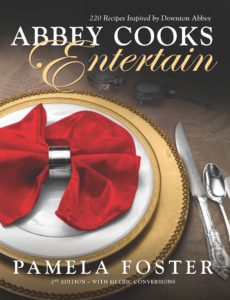 I think you will find something to tempt you amongst the 220 recipes I have included in this book. If nothing else you will want to get the book for recipes for the famous Downton dishes. This 432 page ebook price offsets costs for recipe testing. You can only get a signed copy here on my site.  If you don' have an eReader I would suggest the PDF version which can be printed if you like. Sending as a gift? Order as many copies as you need and simply forward the email download link to your friend(s), just as you would gift music.
English Almond Macaroons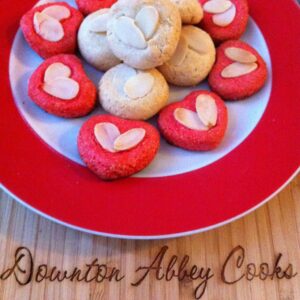 Delightful English Almond Macaroons
English macaroons are a delightful tea biscuit, gluten free and keto/friendly if you use a sugar substitute. Add a little red food coloring for a wonderful holiday treat.
Ingredients
1 1/4

cups

ground almonds (or fine almond flour)

2

large

egg whites

3/4

cup

caster sugar

(or sugar substitute)

1/4

cup

sliced almonds

red food coloring,

(optional)
Instructions
Pre-heat your oven to 400F.  Line a baking tray with silicone liner or parchment paper.

Beat the egg whites with a fork until foamy.

Pulse ground almonds in a food processor and pulse for half a minute to make fine (or work with a mortar and pestle until you have released a bit of the stress of your day).

Make a paste, adding a portion of egg whites, then sugar pulsing until combined after each addition.  For colored macaroons without changing the almond flavour, add a little red food coloring until you get the color you desire.

The mixture will be soft.  You can use a little cookie scoop, or let it sit for a fewminutes for the dough to stiffen to work with your hands.

Make balls about 1.5″ round to make a nice petite size for your tea tray.

Place the macaroons a few inches apart on your cookie sheet.  You can leave as is, or if you prefer a flatter biscuit, gently press, and then place a couple of almonds on top.  I went for a "heart" effect and cut my red biscuits with a little heart shaped cutter.

Bake for 10 – 15minutes, until lightly browned.  Take care not to overbake. I like them a little on the pale side for my tea tray. The goal is have a crispy outside, and chewy inside.