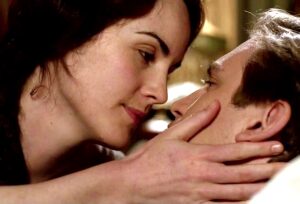 Happy Days.  American viewers were treated to another double dose of Downton last night on PBS, showing two episodes, S3E7 and 8. With Valentine's Day coming up this week, it was lovely to see love in the air. Cora and Robert are back on track, Matthew and Mary are settling into married bliss, and  (spoiler alert) Anna and Bates can finally cherish each other now that his name has been cleared.
For those of us who have been blessed with love in our lives, it is hard to see singles who struggle to find happiness.  Alfred convinces Ivy to accompany him to the pictures, but she still prefers Jimmy.  Lady Edith and Lady Rose don't seem to have the best track record with men.  Thomas, who feels that love is possible for him at Downton, was lured into a cruel trap set by O'Brien.  But don't worry, this man has nine lives and his cricket skills save him in the end.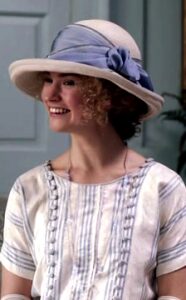 We see a few new family members this week.  Kiernan is Tom Branson's beer-loving brother, a mechanic who visits Downton for the Christening.   In E8, Lady Rose MacClare comes to stay with Violet.  She is the youngest daughter of "Shrimpie", Hugh MacClare, the Marquess of Flintshire.  If you recall back in Season 1, Hugh has dealings with the Turkish Embassy and his wife Susan gave Violet the heads up about the scandal.
She appears to be a willful teenager and it is likely we will see more of her on the show.  The Dowager mentions Shrimpie's home, Duneagle Castle which we may also see in the future.
Finale Party in your Future?
Alas, there is only one more episode left in Season 3.  If you are planning a finale party, check out my quick Online Guide to hosting a Downton Party or peruse the full recipe index. A hint: you would do well researching Scottish dishes.
Need more? You can download my book, Abbey Cooks Entertain in less than five minutes. It has 220 recipes tailored to entertaining in your Abbey, be it a servants hall tribute, sophisticated cocktail party, or upscale dinner.
My passion for sharing Downton era food with you is self-funded, and this ebook is self-published.  Proceeds from book sales help fund my ability (groceries) to keep offering you new recipes, free, each week.
Steamed Lobster Tails in Beer
Love is in the air, but with busy schedules, it can be a challenge to make a great Valentine's Day meal.  The lobster was a favoured dish for the aristocracy in Downton's era and has endured in its status as food for love.  The bonus is that it is quick to prepare.
Lobster tails are easy to eat if your footman doesn't knock them into your lap, that is. Poor Alfred falls prey to a Thomas-inspired prank. We have made Lobster Thermidor before, made famous on Titanic, and today we will cook lobster tails.
In honour of brother Kieran (and other men out there who love their beer), here is a great simple main course dish for your Valentine's Day Dinner.  Note, you only need to use half the bottle of beer.  Please don't forget that Valentine's Day is but once a year, and you should show your loved ones that you care in small ways every day of the year.  I am have been truly blessed with the love of Lord D who makes it a point to make every day Valentine's Day, sigh.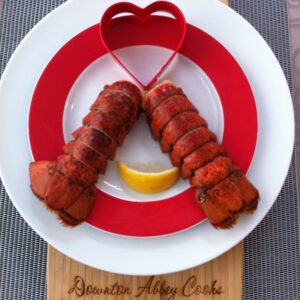 Steamed Lobster Tails in Beer
The lobster was a favoured dish for the aristocracy in Downton's era and has endured in its status as food for love.  The bonus is that it is quick to prepare. This is a great dish for date night or Valentine's Day.
Ingredients
2

uncooked

lobster tails

1/2

bottle

beer
Instructions
Prep work: if you have purchased large tails, split them lengthwise with a sharp knife. To prevent curling, slide a wooden skewer through the length of the tail next to the shell.

Place beer in a sauce pan which will fit a steamer basket and bring to a boil. It will only take a few minutes.

Place the steamer basket in the saucepan, place the lobster tails in the basket and cover.

Reduce heat and simmer for 8 minutes.

As a check: the lobsters are done when the shell is bright red and the flesh is white.