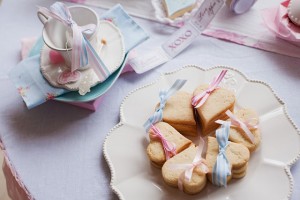 Valentine's Day is just a few days away.  If you want to share a special meal with a loved one, why not prepare a tea party? It is easier to pull together than a lavish dinner, more relaxed, and yes, there is such a thing as champagne tea.  If you are single you can always hold one with your friends…or for yourself.  I will be sharing my ideas on national TV on Valentine's Day, so stay tuned for a special post.
I regularly dish on Downton Abbey and other topical issues one might discuss at tea, served up with a recipe with an interesting history.  You may find my Online Guide to Afternoon Tea helpful in understanding traditions and recipes to help you host your own tea party with family and friends. Today's treat are Chocolate Dipped Oreos, perfect for your Downton Abbey party or Valentine's Day table.
Valentine's Recap:  Downton Abbey Couple Food Pairings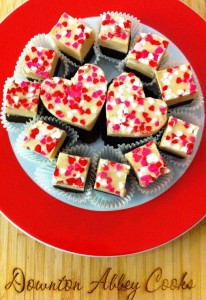 While there are many couples on Downton Abbey, last year I have dedicated recipes to a few of our favorite Valentines:
Downton Dish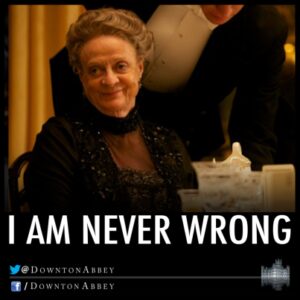 Downton Abbey Wiki: this is a great source to help you keep track of who is who on Downton.   If you haven't seen Season 3, beware of spoilers, though.
Downton Customs Great Ideas for Valentine's

Day

: Breakfast in bed? Count me in!  When you think about it, wouldn't we all like to live more like a Crawley woman?
Planning a Finale Party? Abbey Cooks Entertain to the Rescue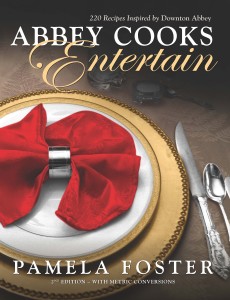 Need help and inspiration for your Downton Finale party?  My book can help you decide what type of party to hold (upstairs dinner, servants hall tribute or cocktails) providing authentic food of the period.  HINT:  this finale is you may wish to focus on Scottish food and drink.  Encourage your guests to dress up as their favorite Downton character.  You have much more fun when you are in costume.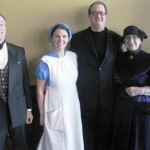 With 220 Downton era recipes, you will want to get this book for recipes for the famous Downton dishes from Season 1-3.  This 432 page Book sales for this 440+ page book help for this 400offset my costs in food, equipment and time to keep bringing you new dishes.  You can only get a signed copy here on my site.  If you don' have an eReader I would suggest the PDF version which can be printed if you like. 

Be THE Cook in Your Own Abbey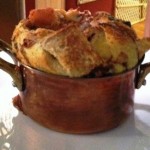 While I am passionate about Downton Abbey, I get really excited when I can inspire others to get into the kitchen to cook real and healthy food, particularly those like Lady Sybil who have no skills, but are eager to learn.  Cooking is a labour of love and sharing that love is so important in building/maintaining relationships.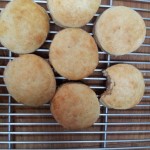 The Crawleys and servants shared most of their meals together.  It is a shame our busy lives prevent many of us from sitting down together to eat on a regular basis.  Keep sharing your pictures of Downton era foods and I will post here.
Chocolate Dipped Oreos
This dessert is a simple sweet treat which suits both upstairs and downstairs guests.  Oreos are very period appropriate. In 1912, Nabisco created a wonderful new biscuit that we know and love: a cookie with a cream filling sandwiched between two chocolate disks. While an American biscuit, who says Martha or her maid wasn't packing a box or two when they visited Downton.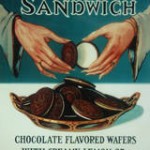 Write"DA" for Downton Abbey or tailor for your event. Melting wafers come in different colors so you can easily co-ordinate to your party theme. Great for any time of year, I have catered special "40" and "50" milestone birthdays, and you can easily make Valentine's Day biscuits as well (see below). I have made cancer ribbon cookies, dipped in white chocolate and piping a color ribbon to support friends battling cancer.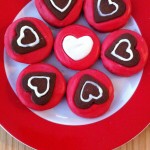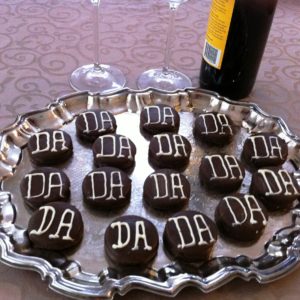 Downton Monogrammed Chocolate Dipped Oreos
Ingredients
24

Oreo Cookies

(reduced fat preferred)

1–2

cups

chocolate

melting wafers or semi-sweet chocolate chips

½

cup

white chocolate

melting wafer or chips
Instructions
Prepare a cookie sheet lined with parchment paper.

Melt chocolate by placing in a metal bowl over a pot of simmering hot water. Do not let the metal bowl touch the water below.

There are special chocolate dipping forks you can buy at your local craft store; otherwise, break the inner prongs of a plastic fork so you are left with a fork with 2 outside prongs.

Lightly tap each Oreo cookie before dipping to ensure that no crumbs enter the chocolate bath.

Drop a cookie into the chocolate bath. Use your dipping fork to rescue the cookie, grasping the "cookie ridge" between the two layers to give you a grip on the cookie.

Gently tap the cookie on the side of the bowl to remove the excess chocolate. Place the cookie on the cookie sheet.

Repeat the process for the amount of cookies you wish to make. If you need more chocolate, simply melt more in your pot. If you have extra chocolate you can pour into a plastic container and when it hardens, remove and store in a plastic bag.

Once the chocolate has dried, it is ready to create yourDownton Abbeymonogram. Melt the white chocolate, but don't let it get too hot as it will scorch. Make a cone with parchment paper or cut a small corner in a thick plastic bag. Carefully scribe a "DA" on each cookie and let cool.

Clean up your cookies by running a sharp knife around the edge to clean up any chocolate drips. These cookies will last for at least a month in an airtight plastic container. Chocolate Dipped Oreos

If you want to try other colors, choose chocolate which has already been colored. Food coloring is water based and will ruin your chocolate if you try to use it. Been there, learned that.
Tools You Can Use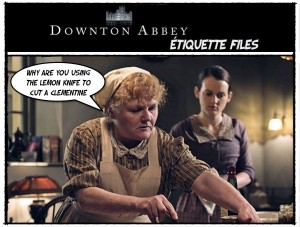 Cooks, like other professionals, have their tools and as Mrs. Patmore says "it is a poor workman who blames his tools".  You can  make do with the basics, but as you gain confidence and love for cooking, you should start to recognize items to help you cook.  Mrs. Patmore didn't have electronic gadgets to cook with so be assured you can make do without the expensive gizmos.  This section helps you identify some equipment that I use.  If you wish you can order directly from Cooking.com or Amazon.com, both reputable stores I have used in the past.
Chocolate Dipping Tools
You can make do with a plastic fork, but you may wish to invest in dipping tools if you want to get serious into chocolate.
For your Downton Abbey Collection