Award Winning Tea at the fashionable Lowry in Manchester, Matthew and   Isobel's hometown

It has been an eventful week for the Queen as she quietly celebrated her official reign of 60 years on the throne. And if you wondered about when to start planning your own Garden party, the Queen has already held her annual event.

As you may know, Tea Tuesday is a weekly tradition I started, dishing about Downton Abbey, featuring a new "Downton" era recipe. Refer to my Online Guide to Afternoon Tea, helpful in understanding traditions and recipes to help you host your own tea party with family and friends.
This week's treat is a lovely light lemon loaf alternative to pound cake made with yoghurt.  It is Lord D's current favorite and with Father's Day and his birthday coming up, I aim to please.
You may be happy to know that I have my rhubarb patch under control and with expanded cold storage (Lord D and I bought a larger freezer) I can chop and freeze as I harvest if I choose.  The trick with freezing most fruits is to lay smaller pieces in a single layer on a cookie sheet, freeze, then seal in freezer bags, being careful to remove as much air as possible.
Downton Dish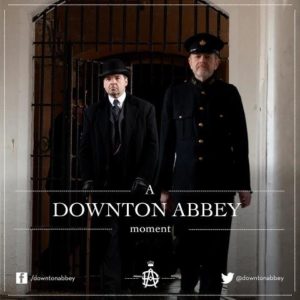 Summer is close at hand so you may already have other distractions to keep your Downton cravings at bay.  Here is some news to help carry you through Downton Downtime until we meet again for Season 4:
Abbey Cooks Entertain: Entertain this Summer Downton Style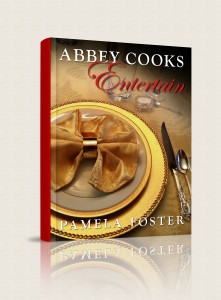 With 220 Downton era recipes, you will want to get this book for recipes for the famous Downton dishes from Season 1-3. I also presented a whole chapter on Garden Parties. Experimenting with ices (ice creams and frozen yoghurts) was my favorite part.
This 432 page ebook sells for only $7.95. Book sales help offset my costs in food, equipment and time to keep bringing you new dishes each week. You can only get a signed copy here on my site. If you don't have an eReader I would suggest the PDF version which allows you to print recipes as you go, if you wish.
Light Lemon Yoghurt Loaf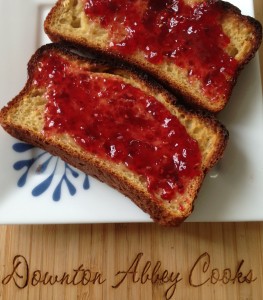 Cake and tea are a natural combination. Pound cakes in particular always seem to make it to the tea tray, and date back to the 1700s.  They were so named because of the quantity of ingredients:  one pound of each of butter, sugar, eggs, and flour.  It made quite a few loafs, but eventually the quantities were adjusted to make smaller cakes, but still butter is a big part off the ingredients.  No wonder there have been many variations on the pound cake to make a lighter loaf.   Try this light version which still has great taste, and delightful fresh texture, but has none of the fat.
To really bring out the flavour of the lemon, slice, toast and top with your favorite preserves, like strawberry, or top with a nice low fat ice cream and drizzle with honey…yum.  It is a sturdy cake that won't crumble so you can also cut into bite sized pieces and top with lemon curd or other sweet toppings to make your own lemon creations for your tea or garden party,
Makes 1 loaf
Ingredients
1 ½ cups unbleached all-purpose flour
2 tsp. baking powder
½ tsp. kosher salt
1 cup plain non-fat yoghurt
1 cup sugar (or sugar substitute)
1 egg
3 egg whites
2 tbsp. grated lemon zest (2 lemons)
½ tsp. pure vanilla extract
½ cup Unsweetened Applesauce
Method
Preheat the oven to 350° F.  Grease a loaf pan of your choice but adjust your time in the oven if you are using a smaller pan to allow the centre to bake.
Combine the flour, baking powder, and salt into a small bowl and whisk until combined. In a large bowl, mix together the yoghurt, sugar, eggs, lemon zest, vanilla and applesauce.
Make a well in the dry ingredients and mix in the wet ingredients until combined. Pour the batter into the prepared pan and bake for about 60 minutes or until a cake tester placed in the center comes out clean.  Really make sure the loaf has finished baking or it may collapse when as it cools.
Let cool on a wire rack, then remove from the pan and serve.  You could make a sugary sweet lemon glaze as the higher fat versions do, but that would defeat the purpose of taking the guilt out of the pleasure.