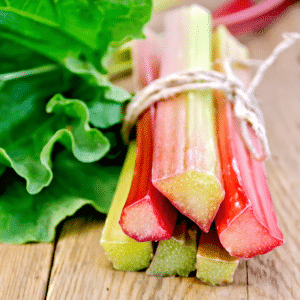 It is getting closer to the lazy days of summer, but for now, we are still contending with May showers spilling into June.  As I was setting up for the large charity tennis tournament our firm co-hosted on Sunday,  I imagined lords and ladies gathering on grand grass courts on lovely country estates like Downton as part of their own charity garden party (S1).  Tennis is such a timeless sport.
Recipe Options for Using Rhubarb
Since my garden is still overflowing with fresh rhubarb, today's treat is Rhubarb Blueberry gems (muffins).  As you may recall from earlier posts, gems were the little pans that little cakes were baked in. If that doesn't tickle your fancy I have provided a selection below.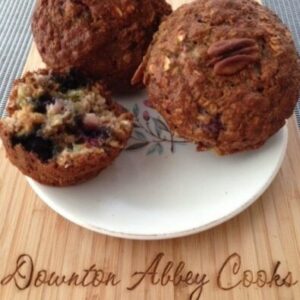 Healthy Rhubarb Blueberry Gems (muffins)
Move over strawberries, blueberries make a great match for rhubarb. 
Ingredients
2

cups

whole wheat flour

1 1/2

cups

medium or large flake oats

1/2

cup

sugar

(or sugar substitute)

1/2

cup

brown sugar

2

tsp.

baking powder

1

tsp.

baking soda

1/2

tsp.

salt

1

cup

buttermilk

(milk with 1 tbsp. lemon juice added)

1/2

cup

unsweetened applesauce

1

cup

diced rhubarb

(thin stalks if you have them)

1

cup

blueberries

(fresh or frozen)

1/2

cup

of nuts if you so desire
Instructions
Preheat oven to 350F, and prepare 12 muffin pans by lightly greasing with oil or nonfat spray. Non fat muffins stick to paper liners so they are not a good choice for these types of muffins.

Mix flour, oats, sugars, baking powder, baking soda, salt in a large bowl. Make a well in the middle.

In another bowl, mix together the egg, buttermilk, and applesauce. Pour into dry ingredients and stir until just combined. Stir in fruit.

Use an ice cream scoop to measure into the muffin tins and bake for 25 – 30 minutes until a toothpick comes out clean.