The passing of time is constant, but you can certainly pack quite a great deal into a short time span as what we learned this past week. On Monday I shared our "Life IS Downton Abbey" story about closing up the family "Edwardian retreat", which is being passed to a lovely couple who are excited to build their own memories there.We thought that last week's trip would have given us closure, but we ended up making another trip to do one final clean-up, but this trip felt more like a moving day so less emotional since I have moved many times in my day.  Quite coincidentally, an exquisite video appeared this week which encapsulates how a structure can hold such precious memories.
Our Final Titanic Contest Prize Winner: Patricia Kelly
Since it was a busy week, I had planned to pass the torch today to a guest blogger, Patricia Kelly, our second winner of the Wentworth Hall book contest for the best-hosted Titanic dinner.
I first met Pat back in February through a comment to one of my first Titanic posts, eager to learn more about Hock wine for a Downton Abbey party she was planning.  I believe I had suggested that with the 100th anniversary of Titanic coming up she should factor that into her theme.  Well, months later and Pat's pictures give us just a hint of all the research and planning that resulted in a wonderful home-hosted dinner complete with footmen, her own chef, and wine for each course (my favourite part).  The gowns worn by the women were impressive.  She even went the extra mile to provide a bibliography, which warms my heart as a researcher.  It just goes to show that you can get inspiration from a wide variety of media: books, blogs, TV and movies.
Congratulations to Patricia M. Kelly from Aptos California who will be receiving a copy of Wentworth Hall, courtesy of publisher Simon & Schuster.  Over to Pat as she described her meal.
Pat's Account
In April of 2012, an authentic eleven course Edwardian feast transported 15 friends, old and new, to the time of the Titanic.  With one exceptional chef, her assistant, footmen, service a la Russe, period music, and eleven delightful guests, it was a truly magically evening.
It began in January when I thought it would be fun to celebrate the premier of Downton Abbey's Season Two with a 1912 dinner.  Cursory research sobered me up as I learned these dinners were 11-22 course feasts.  But I had my great grandmother's china from the era and a marvelous chef, Denise Ward, who enthusiastically agreed to help.  Then, when a friend spontaneously announced he would serve Absinthe and wear a long coat, our event was launched. (I would make shepherds' pie for the January premier.)
Over four months, we researched period food, wines, fashions, and customs of the period. Local businesses enthusiastically stepped up to source the right elements.  It was truly a collaborative effort.
Denise and I began planning the menu and selecting (and testing!) authentic recipes sourced from the Last Dinner on the Titanic, Escoffier and online research.  To set an authentic table, I started with my great grandmother's 1910 Havilland Limoges china, and then found china, crystal and silver from the period through local antique dealers. Party rentals and local flowers completed our table decorations.
The Evening
Guests, decked out in their Edwardian finery, arrived around five and admired each other's gowns and "white tie", while perusing period magazines, gazed through the Victorian stereo optics and listened to the Victrola configured to play period music of Caruso, Scott Joplin, Ravel and Debussey from a Mac computer.  As it was not the custom, neither cocktails nor appetizers were served.
The Food and Wines
At 5:45, the footman summoned guests to the dining room and the first course of oysters and Chablis was presented. (The night before I had read Escoffier's notes that he loved oysters plain, so I omitted an uninspired sauce, at the last minute.)
Watercress soup and sherry, served from an original 1910 etched and gilded decanter, were served. Our fish course was an amazing shrimp mousse on dill accompanied by Hock.  Researching hock was a hurdle; we discovered it to be a German white wine, popular in the period. Edwardians drank mostly German wines.  (Today, a London wine merchant holds a dusty bottle of hock ordered by King Edward.)
Fourth Course, entrées, Filet Mignon with mushrooms in a port wine reduction and Duchess Potatoes: Divine!  Champagne was served, as the entree was always served with sparking white wine back then.  Our roast was rack of lamb and sautéed carrots. Burgundy was represented by a cabernet sauvignon.  Lamb was chosen as a lighter "roast" for our modern diets; guests could select the number of ribs they liked.
After the roast, our palate cleanser was Titanic's Punch Romaine. Several lucky guests were served in exquisite, 1912 gilded compote glasses. After five courses, I was surprised at how much I looked forward to this light, icy drink.  It was perfect.  (They really thought this stuff through, didn't they?)
Seventh course, game, was squab with a fig sauce on wilted (water)cress. None of us had tried this red-meated bird. It was divine.  Claret, red Bordeaux, was the accompaniment.
Cold courses were combined in our eighth course with asparagus salad, champagne-saffron vinaigrette, and truffled pate with crouton.
The three dessert courses were announced with the finger bowl ceremony:  plates with finger bowls and warm water were brought in, with a dessert fork and spoon balanced on either side.  Our guests were certainly too refined to use them, but it was fascinating to watch.
Champagne and primrose jelly, our sweet dessert, was spectacular with its sherry-based aspic, decorated with fresh, edible pansy petals.  Our ice was the Titanic's "Oranges en Surprise", a delicious confection of sherbet and meringue.  Tokaji was poured for dessert.  Port was in reserve, but we did not get to it.
And lastly, we passed around the table, cheese and biscuits, chocolate and strawberry éclairs, Turkish Delight and beautiful bonbons.  As was the custom, the fruit that decorated the table was eaten for dessert.
After five hours of conversation and dining, guests retired to the drawing room where coffee was served.  A treat of the evening was watching chilled water poured over a sugar cube into Absinthe, turning the liquor a milky white.  Alas our séance was postponed to another evening as our energy waned.
The Service
Our Chef, Denise Ward was perfection incarnate! Each of the courses was perfectly cooked and served by our liveried footmen who were learning on the job.  The footmen presented an exceptional service a la Russe: each course was presented to guests on platters. (A few were plated.)  Each course was paired with a different wine of the period. In return, our guests flawlessly navigated the 6 pieces of stemware, 15 plates, and a dozen-plus pieces of silver (either by breeding or study before-hand, wink), and that doesn't include the nut bowls, salts, knife rests and napkins!
Mr. Carson was not kidding when he complains of serving dinner without proper staff and preparation: Two handsome (and tall!) strapping young lads were retained.  The logistics of a service a la Russe with over 120 pieces of china, 180 silverware pieces, 66 pieces of stemware and serving pieces were carefully planned out over weeks. Instructions for the footmen, outlining wine service, china and silver placement, and service schedule was prepared; a complete run-through was done on the day of the event.  My living room became the dining room, the dining room the butler's pantry and the kitchen off-limits to all but the Chefs!
Conclusion
I still can't stop from smiling over the wonderful time had by all.  Even the staff doing the "heavy lifting" felt it was a rewarding evening.  I was truly touched by the time, effort and enthusiasm people brought to the project.
Preparing the dinner was fascinating as I uncovered so many threads of history that carry through to what we do today, and what it must have been like a hundred years ago among society's brightest stars.
BIBLIOGRAPHY
Books
Archbold, Rick and Dana McCauley.  Last Dinner on the Titanic: Menus and Recipes from the Great Liner. Toronto, Ontario, Canada: Madison Press Books, 1997.
The Countess of Carnarvon, Lady Almina and the Real Downton Abbey. New York: Broadway Paperbacks, 2011.
Escoffier, Auguste. The Escoffier Cook Book: A Guide to the Fine Art of Cookery. New York: Crown Publishers, 1941.
Hockman, Hillary.  Edwardian House Style Handbook, Cincinnati, Ohio: A David and Charles Book, 2007.
Howard, Maria Willett. Lowney's Cook Book. Boston: The Walter M. Lowney Co., 1912.
Kander, Mrs. Simon. The "Settlement" Cook Book: The Way to a Man's Heart. New York: Gramercy Publishing Company, 1903. Reprinted 1987.
Martin, Judith. Miss Manners' Guide to Excruciatingly Correct Behavior.  New York: W.W. Norton & Company, 2005.
Pool, Daniel. What Jane Austin Ate and Charles Dickens Knew. New York: Touchstone, 1993
Schollander, Wendell.  Forgotten Elegance: The Art, Artifacts, and Peculiar History of Victorian and Edwardian Entertaining in America. 2002.
Booklets
Bishop, Catherine. "Hairstyles and Headdresses of the Victorian, Edwardian, and Ragtime Eras", Vintage Victorian (online distributor).
Bishop, Catherine. "Vintage Dress Series: Fashions of the Titanic Era".  Vintage Victorian  (online distributor).
Websites
 "Edwardian Promenade", http://edwardianpromenade.com/etiquette/dining-and-dinners/>
"An Edwardian Dinner Menu", The Telegraph, United Kingdom, 2012. http://www.telegraph.co.uk/
"Enchanted Serenity of Period Films", http://enchantedserenityperiodfilms.blogspot.com/
 "Eras of Elegance", http://www.erasofelegance.com/
"The Food of Downton Abbey", ITV,  http://www.itv.com/food/articles/food-downton-abbey
"How to set a Victorian Table", http://www.ehow.com/how_7676892_set-victorian-table.html
Foster, Pamela, "Downton Abbey Cooks", blog, https://downtonabbeycooks.com/
Television Shows and Movies
The Age of Innocence (movie)
PBS Downton Abbey Seasons One and Two (TV)
Gosford Park (movie)
PBS Manor House: Edwardian House (TV), http://www.pbs.org/manorhouse/
The Supersizers Go: Edwardian; and Victorian (TV)
Easy Rhubarb Strawberry Crumble Pie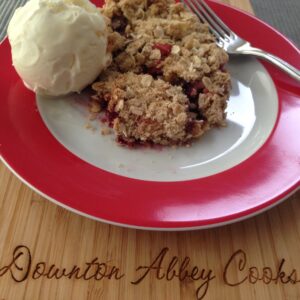 Easy Rhubarb Strawberry Crumble Pie
There is nothing that says Summer has just arrived like a rhubarb-strawberry pie.  The two are ready to harvest about the same time so it makes sense that they were put into pie.  A crumble pie gives you the best of both the pie and crumble, with a pie crust on the bottom and crumble on top.
Ingredients
Pie Filling
1

half

pie crust recipe

see notes

6

tbsp.

all-purpose flour

2

tbsp,

corn starch

1 1/2

cups

sugar

or sugar substitute

2

cups

rhubarb

cut into small pieces

1

tsp.

nutmeg

2

cups

sliced strawberries
Crumbe Topping
1

cup

all-purpose flour

1/2

cup

brown sugar

packed

1

tsp.

cinnamon

1/2

cup

unsalted butter

chilled, cut into 1/2 inch cubes
Instructions
Line a 9-inch pie dish with pie dough or use a frozen shell. Put aside. Preheat your oven to 425F.

Mix all dry filling ingredients together and then mix with rhubarb and strawberries. Distribute the filling evenly into the pie shell. Sprinkle the nutmeg over the mixture.

Mix the dry crumble ingredients together, then work in the butter with your fingers or 2 forks. Sprinkle the crumble on top of the pie ensuring you reach the edges.

Place a cookie sheet on a rack below the pie and place the pie pan in the oven. Bake at 425 degrees for 15 minutes. Then reduce the temperature to 325 degrees for 45 minutes or till done.
Notes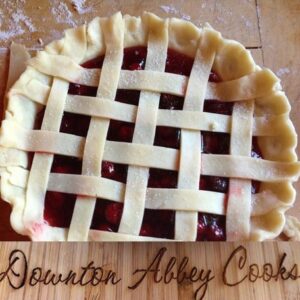 My Granny's Pie Crust
My granny grew up helping to feed 10 other siblings. This is just one of her pie crust recipes.
Ingredients
3

cups

unbleached white flour

1

tsp.

baking powder

1

pinch

salt

1

cup

vegetable shortening

3/4

cup

ginger ale

ice cold
Instructions
In a large shallow bowl, sift the flour, baking powder and salt.

Cut in the vegetable shortening with a pastry blender or two forks until all the shortening has been incorporated

Add the ginger ale and bring together into a dough.

Divide into two equal parts, flatten into disks and refrigerate for at least 30 minutes before using.
Notes
Tools you Can Use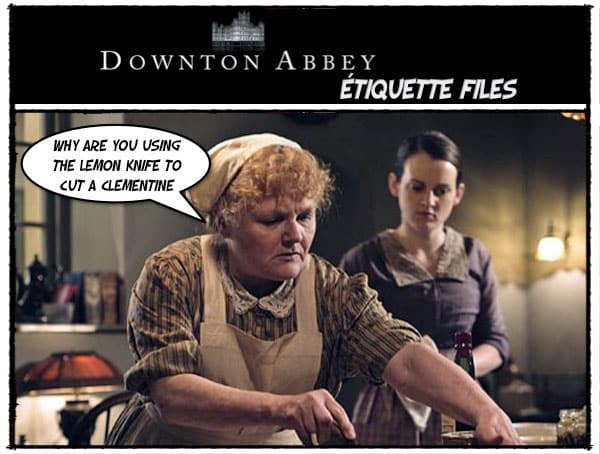 As Mrs. Patmore says, "a poor workman blames his tools". If you want to invest the time in learning to cook you should fortify yourself with proper cooking tools.
I do love the hunt in my local cooking stores, but you can order items directly through Amazon, so you have more time to watch Downton.
Pastry Cutter: