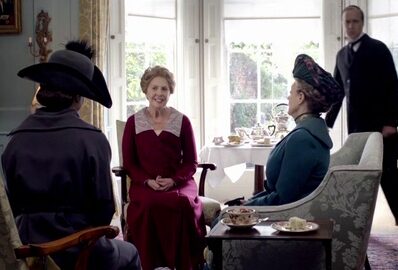 Another time for us to share tea and polite conversation. This typically leads to a discussion of the weather which has been most exceptional out here in our corner of the Commonwealth.  One might also comment on the state on one's own garden and I am pleased to report that my tulips are already making an appearance.  No need to fly to warmer climes, bizarre weather patterns have brought the tropics to us. It is almost a paradise.
Last week I shared the experiences of Downton Abbey fans who have had various successes in organizing communal tea at work.  Ever curious, I created a poll and launched it into cyberspace. Results to date indicate many solo tea parties at the office, but others do seem keen to explore the Afternoon Tea idea.  Take the poll yourself.
And while some of us are taking tea and biscuits at our desks, there is a growing trend in London to take a business tea meeting.  According to Claridges, Afternoon Tea is no longer limited to tourists (ouch) or ladies who lunch (double ouch).  The suit and tie crowd are discovering that tea rooms provide a relaxed atmosphere to discuss business.  But will the deal break down over who gets the last scone? [youtube http://www.youtube.com/watch?v=zLmObbh0GAU?rel=0&w=420&h=315]
Tea rituals
It is important for the rising executive to understand tea rituals if s/he is to successfully blend in with other business types and be invited to play in their reindeer games.  Proper manners are extremely important in business; some companies still offer etiquette lessons in table manners to gain a competitive advantage.  A little knowledge goes a long way, so this is a primer for you, and a recap for regular Tea Tuesday followers.
Some higher-end establishments may serve the tea meal in courses, but the tradition of the stacked tray still remains.  The stacked tea tray is a trilogy of savouries, scones and sweets, and is generally organized in this manner:
Top Level: The smaller top level holds the scones.
Middle level should hold the sweets and fruits.
Bottom level holds the savouries and finger sandwiches.
The order in which you eat from the tray is the order in which you normally eat your meal: savouries first, scones next and sweets last…UNLESS there are hot scones, and then the order changes to scones, savouries, then sweets.
Americans and British at Tea
Visual aids are often helpful, so I thought you might enjoy tea with legendary greats Carol Burnett and Julie Andrews. [youtube http://www.youtube.com/watch?v=wO6R4RxnSlw?rel=0]
How Typhoo revolutionized the tea industry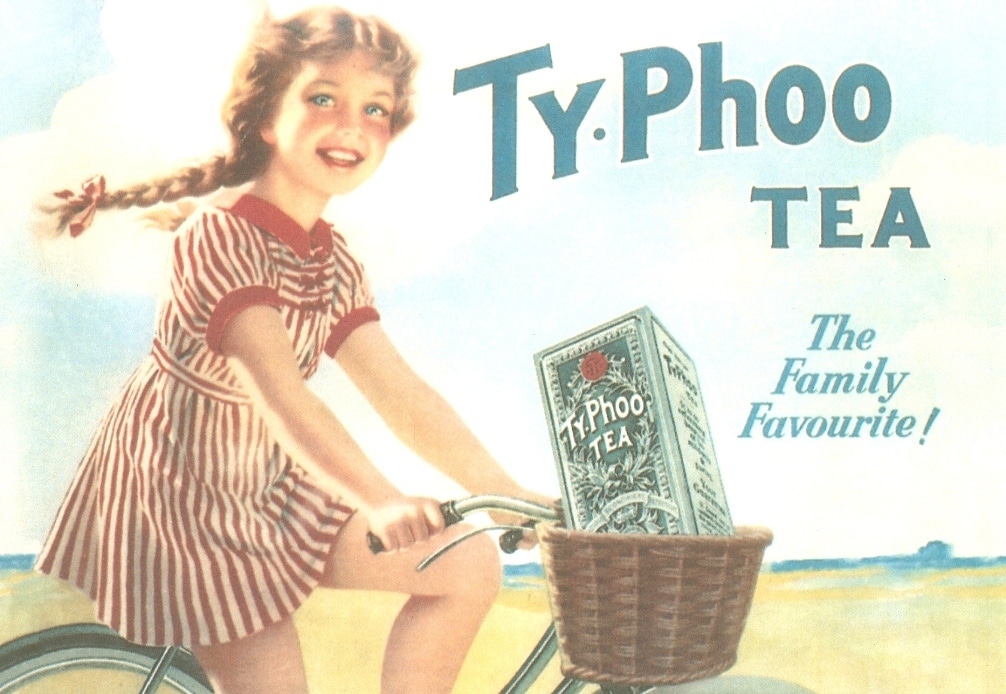 What is a social business meeting without a suitable anecdote meant to impress?  Here is a great corporate success story to share over tea.
Typhoo Tea Limited began as a sideline for John Sumner's family grocery business in the 1900's Birmingham. The product is now known around the world.
His sister's comment about tea which helped with her digestion changed everything. Tea in that era was made from whole leaves which caused indigestion for the avid tea drinkers of Britain.  Popular green tea actually contained harsh additives such as copper, so there was a great deal of suffering going on.  John found that the tea his sister had taken was made from the tips of the tea leaves.  The tips have lower levels of tannin which soothes an upset stomach and are the most flavourful part of the leaf.  John could produce 80 more cups per pound using tips that would make Typhoo more profitable than the loose-leaf varieties to produce.  To deal with the small size of the particles, it was sold pre-packaged, the first company to do so, making it much more convenient for consumers to buy.
The initial marketing strategy appealed to the public as a medicinal drink.  The tea was branded under the name Typhoo Tips (mistakenly spelled "Tipps" on early packaging), Typhoo meaning "doctor" in Chinese, and Tips referring to the tips of the tea leaves used. Advertising historians will point to Typhoo as an early example of great brand loyalty. Tea drinkers not only chose Typhoo for its soothing qualities but since it was prepackaged and sealed in a factory, consumers could be confident of its contents. It was a known practice at that time that used tea leaves would often end up back into loose tins and resold to the public. Charming.
Thus a successful brand was launched.  Customers were so loyal to their brand that they were successful in removing their favourite tea from the World War 1 rations list on the basis of its health benefits.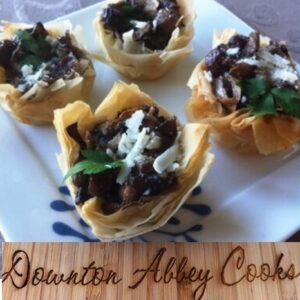 Truffled Wild Mushroom Tartlets
Quiche like tartlets are a great addition to your appetizer tray
Ingredients
1

tbsp.

canola oil

1

lb.

mixed mushrooms

coarsely chopped

1

tbsp.

minced shallot

1

tbsp.

white truffle oil

(or melted butter)

1

tbsp.

minced fresh flat-leaf parsley

1

large

egg

1/2

cup

plain yoghurt

(low fat would be swell)

15

mini

phyllo shells,

or make your own*

Fresh parmesan

shavings for garnish

Fresh cervil sprigs

for garnish
Instructions
Preheat oven to 350°F.

In a large skillet over medium heat, heat the oil. Add mushrooms and shallot and cook for 3 to 4 minutes or until the mushrooms are soft, but not browned.

Stir in the truffle oil and parsley. Remove from the heat. In a small bowl, whisk together the egg and yoghurt. Stir it into the mushroom mixture.

At this point you can refrigerate the mixture until its time to serve.

Arrange the shells on a baking sheet. Divide the mushrooms mixture among the shells and bake for 12 to 15 minutes, or until the filling is set.

Remove from the oven.

Shave some Parmesan cheese on top of each tartlet and garnish with a sprig of chervil. Serve hot if you can!
Notes
*you can easily make your own shells ahead of time. This video shows the technique, but since we are making tartlets, you will be making smaller squares about 3″ in mini cupcake tins. I have found baking times to be about the same at 10 minutes at 350°F.