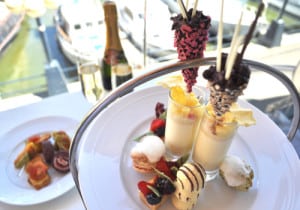 Downton fans across North America are still sulking about the ITV launch this Sunday, but we the Emmys are coming up so at least we have something to look forward to. Downton has garned 12 nominations, including Best Drama.
Since my audience spans the globe I will be watching along with  the UK fans, but promise not to divulge major spoilers until January.  I did keep quiet last year (although it was really hard) so I think I can be trusted.
Today we help answer the question of what do you do when your Lord brings home a large basket of fresh tomatoes from the market.  Growing up on the farm we have bushels of tomatos at the end of the season so I am up for that challenge.  There are many options including sauces, stuffed tomatoes, soups, breads which do take some time, but today we will focus on tomato tart, which makes a quick meal.
Downton Dish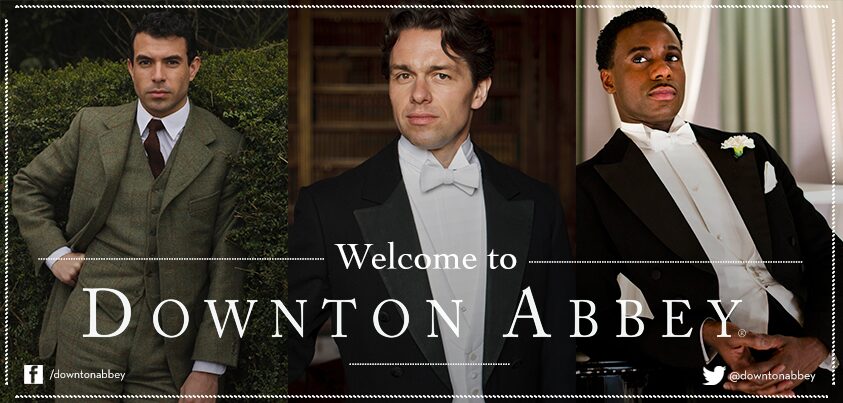 UK fans will be treated to S4 this weekend, but North Americans will need to wait for our beloved show until January (see the countdown clock above) in the US and Canada.  But you can get reacquainted with past episodes.  If you haven't seen all seasons (1-3) beware of spoilers below.
Quick and Delicious Tomato Tart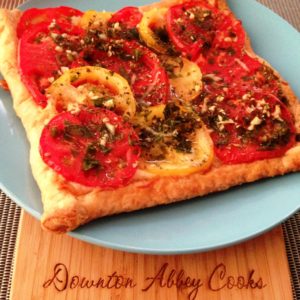 Quick Tomato Tart
Sometimes when you have a whole lot of tomatos the best thing is to try them in a quick dish.  Our family  savoured the fresh tomato sandwich, the fresh tomatoes in salad, and this zummy veggie tomato tart.
Ingredients
1

sheet

puff pastry*

thawed

1

large

egg

lightly beaten

½

cup

grated Parmesan cheese

1 or 2

large

tomatoes,

cut into 1/4″slices

½

tsp.

kosher salt

3/4

cup

gruyere

(or other melting cheese: emmenthal, mozzarella)

1

clove

garlic

minced

2

tbsp.

fresh herbs

basil, oregano or other fresh herbs from your herb garden
Instructions
Preheat oven to 425 degrees F and line a baking sheet with parchment paper or just use the shee that your pastry might have been rolled in.

Place the tomato slices on a thick layer of paper towel. Sprinkle with the salt and let sit for at least 30 minutes.

Place the puff pastry on the baking sheet and brush all over with the egg. Brush the pastry with the egg and then fold over 1 inch around each edge to create a crust.  Trim the folded edges and corners to make a nice neat square.

Sprinkle the Parmesan cheese over the dough and then prick all the way through and  all over with a fork to allow hot air to pass through the dough while baking and preventing it from puffing up.

Bake for 15 to 20 minutes, or until golden brown. Let cool on a wire rack. At this point you have store the baked crust in the fridge until you are ready to use, or you can freeze.

When you are ready to bake your tart, sprinkle the shredded gruyere cheeze evenly on the crust within your borders. Gently press a fresh paper towel on top of the tomatos to remove the excess moisture out of the tomatoes then layer the tomato slices evenly over the mozzarella.

Whisk the olive oil and garlic together and drizzle evenly over the tomatoes. Bake until the crust is deep golden brown, 10 to 15 minutes.

Cool on a wire rack for 5 minutes, then sprinkle with your fresh herbs.

Slice into pieces and serve.
Notes
Tomatoes produce a great deal of juice, so if you have tried tomato tarts before with a puff pastry or other pastry you may have ended up with a soggy mess.  There are 2 parts to the solution:  the first is to create a barrier for your dough by pre baking so the juices don't penetrate and second is to remove some of the juices from the tomato, salting like you would eggplant.
You can easily double this recipe to make party size. Use a second sheet of puff pastry, overlapping the short ends and making a seal with a bit of the egg.
For the Downton Abbey Collector