Those with British heritage are blessed with family scone recipes passed through the generations. For the rest, it is a challenge to find a good recipe that is easy, reliable, adaptable and heart-healthy.
This recipe is super easy to make with only 4 ingredients. Start with the basic and then explore a number of variations.
Afternoon Tea
Scones are the foundation of the Afternoon Tea menu.  Learn more from my Online Guide to Afternoon Tea or my book Relaxing Over Afternoon Tea.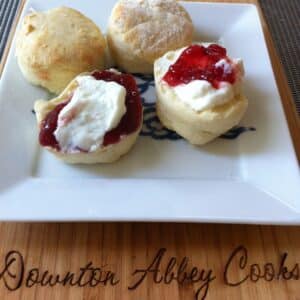 The Ultimate Magic Scones
The scone is the backbone of any tea tray. This is the easiest and fastest way to make your own with only 4 ingredients and endless variations. Try it and impress your friends.
Ingredients
1

cup

all-purpose flour

2

tsp.

baking powder

¼

tsp.

salt

2

tbsp.

frozen grated butter

½

cup

cold milk
Instructions
Preheat oven to 475 degrees.

Sift the dry ingredients 3 times into a large bowl. Rub the frozen grated butter into the dry ingredients until it feels like sand. Add enough milk just until you get a sticky dough.

Turn the dough out onto a lightly floured board, lightly flour the top. Knead very gently once, then fold and turn the kneaded dough 3 or 4 times until the dough has formed a smooth texture. Pat the dough into a rectangle about 6" x 12", then fold into thirds.

Using a well-floured 2" biscuit cutter, make 6 x 2" rounds. You can get 2 more scones from the scraps but they won't be as tender. Alternatively, use a well-floured sharp knife to form wedges.

You can either brush the top of the scones with milk or lightly flour.

Bake on a baking sheet for 8-10 minutes until the scones are lightly coloured on the tops. Immediately place onto cooling rack to stop the cooking process.

Traditionally served with clotted cream and preserves, try a healthier option of non fat plain greek yoghurt with your favorite preserves.
Notes
Variations
Now that you have the basics you can let your imagination flow with variations.  Here are some to get you going.
PLAIN

Buttermilk – replace the milk with buttermilk, add ¼ teaspoon of baking soda, increase the fat to 4 tablespoons, in Step 3
Cream – replace milk with cream, add ¼ tsp. of baking soda to the dry ingredients and glaze with cream
Whole wheat– replace half of the plain flour with whole wheat flour.

SWEET

Pumpkin: add 2 tsp. cinnamon, 1 tsp. nutmeg, 1 tsp. baking soda to dry ingredients, add 1/2 cup of pumpkin puree, adding only enough milk to make sticky dough.
Chocolate – add 1/4 cup of cocoa powder to the dry ingredients and add 1/4 plain yoghurt to the wet.
Glazed– lightly brush preserves on scones before baking to create a sweet glaze
Dried Fruit – add ¼ cup dried fruit (e.g. sultanas, raisins, currents, cranberries, cherries etc) and 1 tablespoon (15 gm) sugar.

Fresh/Frozen Berries – add 1/4 cup of fresh or frozen fruit, finely chopped.
Whole wheat and fruit – replace half of the plain flour with whole wheat flour
 

SAVOURY

Cheese and Chive:  add ½ teaspoon tsp. cayenne , 1/4 -1/2 cup grated cheese and 2 tbsp. of fresh herbs.
Herb – include 3 tablespoons of finely chopped herbs (such as parsley, dill, chives etc) to the dry ingredients.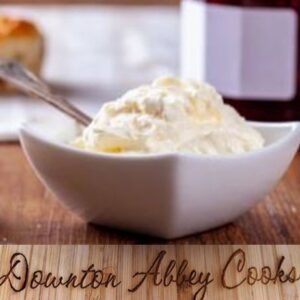 Downton's Mock Clotted Cream
If you can't find clotted cream you can make a suitable version with heavy cream and marscapone cheese.
Ingredients
1/2

cup

heavy cream

1

cup

mascarpone cheese

room temperature

1

tbsp.

icing sugar

to taste
Instructions
In a bowl, using an electric mixer beat the cream on medium-high speed until soft peaks form. On medium speed add the mascarpone and sugar and beat until incorporated.

Taste, then adjust with more sugar if needed. Serve at once.