The British Flapjack is different from the thick pancakes we know in North America. It is amazing comfort food dating back to the 1700s. Lots of flapjack recipes have been handed down from mother to daughter and ongoing debate about whether they should be crunchy or chewy. Some cooks add a pinch of flour to help bind, others reduce the syrup but use chopped dates to bind and provide the sweetness.  It always comes down to how your mom made them at home.    You can add nuts and dried fruits to make it more nutritious. For me the key ingredient is the golden syrup which is a UK staple with a wonderful lovely mild taste which corn syrup just can't deliver.  Sometimes the best recipes can be the most simple and the one I love has only three ingredients, one pot and a square baking sheet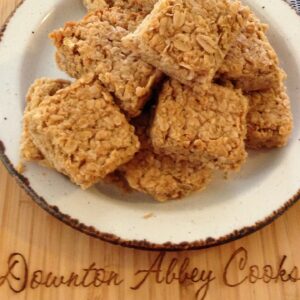 Traditional 3 Ingredient English Flapjacks
The British Flapjack is different from the thick pancakes we know in North America. It is the granola bar of the UK, an amazing comfort food dating back to the 1700s. You can add nuts and dried fruits to make it more nutritious. The key ingredient is golden syrup, a UK staple with a wonderful lovely mild taste which corn syrup just can't deliver. Sometimes the best recipes can be the most simple and the one I love has only three ingredients, one pot and a square baking sheet
Ingredients
1/3

cup

golden syrup

*Treacle (see below)

1/2

cup

unsalted butter

2

cups

porridge (quick) oats
Instructions
Prepare a 9″ square pan by liberally greasing. You can take the extra step of lining with parchment paper to ensure your flapjack comes out cleanly.

Preheat oven to 350F.

Heat the butter and syrup in large saucepan until the butter is thoroughly melted.

Take off the heat and add most of the oats, coating well, and adding the remainder (reserving some if the mixture looks too dry) so you have a oats that are equally coated with the melted mixture.

Pour the mixture into the prepared tin and spread evenly to fill the tin, pressing with a spatula to ensure the top is level.

Bake for 25 minutes or until golden brown.

Cut the flapjacks into squares while still warm, and then let cool before removing from the pan.

You can add a handful of fruits and nuts to create your own family favorite, just make sure you ensure you aren't adding too much so that the flapjack won't stick together.
Notes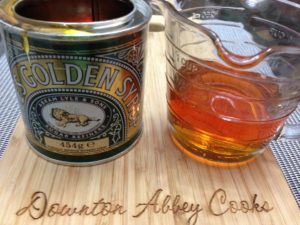 If you have spent any time around the English or Harry Potter films, you may have heard of the term Treacle.  It simply refers to molasses. The most famous manufacturer of treacle is Lyle's Golden Syrup, a light treacle.  It was recently declared Britain's oldest brand, registering its trademark in 1904 and granted a Royal Warrant in 1911.  The company was founded by Abram Lyle, a Scottish businessman in the sugar business.  The sugar cane refining process produced a treacle-like syrup that usually went to waste, but Lyle found that it could be refined to make a preserve and sweetener in cooking.
*Substitutions:  Golden syrup is widely available around the world, made either from sugar cane or sugar beets.  If you can't find golden syrup you can substitute in a few ways: Combine two parts light corn syrup plus one part molasses OR equal parts honey and corn syrup OR maple syrup (This is thinner, and not as sweet).  Try looking in the specialty international section in your grocery store, or you can buy on Amazon.