For many, Holiday traditions include gathering to sing Christmas carols, many dating back to the Victorian-era.  Have you ever been curious about "figgy pudding" which carolers demand in "We Wish You a Merry Christmas?"
There have been recipes for this famous Christmas dessert since the 15th century, which reached its peak in popularity during the late 19th century. This version has been adapted from Great British Puddings, with figs as the star ingredient. It is a lighter pudding than plum and you don't need to make it well ahead of time.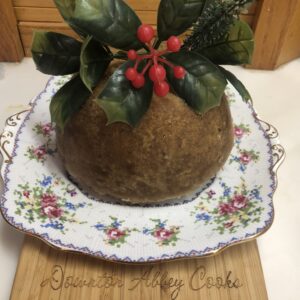 Bring us some Figgy Pudding
There have been recipes for this famous Christmas dessert since the 15th century, This version has been adapated from Great British Puddings, with fresh figs as the star ingredient.
Ingredients
1

cup

unbleached flour

1

pinch

salt

1

cup

bread crumbs

1

cup

vegetable suet

shredded

1

tsp.

mixed spice

1

tsp.

baking powder

1/2

cup

Dark brown sugar

1

cup

figs

chopped

1

large

lemon

finely grated

2

cups

milk

2

large

eggs

beaten

2

tbsp.

brandy
Instructions
Grease a 4 cup pudding basin. Sift the flour and salt together into a large bowl then add all the remaining dry ingredients and mix to combine.

Add the figs, lemon zest and juice, milk and eggs, and beat well. The mixture should reach a soft dropping consistency. Pour the mixture into the greased basin.
Prepare for Steaming
Cut a large circle of parchment paper to cover the top of the pudding basin. Butter one side to prevent sticking.

Place the buttered side down on top of the basin and secure with string.

Add tin foil and press to hug the basin

Using a large pot that the basin can fit in, place a metal jar lid on the bottom. Place the basin and fill halfway up the sides with boiling water. Cover with the lid and heat on the stove to simmer. Check the water level occasionally and top up with more water if needed. Simmer for three hours.

Invert the pudding on a serving plate. Use artificial holly and berry sprig to decorate as really holly berries are poisonous. Serve with brandy butter, custard or just warmed golden syrup.

If you are preparing the pudding in advance, steam as you did in cooking, but it will take 30 minutes or so get it warmed throughout.
Notes
Make your own:
Own the Book
Tools of the Trade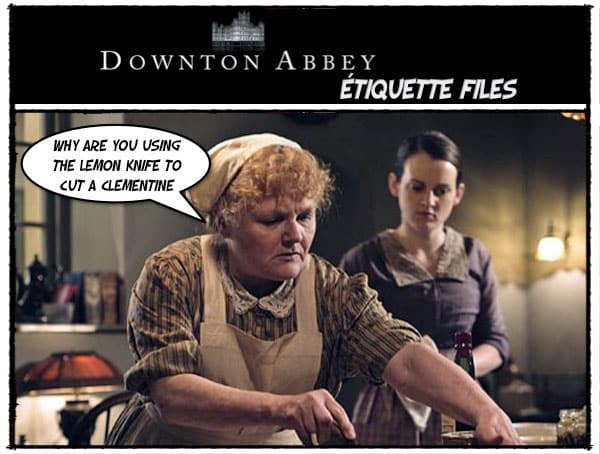 As Mrs. Patmore says, "a poor workman blames his tools". If you want to invest the time in learning to cook you should fortify yourself with proper cooking tools.
I do love the hunt in my local cooking stores, but you can order items directly through Amazon, so you have more time to watch Downton.
Dutch Oven
Every Downton Cook needs a good dutch oven. They last a lifetime, and if even if you can't find a sale on a quality LeCrueset oven it is worth the investment. I will be inheriting my Mom's collection of the traditional orange, but I do have my own a couple of pieces in the more modern blue.
Pudding Basin