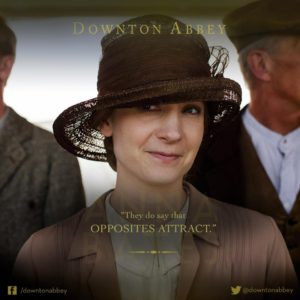 Lord D and I spent a wonderful St. Valentine's Day together, taking time for each other after a hectic week, and ignoring the frigid temperatures outside. He made his famous pork roast dinner (featured in Abbey Cooks Entertain), served with my homemade apple sauce and horseradish. After tucking into comforting apple crumble, we  topped off the evening with the latest installment of Downton Abbey.
Brace yourselves, we only have 2 episodes left. Start polishing your silver for your finale party, the series finale will be broadcast on March 6th. I believe I am mentally prepared to say goodbye to Downton, hoping to look forward to The Gilded Age, Julian's next project which will focus on the millionaire titans of New York.
In keeping with tradition, I will continue to share one recipe from each episode as my love letter to the Downton kitchen staff and to those fans who love the food on the show. Charlie Carson is tricked into cooking dinner for his wife so he would gain an appreciation for cookery. Today's recipe is a scrumptious apple-cheddar crumble, a dish Mr. Carson barely stayed awake to enjoy.
What Happened in S6 E7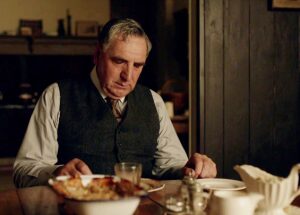 A quick recap of what went on down and upstairs this past week:
The family is invited to watch Henry race at Brooklands. Tragically his best friend dies.  Mary is horrified and breaks it off thinking that this could happen to Henry.  Is this the end for Mary and Henry?
Mrs. Patmore devises a scheme to give Mr. Carson a lesson in wife appreciation. Elsie feigns an injury forcing Charlie to cook.  Message delivered as he barely makes it through dessert, never mind clean up.
Mrs. Patmore's Bed and Breakfast is now open. She personally cooks up a full English breakfast for her first guests.
Violet gifts her son with a new puppy, while she heads off sailing to lick her wounds
Before leaving for France, Violet confronts Amelia about Isobel's wedding invitation and discovers she only wants a nursemaid for Lord Merton.
Carson continues to pressure Thomas into finding a new position, and questions his motives for spending time with Andy. His only joy left in life appears to be playing with little George.
Valentines Cupid's Scorecard
With Valentine's Day in mind, I thought it would be a good time to check in to see how well our favorite characters are doing in love in Season 6.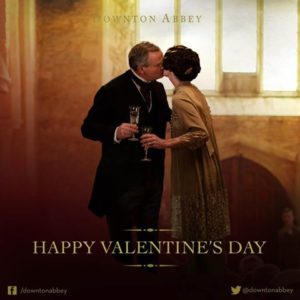 Happy Couples
Robert and Cora: solid as Downton itself.
John and Anna: baby on the way…
Charlie and Elsie: the newlyweds are adjusting to married life
Love is Blooming
Edith and Bertie: proposal!
Mrs. Patmore and Mr. Mason: vegetable bouquet!
Molesely and Baxter: supportive friends is a great start
Struggling in Spite of Themselves
Mary and Henry: death by motor car
Isobel and Lord Merton: meddling daughter in law makes for murky waters
Forever Clueless
Daisy and Andy: will Daisy ever like someone who likes her back?
Fundraising Idea: Relaxing Over Afternoon Tea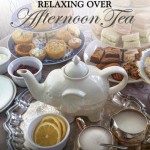 Afternoon Tea: what a lovely way to host fellow Downton fans as you discuss the latest episode, and ponder what Downton will deliver next. The book contains 60+ recipes for tea treats, the three S's: scones, sandwiches/savouries and sweets.
The book provides a brief history of afternoon tea, tea etiquette and tips on how to host your own tea for fun or fundraising.  Amazon sells the print version and Kindle versions, or a you can download PDF version here.
Abbey Cooks Entertain: 2nd Edition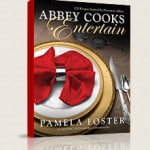 Whether you are hosting 2 or 20, this book has lots of ideas. Containing 220+ traditional Downton era recipes with a modern twist, this is a great book to create some simple or complex dishes for your Mary or Anna.
This 448 page ebook has been updated to include both metric and imperial measurements and now includes famous Downton dishes throughout the series.  Book sales help offset my costs in food, equipment and time to provide you new recipes on a regular basis.
This ebook is now available for download on my site which has been signed, and on Amazon.
Print Version is here.  The good news is that the 2nd Edition is available on Amazon. The full book is 450 pages and will contain famous Downton recipes over the seasons.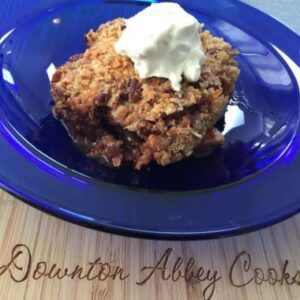 Warming Apple-Cheddar Crumble
Crumbles and crisps are essentially the same type of old fashioned dessert - lightly sweetened fruit topped with crumbly shortbread pastry. Crisps are often called crumbles in the UK.  This crumble features the love affair between apples and cheddar cheese.  The practice of combining cheese, fruit, and nuts dates back to ancient times, often served at the end of a meal because they were thought to aid in digestion.
Ingredients
2

pounds

tart green apples,

peeled, cored and sliced (6 cups)

1/2

cup

golden raisins

1

cup

firmly packed light brown sugar

2

tsp.

ground cinnamon

1

tsp.

ground nutmeg

1/2

tsp.

ground cardamon

2/3

cup

all-purpose flour

1/4

cup

rolled oats

1 1/4

cups(5 ounces)

finely shredded sharp cheddar cheese,

at room temperature

4

tbsp.

unsalted butter

cut into 1″ pieces

1/2

cup

coarsely chopped pecans

Créme Anglaise, 

vanilla ice cream, or non fat plain yoghurt sweetened with honey.
Instructions
Preheat your oven to 400 F.

Combine the apples, raisins, 2/3 cup of the brown sugar and spices.  Turn mixture into a shallow 3 quart baking dish.

In a small bowl, combine the remaining sugar, flour, oats, and 3/4 cup of the cheese.  Cut in the butter with a pastry blender to rub in with your fingers until the mixture resembles coarse crumbs.  Stir in the remaining cheese and pecans.  Sprinkle over the apples.

Bake for 35 to 40 minutes or until the apples are tender and juicy and the topping is golden brown.  Let sit 5 minutes, then spoon into bowls and serve hot or warm with Créme Anglaise, ice cream, or non fat plain yoghurt sweetened with honey.
For Your Cookbook Collection