March 18, 2022 is has been set as the release date of a new Downton Abbey movie, called Downton Abbey: A New Era, set largely at Highclere Castle.  When you are comfortable travelling again, it is a bucket list trip.
A short teaser came out last week, the full trailer a few days ago.
In a special feature of PEOPLE Magazine, there are some great shots of our favourite characters.
Set in the late 1920s, "it's really a new era," Downton creator Julian Fellowes told PEOPLE. "The further the '20s went along, the more the world was changing in so many ways. Everything from entertainment to transport was really different by the end of the '20s. That's what we're referring to in that."
Movie Poster Offers Clues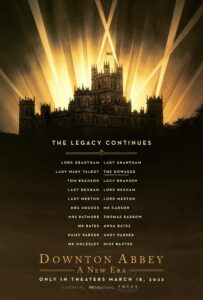 The movie poster offers clues as to what has happened since the last movie and what to expect.
Daisy and Andrew got married. I wonder what Mrs. Patmore cooked up for their wedding breakfast.
Tom and Lucy get married, but we do see that in the trailer.
Henry doesn't appear next to Mary, so likely off on another junket for the duration of the movie.
Thankfully, the Dowager is alive and well, though missing from Tom's wedding photo.
What Will They be Eating in France?
We know that Violet's inheritance of a villa in France is the perfect excuse for a holiday on the Continent.
While French cuisine has always held a place of honour on English aristocrat tables, it will be interesting to see what new regional dishes will be served.  Will Daisy and Mrs. Patmore be in tow, or will they stay behind for a break.
In the meantime, look forward to my recipes from Southern France, like the well known ratatouille, and other regional dishes which feature fresh ingredients like fish and olives.