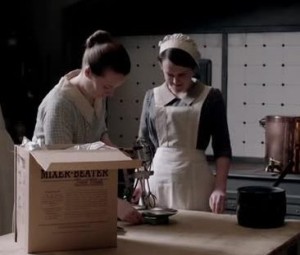 Whether you adorned your finest attire–sipping claret with fellow aristocrats– or snuggled on the comfy couch with a hot brew and  loved ones, all Downton Abbey fans across the US were glued to their televisions last night to celebrate the return of Downton for its fourth season on PBS.
In true American fashion, PBS once again broadcast a double dose of Downton episodes sans commercials; barely enough time to replenish teacups and wine glasses.
This week's Downton dish is Chilled Tomato and Dill Mousse (a favorite of Princess Diana), paying homage to the introduction of an electric mixer at Downton. Embracing change is a good thing: you never know when you will be rewarded with praise from picky Dowagers.
History of The Electric Mixer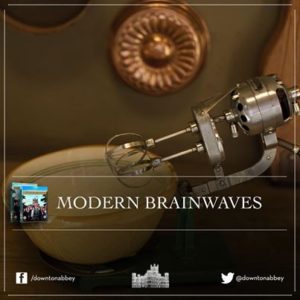 Ivy and Daisy were excited to see an electric mixer come to Downton, a metaphor of how change was embraced by the young and distrusted by others like Mrs. Patmore.  Still, this modern brainwave took its time in coming. The poor toaster must have been thrilled to have a companion!
Invented in 1908, Herbert Johnson,  an engineer for the Hobart Manufacturing Company, was inspired by a baker mixing bread dough with a metal spoon. First adopted in commercial bakeries and for professional bakers, the home version was developed in 1919.  Large and expensive ($2000 in today's currency) it took some years to reduce their size and weight.   The company name was later changed to Kitchen Aid after a housewife remarked "I don't care what you call it. All I know is it's the best kitchen aid I've ever had".  I still feel like Daisy and Ivy when I take my own Kitchen Aid out!
Making Mousse
Mousse is a lovely airy dish, which can be hot or cold, savoury or sweet.  Mousse actually means "foam" in French so you can guess where it originated.  It was first seen on fine dining tables around the 1890s as a savoury dish.
Along came Chocolate:  It was the famous French artist Toulouse Lautrec who came up with the great idea of using chocolate in the 1900s.  It was first called  'mayonnaise de chocolat'. Seriously.
Anatomy of a Mousse:  The mousse has three parts:
Base.  this is the main flavor of the dish, i.e. chocolate for chocolate mousse, or tomato in today's dish.
Aerator.  This is where the electric mixer comes in.  The mousse can be further lightened by folding in whipped cream or egg whites.  This produces the airy texture.
Binder.  Gelatin is often used to bind and solidify the ingredients.  Popular with Edwardians, it was also the "go to" ingredient to make those popular jiggly jelly and aspic dishes.
Royal Fat Free Tomato and Dill Mousse
If you haven't already discovered Chef Darren McGrady's cookbook it is a great read.  He was the personal chef for Lady Diana. This delicate, subtle tomato mousse was often served at state banquets. It became a favorite of Princess Diana's.  She loved it served alongside steamed lobster and had Darren create a fat free version which she would enjoy while her guests would be eating the original version which was full of fat.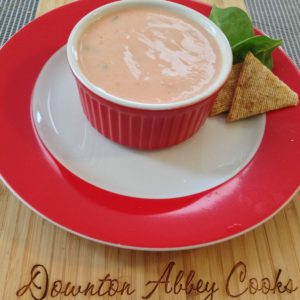 Royal Fat Free Tomato and Dill Mousse
This delicate, subtle tomato mousse is a great addition to your summer menu with a royal connection. It was often served at royal state banquets, The fat free version became a favorite of Princess Diana.
Ingredients
1

pound

vine-ripe tomatoes

(about 3 medium), chopped

2

tbsp.

onion

chopped

8

ounces

cream cheese,

fat-free, softened

2

tbsp.

sour cream

fat-free

1

tbsp.

tomato paste

1

packet

unflavored gelatin

1/3

cup

chicken broth

fat-free

1

tsp.

lemon juice

salt and freshly ground pepper

1

tbsp.

chopped fresh dill
Instructions
Put the tomatoes and onions in a food processor, and blend until they become finely blended and somewhat soupy. Strain through a sieve into a large bowl. Discard the remaining seeds and skins.

Use your new mixer to incorporate the cream cheese, sour cream, and tomato paste until there are no lumps.

In a small saucepan, add the gelatin, chicken broth, and lemon juice. Stir until softened, and then warm the saucepan over low heat until the gelatin has dissolved. Again your handy mixer will be used to incorporate the gelatin mixture into the tomato mixture, and season with the salt and pepper to taste.

Fold in the dill, and pour the tomato mousse into six ramekins. Refrigerate uncovered for at least 2 hours.

Serve as a side dish or appetizer in the ramekins, or dip the ramekins in hot water, run a knife around the edge of the molds, and invert onto the plates.
Nutrition
Serving:
200
g
Calories:
56
kcal
Carbohydrates:
6
g
Protein:
7
g
Fat:
1
g
Saturated Fat:
0.4
g
Polyunsaturated Fat:
0.1
g
Monounsaturated Fat:
0.2
g
Cholesterol:
3
mg
Sodium:
216
mg
Potassium:
285
mg
Fiber:
1
g
Sugar:
3
g
Your Downton S4 Survival Guide
You bought these for others, now stock up on the staples for yourself.   Click on the icons to take you to Amazon to order.