Just as Downton fans were starting to recover from the S3 shock of Matthew's passing, Sunday's episode confirmed that there are fates worse than death, and bad things still happen to really nice people on that show. When I first saw this episode on ITV this fall, I thought it was odd that "viewer discretion was advised".  The same warning was broadcast last night.  By the end of the show we all understood why.  Anna Bates, played by Joanne Froggatt is brutally attacked by Mr. Green, a visiting valet.  The controversial scene was watched by more than 9 million people in the UK on ITV, prompted outrage among some viewers and a huge amount of coverage and debate in the media. A total of 244 complaints were made to Ofcom (media regulator), with around 200 received by ITV.  In the end Ofcom did not investigate the matter further.  We shall see how America reacts.  Sadly, the plotline reveals a darker side of servant life. 
This week's dish is Syllabub, one of many dishes being served at Downton to their visiting guests that fateful weekend.  Simple to make and contains alcohol. You may find it helps calm frazzled viewer's nerves.
Downton Dish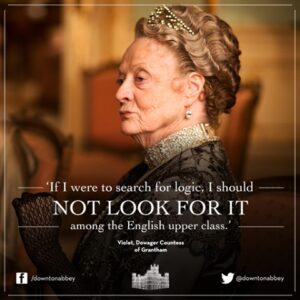 We are well into S4 of Downton Abbey.  Here's what we have to share this week about our favorite show:
Upcoming Events
SoupFest 12 in Hamilton, Ontario: January 28, 2014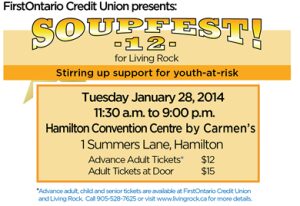 It is the season for soup, and I am thrilled to be invited to be a judge at this year's FirstOntario Credit Union Soupfest in Hamilton.  It is a honour and a delight.  In past years the local chefs blew me away with their creations. The local teashop produced a lovely Earl Grey soup, fit for the Dowager.
Soupfest is a community celebration where over 25 quality area restaurants compete for Best Soup, Most Creative Soup, Best Display and the Best Grow Local category.
All proceeds will support Living Rock Ministries efforts in responding to youth-at-risk. Each week Living Rock prepares 900 meals, provides emergency food to 200 youth per week, offers prenatal and parenting, crisis and housing support in addition to employment training and work experience offered 5 days per week. If you live in the Toronto area, check out the event website and head on down.
Downton fans note: Attendees will be eligible to download a free copy of my book, Abbey Cooks Entertains.
Abbey Cooks Entertain: Only $7.95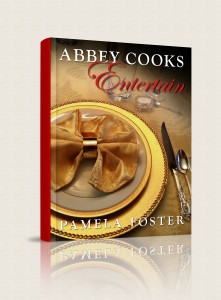 With 220 traditional Downton era recipes with a modern twist, this is a great book to to give for fellow fans planning holiday treats and meals.  This 432 page ebook sells for $7.95. Book sales help offset my costs in food, equipment and time to keep bringing you new dishes each week. While the book is available on Amazon, you can only get a signed copy here on my site.
If you don't have an eReader I would suggest the PDF version which allows you to print recipes as you go, if you wish. Buy one for yourself, gift to another.  All you have to do is email the download link to your loved ones.
History of the Syllabub
Syllabub is a traditional light English dessert, which was most popular in the 17th and 18th centuries.  It essentially consists of whipped cream, sweet spirits and the infusion of lemon or other citrus juices to curdle the cream. Special glasses were created to serve the delightful light dessert.   There have been a number of methods of preparation, including the infamous "Worcestershire Syllabub" milking directly from a cow into cider, which aside from not being particularly hygenic (if you have ever milked a cow you will know what I am talking about), does not result in a great syllabub since the milk quickly separates from the whey.  Some historians think that it was more of as amusing as in "you can't get any fresher than right from the cow", than an actual recipe.
The most popular method has been to whip the cream, and before the invention of the wire whisk, birch or rosemary branches were tied together and used to aerate the cream. Now we have the convenience of the electric mixture to speed things along.
Healthier Whipped Syllabub
As Mrs. Patmore was panicking over dinner for the latest group of visiting guests, the reason Daisy was so calm was that this dessert is really super easy to make. Now that Daisy and Ivy have a new electric mixer, it is practically a breeze.  In this episode Daisy used orange peel instead of traditional lemon.  She also warms the liquid ingredients to help infuse the flavours, and used Brandy, a lovely spirit to match with orange flavoring.
To lighten things up I have substituted half of the cream with low fat plain greek yoghurt, but you can go all the way with yoghurt since it is quite thick on its own and requires no whipping.  Best in summer, a delight year round.
Serves 4
Ingredients
1/4 cup sweet white wine
1/2 cup sugar
1/2 lemon, juiced and zested
1/2 cup whipping cream
1/2 cup non fat plain yoghurt
Method
In a small bowl mix the wine, sugar, zest and juice, until the sugar has dissolved. Let the mixture sit, ideally overnight so the flavours can more fully meld.
Start beating the whipping cream in a large, chilled bowl, with your whisk or new electric mixer.
Gradually add the wine mixture, whisking constantly, until the cream is fluffy with soft peaks.
Fold in the non fat yogurt and spoon into parfait glasses.
You can serve right away or cover and refrigerate until ready to serve.
Make Your Own Creation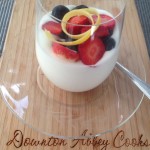 The syllabub is perfect to serve over berries
Crumble in biscuits and and add sliced almonds
You can use the mixture to replace custard in a trifle
Match your favorite liquors with juices.
Your Downton S4 Survival Guide
You bought these for others, now stock up on the staples for yourself.   Click on the icons to take you to Amazon to order.